1000MODS are a long-time scene favorite. The kind of closely guarded card and safe bet when it comes to blasting a band that has chances to win them all. Known for their loud, headbang-inducing shows, the Greek have won over countless festival crowds at home and across Europe (raise your hand if your remember their outstanding Hellfest 2018 show). These are the reasons why we were expecting another slap in the face in the way of « Repeated Exposure to… ». For the follow-up to their 2016 gem, 1000MODS had to think on a bigger scale, and why not send a message to that youth who has supported and lionized them (watch the « Greek Rock Revolution » documentary to get the drill) since the beginnings.
The first obvious message seems to take the form of a tribute to their teenage years' heroes. Recorded and mixed in Seattle, produced by Matt Bayles (the man behind the Pearl Jam and Soundgarden sound), the abundance of resources and nods deployed on "Youth Of Dissent" was meant to make it the band's "most ambitious record", according to the promo. The band's fondness for all things '90s is so prominent that we sometimes get the impression of listening to either Foo Fighters (« Lucid » and « Less is more », where Dani's voice is so hardly recognizable that we come to wonder if Dave Grohl didn't lay some vocals), an uninspired Nirvana (« Blister ») or Alice in Chains on the downgrade (« Young »). So according to 1000mods, being a full-fledged artist would mean mimicking their long-time idols? At this point, I would rather refer you to the original. My question is: why? Who wants to listen to a rehash of Foo Fighters in 2020?
Let alone the aforementioned tracks, a very few songs still display 1000mods' fuzzed-out and groovy DNA (« So Many Days », « Warped »), even psyche (« Dear Herculin ») DNA. Unfortunately, these identity outbursts are too rare, when the rest of record lacks ardor or gets too emulative. Last year, their compatriots Planet Of Zeus also yielded to the 'best of heavy' exercise, but they delivered it with such fire that you'd easily excuse their lack of originality. Now for the youth-related message, I haven't found any.
With such a talented band than 1000MODS, we had reasons to expect more than just four outstanding tracks: although the whole is finely produced, it somehow lacks originality and intensity. Too bad, to me it felt more like « Youth of Descent ».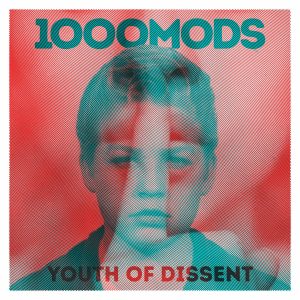 ARTIST: 1000mods
ALBUM: "Youth Of Dissent"
LABEL: Ouga Booga & The Mighty Oug
RELEASE DATE: 24th April 2020
GENRE: Heavy rock / Stadium rock
MORE: Facebook / Bandcamp
Last modified: 22 May 2020