From the get-go, ELDER lift the veil on what to expect from this new album: swirling keys, sharp and powerful riffing, and subtle spacey synths touches. A confident chorus sweeps in, with Nick DiSalvo being more assured and enhanced than before. Prog? Yes. Rock: definitely.
The album kicks off on on its title-track, for a journey that won't mark any pause. Across its five saga-like tracks, the foursome explores atmosphere levels with an impressive fluidity, from telluric grooves to more ethereal parts, from introspection to reverie. What's even more impressive? Such sonic density could quickly get over-the-top, yet the band manages to make it sound fresh as ever.
ELDER never repeat themselves on top of delivering their highly recognizable formula, and that's exactly what has made them stand out all these years. Soundscapes range from stoner to progressive rock like on the previous records, but this time they've taken a more "indie" direction, with a more straightforward, melody-driven approach and a strong highlight on vocals. Nick DiSalvo and Michael Risberg's guitars get even more chiseled and intricate than before. The mix is sharp and straight to the point, yet the amount of keyboards and guitar layers is so impressive that you may need a few listens to grasp all its subtleties. Unlike most bands, becoming rock and mature doesn't mean flattening or losing any power. Nope, it lays in the dosage and dynamics of its elements.
"In Procession" stretches through five minutes that get increasingly poignant until this explosive solo, to color itself with a new, lighthearted and delicate melancholy. The album's 13-minute long centerpiece "Halcyon" starts on a brooding atmosphere, followed by light waves of guitar and organ intertwine with mesmerizing synths… making way for one of those mountain-like riffs only Elder can deliver. Official single "Embers" has a more straightforward approach, but not quite like some songs on "Dead Roots Stirring" could be: a new ELDER arises, converting the indie rock try while maybe leaving a few die-hard fans stranded. As a finale, "One Light Retreating" comes collecting those seeds sown all throughout the record for a conclusion that really feels like a coda.
Self-confident, ELDER lay their countless melodic layers on a canvas that never feels overloaded or overcoated. They dive in head first to explore all possibilities and never intend to meet fans expectations — "fan service" is something they will leave that to the countless bands who try to grasp a formula that has never been set in stone. The marble statue on the artwork really depicts that: give time and nature the time to take care of straightjacket idols, for they will get destroyed eventually. Elder is younger.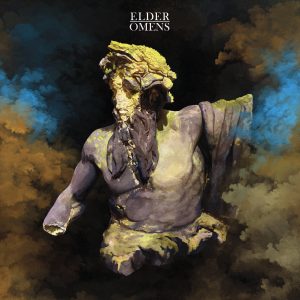 ARTIST: Elder
ALBUM: "Omens"
RELEASE DATE: 24th April 2020
LABEL: Stickman Records / Armageddon Shop
GENRE: Progressive rock
MORE: Facebook / Bandcamp
Last modified: 26 April 2020