Any Blut Aus Nord worshipper should lend an ear to their other brainchild

YERÛŠELEM

. As for novices, enter their world with no second thought, you're in for a life-changing experience.
Don't get me wrong, YERÛŠELEM's timeless, experimental and eerie music is the hardest to pigeonhole. The French black metal behemoths have always preferred to remain in the shadow, endowing themselves with mystery while constantly reinventing their sound. We don't know much about its members — except that is was founded by Vindsval and W.D. Feld (Blut Aus Nord), who deliver a sound in keeping with their '777' trilogy, as well as the 'Cosmosophy' and 'Desanctification' records. Cold, industrial, metaphysical, yet smoother than on their previous work. Well, that's how I felt when hearing opening track "The Sublime". You drift away to misty skies and feel the divine all along, no matter its form. I mean, YERÛŠELEM is the Holy City where most religions formed. I'm not sure of the lyrics' underlying meaning, but I guess they deal with life after death thematics, death within life included.
Compared to Blut Aus Nord, songs are more minimalistic, even slower and at times redundant. An omnipotent, bewitching guitar takes hold of us in a subliminal way. The rhythm section remains glacial and surgical all along, as if Godflesh had crafted them. One could even expect Justin Broadrick's trademark vocals or even Dälek-style hip hop vocals coming out of nowhere — a collab with the Newark MC is still in the pipeline as we speak. Said vocals recall of a less gloomy, less black and saturation-deprived "Cosmosophy". Sometimes, they sound like eerie western liturgical chants performed in a cathedral or a mosque far beyond Mount Ararat. An exhilarating throwback to ancient times conveyed through a highly modern sound. A distant complaint addressed to gods of a world made of dust and light beams.
Half course, we slowly get into a more complex and gloomier side of their sound. Lengthy solos keep the story going without vocals. Music speaks in place of men. Despite a rather abrupt ending on "Eternal", we're off to another dimension while "Sound Over Matter" kicks off — a journey into a mental desert that inevitably causes anguish while crushing your brain. We tumbled down through "Babel", an infernal spiral reminiscent of our civilization decay, which is more than topical thousand years after said events…
This first effort is a success, in that it offers a highly accessible and delectable experience — yet not much of a surprise when you are a regular of Blut Aus Nord's long-time experimentations. This new page on their book will delight uninitiated willing to hear a celestial offering, yet another psychedelic milestone to the immense pyramid our Norman heroes have been raising all this time.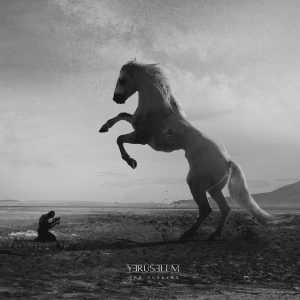 ARTIST: YERÛŠELEM
ALBUM: "The Sublime"
RELEASED: 8 February 2019
LABEL: Debemur Morti
GENRE: Experimental metal
MORE: Facebook / Bandcamp
Last modified: 28 February 2019