The time for the traditional

year-end selection of our favorites album releases

has come!

This 2016 vintage however marks a slight change in our modus operandi, as records will not only be picked by yours truly, but also by a part of the THC team – aka "the experts"! Come and discover the heavy, stoner, doom, rock albums we've kept spinning all year long on our – real or digital – turntables, and enjoy yourselves…
Beeho's Hottest Round of 2016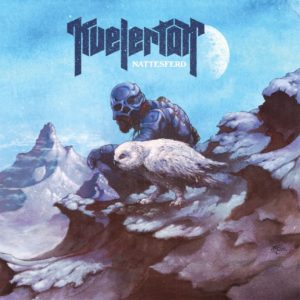 KVELERTAK "Nattesferd" (Roadrunner Records / Indie Recordings)
Six years, three albums, and not a single decline in momentum on the horizon for KVELERTAK. I'm not afraid of stating that they're now part of the Greats of Modern Metal – and I won't even take credit for that catch phrase, if ever used on promo stickers. Still labeled as "black metal/hardcore" on streaming platforms (ha!), the Norwegian six-piece never holds back when it comes to incorporating nods to the finest power rock and metal of the '80s, while keeping that blackened punk sparkle that makes the whole mix as explosive as a barrel of napalm. Following on from Kvelertak and Meir, each song is a stadium-ready anthem, with Erlend Hjelvik leading his troops to the front with no fear. Let's keep it short: if you already like KVELERTAK, check out this new album asap. If you only knew a little: same shit. With their inextinguishable fire, the six berserkers aren't done revitalizing the metal genre by means of supersonic mjolnirs!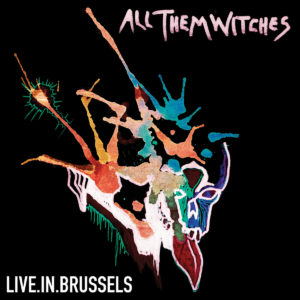 ALL THEM WITCHES "Live in Brussels" (New West Records)
A live album doesn't a priori offer any original song, thus it shouldn't be considered as part of a new releases selection. Yet ALL THEM WITCHES are special, for each one of their performances provides an unrivaled experience, a shamanic ritual from which you'll come out galvanized. Revamping their songs for the stage, the heavy psych foursome from Nashville, TX bewitches and transcends the listener. Riffs become lighter, organs feels like a whisper… Jams such as "Blood and Sand/Milk And Endless Waters" or the introductory "Death Of A Coyote Woman" will make you forget the originals. Less heavy, trippier, the band manages to create an intimistic vibe from beginning to end, whilst keeping the intensity from the original intention. The Ancienne Belgique venue is known for putting out top-quality live recordings, needless to say, this "Live In Brussels" may outshine everything you've heard from this fabulous band… until the next one!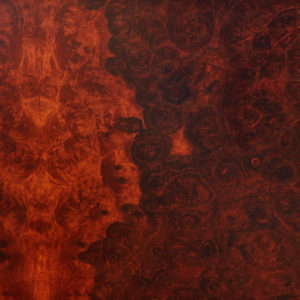 TRUE WIDOW "Avvolgere" (Relapse Records)
Sometimes, rock isn't only about riffs or revolution. Sometimes, it's a gateway to your deepest emotions, whispering what you need to hear the most. Avvolgere is the soundtrack for rainy days, its melancholy overwhelms and bathes your ears into a dark and dreamy "stonegaze" sound that can get sharper at times, but certainly not trenchant. Following up perfectly with their debut Circumambulation, TRUE WIDOW don't mean to innovate. Crystal riffs flow onto a mount of highly-driven Big Muff pedals, following their slow course, never drifting from it. Dan Phillips and Nicole Estill's nebulous vocals leave you in such a contemplative state, it feels like a dream. You'll have given way to these ten stripped-down grungy doom tracks, before you had a chance to catch your breath…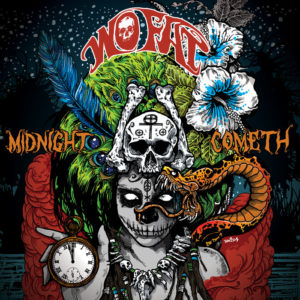 WO FAT "Midnight Cometh" (Ripple Music)
After North America's trailblazing label Small Stone Records unearthed WO FAT and their über-greasy Black Code in 2012, the undisputed kings of stoner blues are back with their sixth album on a powerhouse that has undoubtedly picked the heavy torch in view of the international scene: Ripple Music. As with a fat, juicy rib steak from the market, everything's good on this new offering from the Texan trio. Pour some beer already, as you may be stuck in WO FAT's stifling and dusty sonic lands for a while… All fuzz out, Kent Stump and the team switch between mosh-inducing bangers ("Riffborn", "Three Minutes To Midnight") and their trademark hair-raising doom'n'blues jams. Better served with a whiskey on the rocks for a heightened experience.
Also on repeat: Rival Sons "Hollow Bones" – Mantar "Ode to The Flame" – Boss Keloid "Herb Your Enthusiasm" – All Them Witches "Lightning At The Door" – Slomatics "Future Echo Returns" – Whores. "Whores" – Asteroid "III" – Child "Blueside"
Pete Green's Sweetest of 2016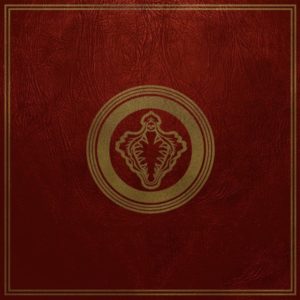 ÅRABROT "The Gospel" (Fysisk Format)
Through their ugly sounds, true beauty emerges, silently grinning. I must admit, when I first heard of Kjetil Nernes' throat cancer diagnosis shortly after Desertfest 2015, I feared the worst. I needn't have done as the slender, fedora-sporting Norwegian artist has truly proven that what doesn't kill you only makes you stronger by kicking his tumour squarely in the face just in time to deliver the best record of his famed noise-rocking collective's career. From the triumphant, marching call to arms of the title track through the intricate vitality of "Tall Man", the noisy weirdness of "Faustus" and "Rebekka Tragodie" and the spectacularly-layered "I Am the Sun", "The Gospel" presents me with a unique perspective on music and life with each and every listen.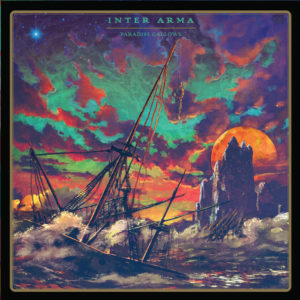 INTER ARMA "Paradise Gallows" (Relapse Records)
Sometimes it feels like a band can take you to so many different places, that it feels wrong to try to confine their universe to one album. This however is never true when it comes to the majestic progressiveness of INTER ARMA. Paradise Gallows contains everything you'd want from guttural death metal ("An Archer in the Emptiness") through enchanted drones ("Primordial Wound", "The Summer Drones") and even avant-garde shoegaze ("The Paradise Gallows"), but yet manages to never feel too rich and overwhelming. My favorite cuts however come with the cold, calculating, devouring anger of "Transfiguration" and the furiously expansive black metal of "Violent Constellations". It's a pleasure to listen to extreme music in an age where we are blessed by such boundary-free and prestigiously talented bands as INTER ARMA.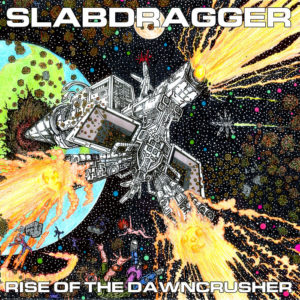 SLABDRAGGER "Rise of the Dawncrusher" (Holy Roar Records)
Those of us who dwell gutter-side upon London's talented underground doom scene have known for some time that sludge overlords Slabdragger always were something a little bit special, but few were prepared for just how jaw-droppingly righteous Rise of the Dawncrusher would turn out. With the trio setting a perfect collision course between Mastodon's finesse, High On Fire's intensity and Bongzilla's calculated execution of the riff, all wrapped up in an epic sci-fi comic book outer shell, a new bar has was set. The 12-minute 'Mercenary Blues' seems to smash by in seconds, 'Evacuate!' brings all the punky, moshy goodness whilst 'Dawncrusher Rising' is an outrageously monstrous slab of dragged out doom torture. Who knows where the Croydon three will next take themselves musically, but what is certain is that they'll be dragging a whole new worldwide army of fans along with them to a future filled with glory.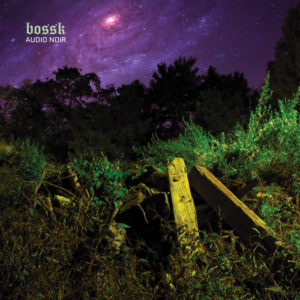 BOSSK "Audio Noir" (Deathwish Inc.)
BOSSK's significant influence on the underground was rarely in question, despite only releasing a handful of splits and EPs before breaking up in 2008, their captivatingly emotional take on atmospheric metal was not forgotten. Roaring back into life in 2012, their debut album Audio Noir was finally released this year and represents their finest work to-date. A near instrumental effort, you can feel everything from the beguilingly subtle guitar melodies of 'The Reverie', to the sucker-punching crunch of 'Hellopause', the spacey wash of 'Nadir', the dark cosmos of 'Relancer' and the money-shot riffage of 'Atom Smasher' all blended together in a near perfect balance between peace and war. Cornerstone to the record however is 'Kobe' with its gravity-less dynamics and seamless transitions between all of the above adjectives. BOSSK are back. Black in Black.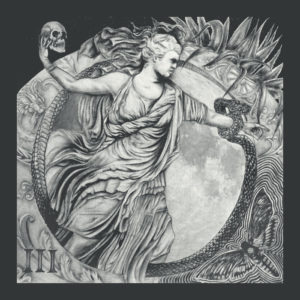 LANDSKAP "III" (S/R)
Not sure if you want to throw on some honest, sorrowful vibes, some silky, folky cheer or some heavy grooving good times? Then why not reach for one of my 2016 mainstays, the third record from humble Londoners LANDSKAP. Like a cross between the retro-heavy moods of Astra or Diagonal and the fist-pumping modernity of Spiritual Beggars topped with the crème of the psyche-laden '60s and '70s prog-rock greats, III's strength is in the band's new-found positivity versus the darker I and II records. This increase in confidence coupled with the commanding vocal impacts of singer Jake Harding (ex-Dead Existence) who's solemn, vulnerable baritone marries perfectly to the organ-lead bluesy nods of his bandmates, leads to a thoroughly satisfying 40-minute headphone blast. More please!
PG's Honourable Mentions: Black Cobra "Imperium Simulacra" – Wretch "s/t" – Vodun "Possession" – Sumac "What One Becomes" – Slomatics "Future Echo Returns" – Russian Circles "Guidance" – Mantar "Ode to the Flame" – Davie Allan & Joel Grind "split" – Gojira "Magma" – Elephant Tree "s/t" – Cough "Still they Prey" – Bright Curse "Before the Shore" – Garganjua "A Voyage in Solitude" – Greenleaf "Rise Above The Meadow" – Oathbreaker "Rheia".
Katzenjammer's Obsessions of 2016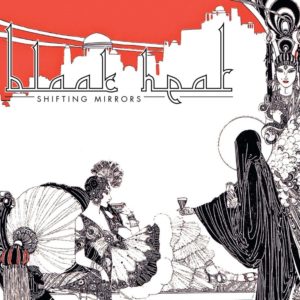 BLAAK HEAT "Shifting Mirrors" (Tee Pee Records / Svart Records)
When you're already knee-deep in the oasis of Middle-Eastern music, why not dive all the way in? BLAAK HEAT's appetite for Arabic sounds was well known – it transpired from the French-Americans' previous LP, The Edge of an Era, with a relatively conventional stoner rock backbone. The use of jembes, ouds and darboukas on this new album makes for an even more immersive experience. The incredibly versatile Shifting Mirrors suffers from a few of the band's defaults (harmonically limited singing, some over-repetitive riffage), but mostly showcases its strengths: powerful drumming, uber-melodic guitars and rich ambiances. The perfect companion to your journeys across the Sahara!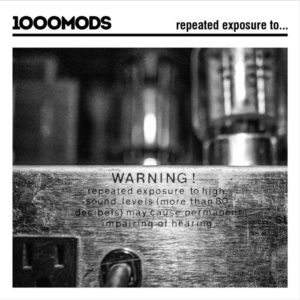 1000MODS "Repeated Exposure To…" (Ouga Booga and the Mighty Oug)
There's nothing like seeing one of your favorite bands reach their full sound and songwriting maturity. Like many others, I had strained my vocal chords yelling along "Vidage", broken my neck on "Super Van Vacation" and spent hours drumming furiously over "Low". Yet I was also aware that 1000mods' previous albums, beyond a few irresistible heavy-hitters, had their share of fillers and shortcomings. Now comes Repeated Exposure To… to crown a decade of jamming together, as childhood friends from the small Greek village of Chillimodi. The result of tireless studio efforts, the album hits the ground running with "Above 179″'s diabolic triplets and rushes on – without ever faltering – to the orgasmic finale of "Into the Spell". The album's cover warns about the hearing impairment risks of repeated exposure, but everything else – meticulous production, inspired riffs, catchy singing – is in place to encourage… well, repeated exposure.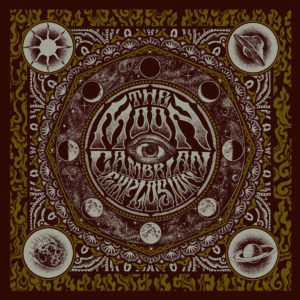 CAMBRIAN EXPLOSION "The Moon" (S/R)
Lost among the most anticipated releases of 2016, this short album has come out of nowhere (or rather the excellent Stoned Meadow of Doom Youtube channel) to kick my butt. After their first escapade around The Sun, the cosmic sorcerers from Portland aim for the Moon. In just 35 minutes, Cambrian Explosion embarks the listener further than most psych rock bands in an entire discography. Marvelously executed, with extra depth provided by ethereal singing and ambiant organs, these gems are also produced with great taste. The drums fade-in that kickstarts Innocuous Creatures is, on its own, enough to make this album worth your time. And the second half of Crust of Theia… I'm getting goosebumps just writing about it. Now, where shall CAMBRIAN EXPLOSION be headed next? Mars? The Jovian rings? Who knows, but I'm calling shotgun on the damn spaceship!
Last modified: 10 February 2017