Oh hey, a new

TRUCKFIGHTERS

record! Like many other fans, I discovered the band through their 2005 effort Gravity X, which helped putting Europe onto the international stoner rock map. Then 2009's Mania won my heart over. So I was thrilled to see that, fifteen years of existence and countless drummers later, the Swedish trio came up with a brand new album this fall, soberly and symbolically titled V.
What can we say of this new TRUCKFIGHTERS vintage? At first blush, the band's trademark fuzzy solos and bass-driven stomp seem to prevail. The flawless production gives prominence to crystal-clear vocals and those "stop-go" breaks dear to '90s rock bands: Truckfighters assume it 200%, and their style shifts progressively from straight-up stoner rock to a proggier, grungier sound. It's commendable of them to infuse their sound with new influences, to avoid kicking their heels and remaining underground. That's something a certain mister Homme – their number one fan – did years ago. But the deal is different deal here. So what remains under the lacquer after a few listenings?
The first track's title is actually representative of the whole album: "Calm before the Storm". It says it all. With the song kicking off on whispers and aerial riffs, you would expect a blazing solo to come right after this. But it's not happening. The band keeps the foot on the brake pedal, and the polished yet also one-dimensional production makes the whole thing sound a bit dull. Boring. By constantly playing on contrasts, each song draws out uselessly. The linkage between some of them even feels dubious at times ("Hackshaw" then "The 1"), then you lose your way by the end of the record ("Storyline")…
The sparse sparks of groove and fuzz could have sweetened the pill of laborious song structures… if it wasn't for Ozo's superfluous aerial vocals.
By intending to get away from the scene who has nurtured them, haven't TRUCKFIGHTERS lost something in the process? The fuel-laden and organic side of their music has disappeared in favor of a smoother, sterilized production. Clean, pop vocals may please the ears of a wider rock audience, making their disciples gloating over the band's MTV-readiness. However, disappointed fans may salute the effort and will to evolve, but will expect more, better. TRUCKFIGHTERS can definitely do better.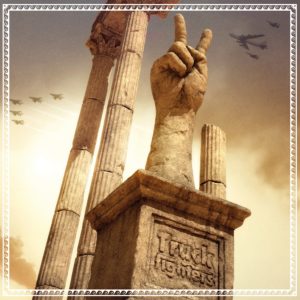 ARTIST: Truckfighters
ALBUM: "V"
RELEASED: 30th September 2016
LABEL: Fuzzorama Records / Century Media
GENRE: Rock / fuzz rock
MORE: Facebook / Website
Last modified: 12 December 2016