Music lovers from all over the continent will never be grateful enough to Kadavar for inviting their German fellows 
THE PICTUREBOOKS

 on their European tour this fall. Also, none of us can be grateful enough to Riding Easy Records for unveiling

one of the world's best kept music secrets, to say the least

. Without all these circumstances, a lot of people would have remained in ignorance of this utterly skilled and creative duo, whom has already enthralled countless audiences – especially in the United States, a land that is dear to their bikers' hearts. After spending weeks filling my ears with their

bluesy, subtly greasy, and most of all beautifully written new record "Imaginary Horse"

, I jumped at the chance of meeting the guys at Desertfest Belgium to try to learn more about this pretty intriguing outfit, who had cut themselves off from all the music industry bullshit, to focus on what they do best: play some good fucking music. As generous and open as I imagined them to be, 

Fynn Grabke and Philipp Mirtschink allowed me to unlock the fascinating story behind The Picturebooks

and their new record. Meet the raddest guys in town. (All pictures except cover by Sylvain Golvet)

Hi guys, very happy to meet you! How's it going?

Fynn Grabke (vocals & guitar): It's doing good, we've just been to the States and it went awesome, the crowds were super cool and open. Then without a break, we hopped into the Kadavar tour. We landed at night on a Thursday, the first show was the next day, it was my birthday too, so it was crazy! A little bit of jet lag in the beginning, but we're in the right timezone now!

From what I've seen, you've done a LOT of touring in the U.S, now the Kadavar tour in Europe… How did you get to tour so much?

FG: Cedric Bixler-Zavala from The Mars Volta got a hold of us on Instagram and really liked what we did, so he got us like two shows in the U.S. When we came there, the first shows went so well that we got booked out for two months. It was really good. We had no label at that time, so it kinda make the stone roll, like a snowball effect. When we were there, everyone kept talking about Kadavar, so I looked it up and realized they were from Germany. We contacted them to get some advices, when we had those problems with our visas. We stayed in touch, then Lupus personally invited us to this tour, and now we're here and it's doing super good. Every night feels really special, everyone in the crowd is digging what we're doing, we get a lot of compliments over here!

I've been digging the Internet to know more about how you work as a band, but I didn't find anything recent. I'm actually really interested in the recording process of "Imaginary Horse", as you wrote and recorded all the songs in your garage of Gütersloh in Germany. How did the idea of such a raw process of recording come up, and most of all, how did you manage to get this very unique sound? 

FG: Like you just said, you didn't find anything about us from now because Philipp and I made two albums before this one with a bassist. It was a bad time and Philipp and I just wanted to do whatever we wanted to, so when he left the band, this whole creative process started. We needed to split the contact with our label, the press, because we didn't want any deadline or pressure. We just wanted to do what we wanted to, whether it was building a chopper, going skating or doing music. We forbid each other to listen to music for like two years so that we wouldn't get wrong influences. It happens to so many bands, especially in Europe. Like, bands all of a sudden sound like something that's already out there – for example, a German version of The Strokes. Nobody needs that! We wanted to create something new. We build our instruments in the same garage we build our choppers, because we don't want to switch rooms all the time. We love the sound in there, it's so roomy… If you clap, there's a super nice reverb sound. We tried to find out out how to catch that sound for the record, because it was the feeling of the moment. We tried to get rid of everything we knew about studio equipment and stuff, as we co-produce a lot of bands with my dad at his studio (Fynn's dad is Claus Grabke, renowned skateboarder and owner of Claus Grabke Studios in Germany). As an artist, if you know anything is technically possible, it kills creativity. So we got rid of our cymbals, I threw away all my pedals, just to get the rawest product in the end. No music, no influences, no deadlines, just going with the flow. It was two and a half years just doing that, then we kinda got a deadline with Riding Easy Records (formerly Easy Rider records), we had like fifty songs and had to start that process. That was good! We recorded everything live, with only two microphones in the room, three meters away from us. We just did some overdubs, for the vocal parts mostly. Less is more, kinda.
"We got rid of our cymbals, I threw away all my pedals, just to get the rawest product in the end. No music, no influences, no deadlines, just going with the flow."
Well, that's a good motto. So who took care of the record's mixing and mastering? Was it you guys?
FG: My Dad and us. We always want to make sure that we're somehow in there, you know? We don't really trust anyone in this business, because there's a lot of weird people (laughs). We had that really unique taste, and we didn't want anybody to put their fingers in it. We try to avoid giving other people the chance of putting something else in there… So we do everything ourselves: the photos, the videos, and of course, the recordings. If you check out the social media and stuff, this is all us.
Yeah, we can feel it for sure. The sound on this record is pretty exceptional, I mean, when you put headphones on and press play, it feels like being in the same room as The Picturebooks. I'm glad you enlightened us about how you made this happen!
FG: It was a long process for sure, I tell you that!
In the meantime, this album is very different from the two previous ones, it's much more refined and emotional. So how did this evolution in your songwriting occur? Is it something related to your personal lives or something?
Philipp Mirtschink (drums): I think it was already in us when Tim was in the band. We played and jammed around all the time, even when he wasn't there, so… It was kind of the sound we have right now, just without the roughness. Then we went to the US a couple of times, drove all the way through the desert… Do you remember that song, Fynn?
FG: Yeah I remember, I bought a ukulele at a small thrift shop and we wrote the song in the car, it was just the perfect moment to do that. A lot of people say that you can feel it, well it's just because it all happened there, you know? And about all the blues influences, I think you can hear it a little bit on the second album, but at that time we felt like we weren't allowed to do it… I was sixteen when the first album came out, so I was like "I'm too young to tell people what life is about". And somehow we found a way to get the blues in there without that message the blues guys have. If you listen to the album, it's an influence, but we're not a blues rock band.
It's still really hard to define your music, actually. I mean, it can be very aptly labelled as "garage" because it was actually recorded in a garage and has that very special feel, it's bluesy in some way and sometimes also really acoustic, there's a lot of soul as well…
FG: You know, that's what we wanted. Like I said, we didn't want to be a German version of something. If you think of Kraftwerk, I don't think anybody could have said "oh yeah that's electronic, didn't you know?" (laughs). Nobody knew what the fuck that was! I'm not saying we're doing something as new as Kraftwerk did at that time. In metal, you have certain things you need to do so you are metal, in blues or every other genre too… We set us free from all that, and just get the purest out of it.
"If I tell you the Beach Boys' "Pet Sounds" album, oh my god, it's crazy how much influence we got from that album…"
Speaking of that, are there any bands in the rock and metal scene that you would relate to?
FG: If I tell you the band we think we relate to, nobody will believe us! If I tell you the Beach Boys' "Pet Sounds" album, oh my god, it's crazy how much influence we got from that album… At the end, there's a train, and the "Your Kisses Burn Like Fire" video starts with a train. And in "E.L.I.S.A.B.E.T.H", I sing "Elisabeth, where's your long hair gone?", while in the song "Oh Caroline Oh", he sings "where did your long hair gone?".
You stole it from them!
FG: (laughs) I did it on purpose, actually! We both are the biggest Beach Boys fans. But again, the moment we hear "it sounds like blablabla", it's out. There's a ton of songs that didn't make it to the album because we think it sounds like something that's already out there, a band or a song that we know. A lot of people would say "what the fuck are you talking about?", but we're really picky about that. I mean, you have to be!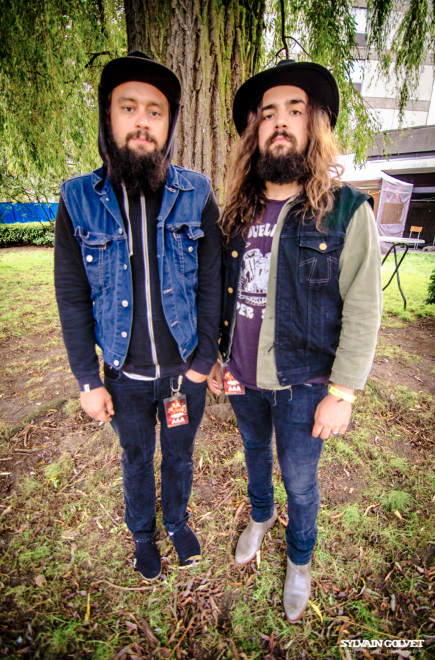 That's how you stand out from the crowd.
FG: And you know, blues duos, there are a lot of them out there. We made sure nobody can go and say "you're kind of like Black Keys or White Stripes". That's just the worst thing that can happen.
Yeah, the overall feel of this record has nothing to do with one of those bands, there's definitely a lot more going on with your music. So it leads me to asking you about the themes on "Imaginary Horse", and where does it all come from?
FG: It's all about what we were doing while recording this in our garage. It smells like choppers, oil… There are a lot of bands who're like (puts on an exaggerated manly voice) "oh yeah, it's rough, it's oily, it's motors". We're not like that. Our skateboarding and motorcycles is probably the realest you can get. We're not pushing it, like Blink 182 or Avril Lavigne who put skate in their video to look cool. We really skate, we don't have stuntmen doing chopper stuff for us on the photos… (laughs) We ride and build those fucking choppers! We're not fucking around, this is what we are. And over everything, even if it's successful or not, financially interesting or not, Philipp and I are best friends. When we're not on tour, we wake up and call each other, Philipp eats lunch at our place pretty much every day… That's what I recommend to everyone who wants to start a band : do it with your best friends. We tried to imagine, what if we had a manager that's some random dude we didn't like, what if we wouldn't like each other and try to avoid each other backstage? It wouldn't work. The Picturebooks, that's what we do and fuck everything else, y'know?
"We really skate, we don't have stuntmen doing chopper stuff for us on the photos… We ride and build those fucking choppers! We're not fucking around, this is what we are."
It could have been the perfect ending to this interview, if I didn't have one more question…
FG: (laughs) Oh, but I didn't mean to end the interview!
My last question was related to the current heavy music scene, as you're playing Desertfest today. Have you ever listened to this type of music and know some of the bands who are playing this weekend? Do you have any thoughts on this particular scene?
FG: We know Fu Manchu, Kadavar, of course…
PM: I've heard a lot about Electric Wizard, even though I haven't listened to every record they put out.
FG: There are so many bands right now, that it's getting out of control. But I like it because it's good music, good people doing cool stuff, they have cool designs… And you know, we're on Riding Easy Records – and Noisolution for Germany, Austria and Switzerland – and they got all these awesome bands too. We love it. However, our next album won't be a stoner rock album just because we're hanging out with a lot of these dudes now. The good thing is that all of a sudden, all these people go to live shows again, to clubs, not just festivals. I think festivals lose much of the feeling, that's why we love playing clubs! (then they explained to me how hard it was for them to attend gigs as part of the audience, for music was often too loud; which leads me to think that these guys are actually way older than they claim to be)
Anything you'd like to add for this interview?
PM: I think he said it all!
FG: I had a run, and now I'm off… (laughs) We love France, we hang out here a lot. We're looking forward to playing there in November!
Last modified: 21 October 2016