MONOLORD

. A name that evokes nothing but fabulously majestic heaviness. Monolord is this sonic undertaking that has induced either numerous bleeding ears paired with severe innards melting OR

mind-expanding levitations in a thick bubble of fuzz

. I guess most of the journalists and music fans who have kept praising the Swedish trio since the release of their

fabulous first album "Empress Rising"

one year ago on Riding Easy Records, will agree on the levitation thing. Even more if they had the chance to catch the band on stage on their first European tour a few weeks ago. Well, I was one of them. So right before they intended to tear my city, my fave venue and basically all our speakers down, I sat down with the band and tried to know what the Monolord formula is all about. And got a simple answer: passion, hard-work and a bit of misanthropy…

Firstly, could you introduce MONOLORD in a few words? How did you guys started?

Thomas V Jäger (guitar & vocals): At first, it was me and Esben. Mika jumped in in 2012, we rehearsed one time together, then he started recording bass for the album.

Esben Willems (drums): Straight away into "Empress Rising"! We became a band on this album, more or less.

How did you get so quickly signed on Riding Easy Records? That's a pretty fine label!

Thomas: I had the contact of Daniel at Riding Easy Records, so I sent a demo version of "Empress Rising". He was interested to hear the whole album, so we recorded rough mixes and I sent them to him. He said "let's go"! We didn't have to look for a record label, because it was the first shot.

When you released this album, everyone went super crazy about it. I think I haven't read a single negative review on this…

Esben: Actually, I think one said "I don't like the green on the cover"! (laughs)

For once a doom record doesn't have a black cover, that's quite refreshing!

Thomas: That's what we were aiming for as well. We didn't want the standard stuff.

Who took care of the "Empress Rising" artwork?

Esben: Nik Dudukovic. He makes very minimalistic stuff for commercials, so this isn't his style at all.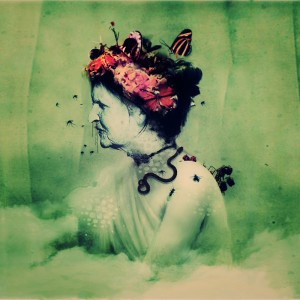 "Empress Rising" went really well and we thought "how are we going to top this?"
So now that you're signed on a super nice label who's doing a great job on promotion, now that you're about to release your new album "Vaenir" on this same label… What are your expectations? Would you say you've felt some kind of pressure while recording it, given that your first record has been so highly acclaimed by everyone?
Esben: That's a lot of pressure on the three of us, just because of that. "Empress Rising" went really well and we thought "how are we going to top this?". But at the same time, we've just kept on working as we always do, in our environment. We record everything in our rehearsal space, it's just like home, it's a safe haven.
Mika Häkki (bass): So that just makes a natural development from the first album to the next one. If we had gone to the studio to make new songs, recording somewhere else, I think the pressure would have been different.
How would you describe the overall sound and concept – if there is one – on the new album? I felt it was a bit darker, and maybe more experimental in some way…
Esben: We work on new songs all the time. Not like, ten songs and then we take a break. So the evolution feels natural to us. But it's darker and heavier, hopefully!
If you had to advertise Monolord in a few words, like a tagline.
Mika: Tasty and minty! (laughs)
Thomas: Slow and heavy.
Mika: Face-melting…
Esben: …Rumbling monolithic sounds. (laughs)
Thomas: At the same time, when we arrange songs, we have to pick a few things that will make you remember the song. As Esben said, we've been working on dynamics to get this. This record is six minutes longer than the previous one, but that work has been really important to make it feel good all the way.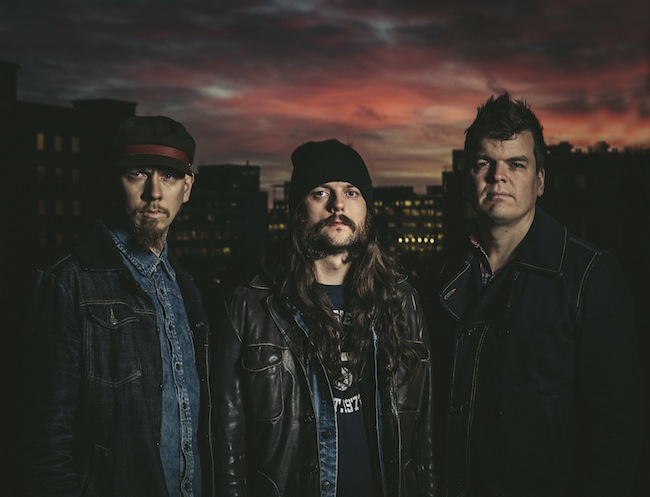 "We're pretty angry at people destroying the environment."
Are there any recurring themes in your lyrics?
Thomas: We're pretty angry at people destroying the environment. Like, the song "Nuclear Death" is about the sun getting bigger and bigger, and we're sending this nuclear to blow up the sun. It's basically a black view of things. We're pretty much angry at all the people all of the time…
Mika: There's a certain misanthropy.
Esben: There is, yes. Disgust for humanity and all that, but it feels good playing it and writing it, so fuck you all! (laughs)
The Swedish rock scene has been in the limelight for a couple of years now, mostly with 70's revival bands like Graveyard, Horisont, Blues Pills… But I'm sure there are many stoner, doom and heavy bands who also deserve to be known out there. How is the heavy music scene going right now in Sweden?
Mika: There's also having some sort of revival for all things slow. The heavy scene was bigger in the 90's, but it's rumbling from underground. There's a lot of good bands, like Mammoth Storm, for example. Candlemass are playing in Sweden again, so that's cool!
Other Swedish heavy bands you could recommend to us?
Thomas: Except for Mammoth Storm, I like Spelljammer. They're recording a new album now.
So do you have any other plans for the future? Like, maybe, split records with other bands…
Mika: They're all on the drawing board…
Esben: But fun stuff will happen. Touring first, then the release of "Vaenir", then let's see what happens…
Cheers to the Monolord guys for their availability and kindness, thanks to their TM Marcel and their awesome PR Richard S Jones for setting this up.
www.facebook.com/monolordsweden
www.monolord.bandcamp.com
www.twitter.com/MonolordSweden
www.ridingeasyrecords.com
Last modified: 4 May 2015