The whole stoner community in Paris has been awaiting for 
GLAD STONE FEST 7

with appetite, so much so it must have been 

one of the most shared underground events on Facebook

 a couple of days before the festival. For this seventh edition, Glad (the promoter) changed a few things : the festival took place at a brand new venue called Le Hangar, and most of all, the lineup was made of three international bands instead of one. Report of this hectic night featuring

THE MIDNIGHT GHOST TRAIN, STEAK, DOMADORA, BRIGHT CURSE ET AKA : COLD STEEL FOR TORTUGA

. (PHOTOS : Lorène Lenoir – VIDEOS : The Heavy Chronicles)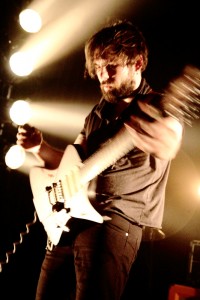 It's never easy to be the opening band, especially when the two thirds of the audience are still stuck at work, in traffic or the subway… However, London based Frenchies BRIGHT CURSE fell to be this band. The surprised was up to it when then started playing and dozens of people came in from nowhere. After one year and a half and a handful of gigs later, their live sound has improved undoubtedly. The Hangar's acoustics enhanced their thrilling melodic doom, and the lights (or sometimes the absence of lights) really did the job when it came to setting a trippy atmosphere. The first and only time I saw BRIGHT CURSE live, I felt like the singer had many issues with his high-pitched singing; fortunately, their summer tour with Trippy Wicked in the UK definitely helped out A LOT. The audience was still spare yet completely mesmerized. As determined and talented as these guys are, be sure they'll go far as a band. Bright Curse 1 – Paris 0.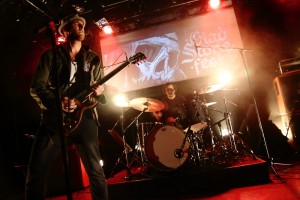 When I first listened to DOMADORA's record "Tibetan Monk" (released earlier this year), I was hard put to get into their space rock jams. With no reason, I just didn't feel it. However tonight, let's say that the Paris based trio just turned my brain upside-down (and the 2,5€ beers had nothing to do with my intense state of excitement). I was so awestruck that I couldn't help but putting a good word for them every once in a while ("damn, these guys are the French Colour Hazeeeee!"). The band delivered a colorful spirited performance : from hazy bluesy jams to more festive fuzzed out punk riffs, DOMADORA enchanted the Glad Stone Fest crowd. A huge slap in the face it was, as well as a great discovery : I wish I had sensed their potential beforehand!
The "Kinder surprise" of this festival was that brand new band called AKA : COLD STEEL FOR TORTUGA (yup), made of members of Parisian heavy bands Abrahma, Flesh & Dust, Loading Data, Deardevil and Alcohsonic. Everything in this super group intrigued me, everything. Unfortunately, I had some business going on outside the venue, and only enjoyed the last two minutes of their gig… which seemed to be pretty rad. I mean, we have the right to expect radness some coming from such a bunch of charismatic dudes.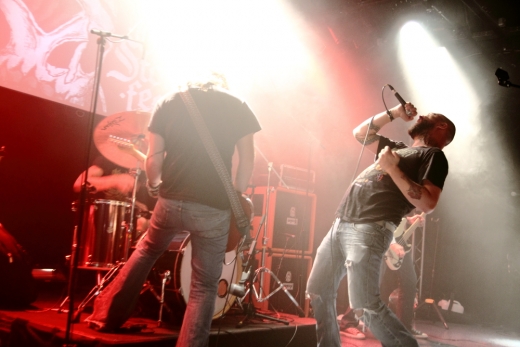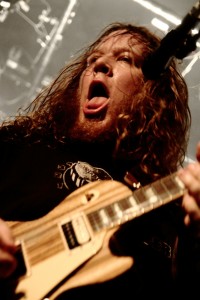 One can say Glad has done some serious teasing about THE MIDNIGHT GHOST TRAIN on Facebook… rightly! I knew we would get a huge punch of ballsy rock in the face, but not to that extent. These three robust fellas come from Kansas, and I don't know how they roll (probably with loads of beers and barbecues), but GODDAMN they sure got loads of energy! Their riffs and rhythms hit us like a ramming car, the groove was burning, and the chemistry between the musicians was… nah, not only between the musicians : between them AND the whole crowd. Everyone in the Hangar grew themselves some balls and became one man during the trio's heavy-as-shit performance. It was quite hard for me to film more than one song, because I felt the urge to take on TMGT's high voltage headbanging. This band is just the epitome of southern heavy rock, their live shows are 200% brilliant. Insaaaaaaaaane!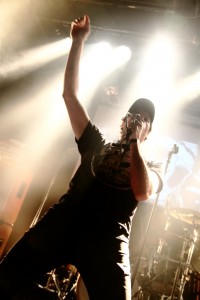 It's time. Time for some STEAK at Le Hangar. The four Londoners already played in Paris (at reknowned Stoned Gatherings show) earlier this year, and have been eagerly awaited by the local stoner community since then. As soon as the band set foot on stage, the audience started to shout out weird stuff like "steak tartaaaare!" "steak hachééééé!" (which means mince steak, basically). Well well, the band delivered some high-quality meat, while making all of us bite the dust. With their full throttle fuzz rock and Kipp's powerful singing, the STEAK tornado destroyed everything. They took on the stage in a flash, feeling quite at home in front of a very enthusiastic and effusive audience. Let me say that Londoners should learn from Parisians and start to cut loose instead of remaining so contemplative most of the time, because this is how it works! Fueled with beer and Jack Daniel's, the guys decided to play an unexpected Kyuss cover as an encore, the kind that's made for crowdsurfing. STEAK's hectic performance definitely satiated the 200 attendees, who're now waiting for the 8th GSF. Yes, we're all waiting for more good stoner rock, love and happiness.
Last modified: 16 May 2015