For their first indoor edition, famous stoner event 
UP IN SMOKE FESTIVAL

 and Sound Of Liberation thought big and made a huge splash with no less than 

sixteen bands in only one day

. Needless to say, we treated ourselves to some real heaviness from 1 PM to 1 AM, while also being able to 

discover a few gems

between two headliners. Let's go back to a 5th of October in Switzerland that was loaded with decibels, psychedelism… and beer.

But first, let's set the context, for this report has something very, well um, unusual… The day before, yours truly was in Paris for Glad Stone Fest 7 (full review here). Well, well, well. As Bright Curse played at both festivals (like Steak and The Midnight Ghost Train), these gentlemen spontaneously proposed to give me a ride from Paris to Basel (that's the moment I skip the episode of our crazy ride by night in Paris suburbs with some loud Stevie Wonder as a soundtrack). We arrived early at the venue, earlier than the first festival-goers. This is why I couldn't miss any of the gigs of this incredible day of music… well, if you take the tank truck of beer out of the equation, which kind of distracted my attention from the latest shows of the night. Anyway, Up In Smoke forever.

This up-in-smoke day starts with local stoner rock acts MARANT and JOULES. Nothing really transcending comes out of the two performances, as the bands execute the codes of the genre scholastically and sound pretty similar if you don't pay attention closely. Far be it from me to say they're talentless, let's just say they're filling in perfectly for the local quota. The next band is a zinger. Overlooking the room from the merch table, I discover a doom foursome with very powerful growled vocals. Wait, is the vocalist a girl? Actually, there are mostly girls on stage. SHEVER play a melodic yet crushing, brutal yet dreamy "death doom" (as they call it). I wouldn't probably listen to their records on repeat at home, but I have to admit I'm impressed by this splendid outpour of darkness at 2 o'clock in the afternoon.

On the small stage, it's time for the American flavour of the day (which was described to me as a VERY promising rock band): CAROUSEL. The cool thing with this venue is that all the action is centered in one room. You can easily watch the gigs while wandering around, taking a look at the merch, grabbing a few drinks… During the band's soundcheck, the bass player seems to have a few issues with his instrument, so Dave Wheeler (Carousel's huge frontman) decides to fill humorously by performing a few country and old school soul covers. In two minutes, I'm under the spell of his voice. After a five minutes medley and a few laughs from the audience, the real business is on. Rrrrrrrrrrrrrrrrrrock'n'rooooooll! Thin Lizzy, Maiden or Motörhead are the few names that can be dropped to describe their galvanizing hard rock… They're sometimes far from an absolute technical perfection, but these guys' exponential groove and Wheeler's fabulous soul voice are making an irresistible combination. There: Carousel's rock'n'roll is irresistible. Just check this out.

To leave us with an intense feeling of joy, Carousel end their performance with a devilish cover of AC/DC's "Let there be rock". Now everyone's dancing, the hostilities have commenced. While the Americans are packing up, my buddies BRIGHT CURSE are gearing up on the main stage. I go back to my vantage point at the merch to enjoy their MASSIVE sound (their sound engineer is nothing but Wight's frontman). Their performance at Glad Stone Fest was cool, but what we've got here is über cool. On the immense stage, the three boys are blasting their psychedelic doom, freezing everyone out of time…  Captivated, the crowd gathers in front of the trio, who performs a flawless majestic set. After Lille, Glad Stone Fest in Paris and now Up In Smoke Fest, I believe they're ready for the next step. Let's just see what will be the ongoing events for these guys. Happy guys.

We keep the pace slow with German riffsters GRANDLOOM and their instrumental stoner rock that sounds as hot and smooth as an afternoon sex nap under the sun of Nevada. It may sound a bit consensual, but just picture Colour Haze and Fu Manchu jamming together… Now imagine yourself in the desert at night, staring at the universe. Then all of a sudden, a storm comes into view. A groove storm? A fuzz storm? Who knows. Our brains are still a bit hazy right now, yet the German trio manages to open a vortex for the coming rise of psychedelia. Besides, they have some really cool merchandising.

Ultimate coincidence: as I'm being called for dinner (the privilege of being road crew), STEAK are taking the main stage. Ah-aaaaah! It's my fourth time attending a gig of theirs this year, and I think it's their first time on such a huge stage. Their energy is fuzz, soooo fuzz that many people in the audience are stunned in front of such a flood of testosteroned riffage. Soon enough, chants are replacing the quietness in the pit, while the Steaks are delivering one of their best setlists for that matter. The band is technically impeccable, our trucker hat frontman is at his best, and for once we can really hear the bass. Because hello, the groove is the backbone of their abrasive fuzz rock. Special mention to that new song merrily entitled "Pisser", another explosive thingy among their intergalactic discography. Now I can't wait to see them opening for Monster Magnet in Madrid and Barcelona in February!

After a delicious dinner, I go back downstairs to see the awesome trio THE MIDNIGHT GHOST TRAIN. These bruisers already unsheathed on the main stage, 6 PM here and it's getting hot! Beer is being splashed all over the floor, headbanging is at its maximum, I mean: party time. Their southern stoner rock is by far the punchiest and ballsiest thing I've heard at Up In Smoke Fest 2013. As if some kind of blues metal Hulk came down to beat the hell out of us. There are so many people in front of the band that I can't even slip through the front to make some footage. TMGT beat us up with riffs that are as greasy and addictive as the yummiest junk food ever, not to mention bass lines that are as subtle as a tank hurtling down the Helvetian mountains. Besides, these guys have SO MUCH energy… when you see them moving around live devils, it's nothing but contagious fun. The Midnight Ghost Train are without a doubt the most badass of all the badass motherfuckers, and you wouldn't waste your time by checking out their new record "Buffalo" (a very suitable name, trust me).

Time for some real psychedelic shit. Swiss instrumentalists MONKEY 3 are now soundchecking with the greatest of care on the main stage. It allows me some time to refill the beer stock and stumble upon the Glowsun fellas backstage. So many familiar faces today! Beers in one hand, motivation loaded (what's more normal after the energizing Steak + Midnight Ghost Train combo), I'm ready to fly high. After five hours of a heavy/stoner/doom rock melting pot, the "up in smoke" name finally takes on its full meaning. The three maestros skyrocket us in the stratosphere with their aerial prog rock, while their trippy videos blow everyone away… It's not the beer, it's genius. I cast a glance around me to check if I'm still at Z7, and what I see is a truly mesmerized audience. Everyone on the Internet said their new record "The 5th Sun" is the best they've ever released, and probably one of the best albums of the year.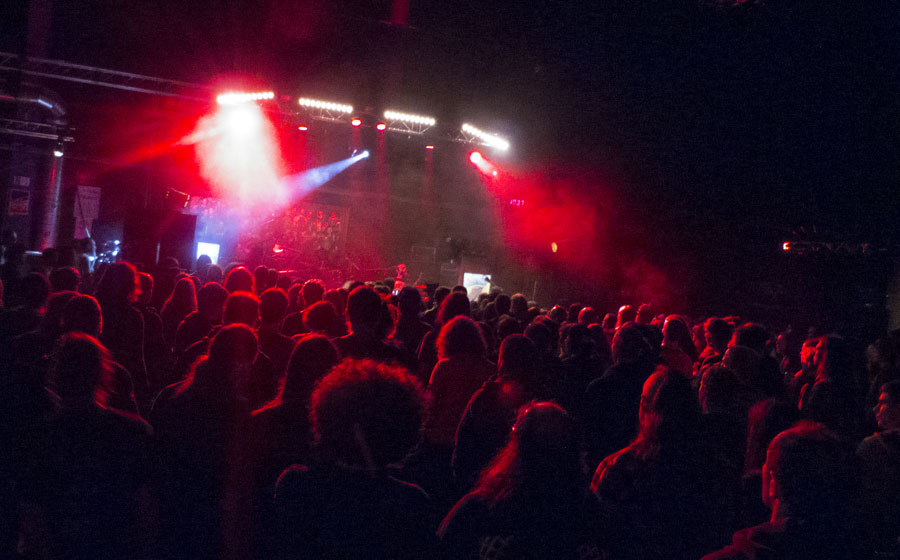 During a short pause chatting with GLOWSUN outside of the venue, we witness a disturbing display of diva-ism by his greatness Bobby Liebling from Pentagram. Fortunately, it won't take long before Glowsun are called inside for their gig. I still can't get enough of their music, even though I saw them in September at one of these Make It Sabbathy shows in Bordeaux (where they kicked everyone's ass). The venue's demographics is now around 10 people/m2, which makes my filming ambitions a bit tedious. I somehow manage to get to the second row to get irradiated by this fiery star we call Glowsun. Their music always feels like a perpetual stripping, but instead of a sexy chick, it unveils heavier and heavier substratum (think lava, earth's crust). However, irradiate yourself now:
Krisprooooooooolls ! If you can't go to Sweden, Sweden will come atcha! For the fiftieth time this year. But we don't get jaded about it. The fantastic TRUCKFIGHTERS are ready to unleash the fuzz, and as usual, they are supercharged. The crowd is quite disappointing though. Maybe I've seen these guys so many times lately, that I've become punctilious towards their crowd. So, when the band blasts their classic "Desert Cruiser", only the first rows are in (and again, they're not getting THAT nuts). However, the three Swedes don't get flustered and deliver aaaaall their hits with equal energy. Meanwhile, I retreat to the back of the venue to take a global view of the show made in Orebrö. Their new tracks sound a lot like what we're used to hear from the band, and to me, this music routine is a pity in some way. I don't think the new record (due next year) will reinvent the wheel, but it'll surely roll it hard, and we'll still take pleasure in seeing these three thrashing about and having fun on stage.
I miss a huge part of MY SLEEPING KARMA's set, for I'm interviewing Radio Moscow in the dining room. From here, it feels more like a bulldozer is presently crushing Z7… Besides, I know that My Sleeping Karma's music has nothing to do with bulldozers, but more of psychotropic sounds blended with a long-haul trip to enchanting exotic destinations. As my pre-interview stress turned into some kind of weird boisterous euphoria (which is increased by a significant dose of hops), I vaguely pay attention to COLOUR HAZE's performance. Truth is, my actual state of trance only allows me to set apart one song: "Tempel". In the end, as much as I like their endless jams on record, I find them a bit lengthy live. It's the second time I miss out on Colour Haze this year, maybe I'm not made for this band at all. On the other hand, the opposite phenomenon occurs when RADIO MOSCOW start to play on the small stage. After I sneaked to the front, I find myself with a bunch of fellow worshippers. Within no more than two seconds, I'm not in Switzerland anymore, nor even in 2013: do you know the Jimi Hendrix Experience, baby? Parker Griggs is a guitar genius (yeah okay, you already knew that), the kind of musician who fills your ears with a lot of blues, wah, soul, feeling and… AAAAAAAH! I'd rip off my clothes right now, because it feels too damn good. So damn good that I'm unexpectedly starting to cry. Radio Moscow's gig represents for me the most thrilling moment of the whole festival. It's the epitome of blues, and everyone acknowledges that stoner rock gleans a huge influence from blues music. God damn, thinking of this gig just gives me goosebumps…
PENTAGRAM is here, bitches. Let me tell you that along with Radio Moscow, I left behind my dignity and my sane self. I'm not part of this world anymore. Distantly, I hear "Forever My Lady", "Petrified", "Be Forwarned", I see Bobby Liebling moving about in front of a mesmerized and electric crowd, I'm exulting in front of this monument of heavy metal… The night goes on as it always should be: with good friends, good beer and Jägermeister. In the end, this live report may not be the most comprehensive ever, but as long as I managed to share all these good vibes and awesome music with you, it's all that matters.
UP IN SMOKE FESTIVAL celebrated its first indoor edition the best way ever, with a beautiful handful of handpicked artists and a perfect organization around the event. Seeing such a level of coolness, I can't wait to attend the next UIS edition. Until then, you can still take a look at Sound Of Liberation tours that will hit your town in the months to come.
Last modified: 11 February 2015