Once in a while, I go all the way from Bordeaux to Paris to attend gigs, most of the time for 
Stoned Gatherings

 – which is the result of an intense prioritization on my gig agenda. 

BLACK TUSK

 is one of these bands who is way too addictive when it comes to live performances. I could have said that about pretty much any other good live band around, but THESE GUYS? Man, they're about ten levels higher than everyone else. For this Paris show, UK's sludge revelation 

GURT

 were invited for their first French gig ever, and BT's tourmates

FIGHT AMP

contributed to the party with their raw and brutal vibe.  

Welcome to the Antichrist of a perfect "family Sunday"

.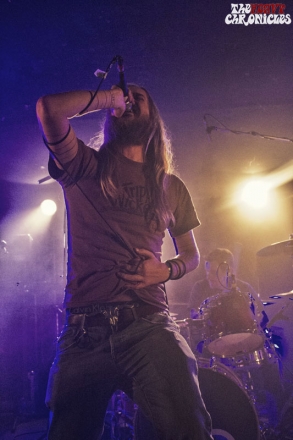 It seems like word of mouth has worked since Desertfest, as many curious (and convert) peeps came early for the British band. Well, when I say "many", I mean that for a Sunday night, die hard troops are more than operational. This show at Glazart means something really special to GURT, as the band is exceptionally performing with a fifth member (their former guitarist JBob, who came back on the Old Continent to get married – congrats again! – and was invited to join his friends for this very show). The Gurtian sound is already incredibly deep and heavy with one guitar, but now we just reached the higher level : the MEGA SLUDGE level. With their catchy blues-laden sludge metal tinged with hardcore spasms, the band is winning over the audience in the twinkling of an eye. Talking about the audience, people apparently revised their classics by watching the hilarious homemade video "Dudes With Beards With Cats" before the gig, given that meows are replacing the usual shout outs between the songs.
GURT impose themselves as pure heavy hitters on stage, and as much as I can feel these guys are "in the game for the good reasons", I can also feel this sincerity throughout the performance. Guys like you and me, but with an extra power. Talking about extra power, we're being spoiled with the presence of JBob, that's for sure, but we're also getting completely rotten with a new song called "Sophisticate" (see below). The crowd is giving love back to the London quintet, and when they announce the near end of the show, people are eventually starting to cry "one moooooore" (let me just remind you that it's GURT's first gig EVER in France). As pleasantly surprised as they can be, the boys quickly respond by blasting their very personal cover of Led Zep's "Rock'n'Roll" (video exhibit). WIN. Now eeeeeer'body is looking forward to seeing them back in France soon. Win again.
I only enjoy the last half of FIGHT AMP's set, given that I was previously taking pictures of Black Tusk in the smoking room. The first time I met Black Tusk was during that unforgettable gig with Red Fang at the Combustibles in 2012, and I haven't seen them until today, so we had kind of a little bit to catch up. Once my photo duty is done, I get back inside and get instantaneously smashed by FIGHT AMP's music.
For the record, Fight Amp means "Fight Amputation", in other words : BRUTAL. Like Black Tusk, they don't need to be an army on stage to set our eardrums on fire. Subjectively, this isn't quite my type of sound but I couldn't tell you why. However, they bring a real continuity in the lineup, because their hardcore sludge is close to the headliner's sound, even though they don't give the same "right-left-hook!" feeling. It is vicious, it is well-performed, but to me it feels a bit less hard-hitting than the two other bands.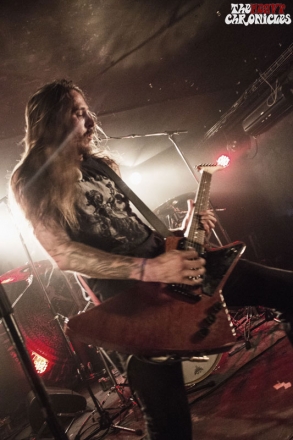 A few hours earlier, I made some Freudian slip while saying "Black Tusk, you like them or love them". Truth is : musically, you can actually love or hate their stormy sludge punk, but you won't get anything but thrilled when seeing them on a stage. Because when these three dudes blow in with their instruments while screaming "666!!!", and pour out all this energy… Tracks may sound similar when strung together, but no one cares. Attending a BLACK TUSK gig feels a bit like being a masochist who likes to electrocute himself in order to get a rush of adrenalin : that's a fucking electric shock in your guts, and daaaamn it feels good! Meanwhile, bearded bass player Jonathan Athon is jubilating, a wide smile on his face. Both him and Andrew Fidler are jumping and hoping around, rising their instruments in the air… Together, they are a fucking punk bulldozer, and James May aka Super Drummer is the machine gun man who's showering the crowd with bullets. Ok, enough military metaphors, just check this out:
There. This is exactly the kind of performance most rock and metal bands should learn from. Stop being static, you're not fucking action figures, give everything you got! These guys LIVE their music, and their on-stage energy is up to their sonic power. This is how it always should be, and this is why I have so much respect for this band and will never get tired of attending their gigs. And oh, good news : a little birdie told me they'll be back in Europe for festivals next year…
FIND MORE ABOUT ALL STONED GATHERINGS GIGS
on their website et Facebook
Last modified: 11 February 2015