Background : 1991, San Diego's hoods, four long-time brothers.

Four young fellas fed with punk, reggae, skateboarding and surfing on the Pacific's waves. Nothing to do with a so-called trend : this is how they live out there. Today, many people still think that P.O.D has been part of these bands who seized the nu metal trend to get popular, and that's it. However, these guys are anything but wannabes, they never went to any casting, and

even though some try to compare them to bands like Korn or Limp Bizkit, PAYABLE ON DEATH are more of the Bad Brains and Suicidal Tendencies kind

. The music of P.O.D is a concentrate of everything San Diego is per se : Santana-infused latin guitars are stirred with metal distortion, a solar reggae vibe is tangled with Public Enemy's protest rhymes… And the whole vibrates like a thousand rushing hearts. After two pretty anecdotal punk rap demos in the early 90's, P.O.D got noticed by Atlantic Records during a gig at Sunset Strip's Roxy.

Then came the radio hits, the videos on MTV, the worldwide touring.

After the 00's fusion metal "craze" passed, many people in the metal community (and the press) decided to relegate some of its bands to the bad memories' drawer : a shame. A salutary hiatus and a South American tour later, the band was finally ready to get back in the saddle and release its new record "Murdered Love". Hellfest 2013 marked P.O.D's comeback on the French stages, so I decided to

meet lead guitarist Marcos Curiel to test the water and know how the four Californians are seeing things these days

. Well, it's nothing but positive things. (Photos : All rights reserved)
How do you feel about the crowd's reaction at Hellfest today ?
Marcos Curiel : The crowd's reaction was awesome, a warm welcome, very energetic and it was a pleasure to play for the French people.
As Sonny said on stage, it's been ten years since the last time you played in France. How come it took you so long to come back in Europe ?
MC : Well, we took six years off as a band. We went on a hiatus, like "no music", because we had to find that desire and that passion again. If you do it for the wrong reasons, you burn yourself out. So we wanted to do this wholeheartedly and here we are. That explains for about six of the years, the other six… We would just blame it on bad management (laughs).
So how did you succeed in getting back into your music and getting the feeling again ?
MC : We work with a producer by the name of Howard Benson who did our "Satellite" and "The fundamental Elements of Southtown" albums, he was like "hey, I work with a lot of bands and I get a lot of work because of you guys, a lot of people are influenced by you and love your band, and they're like what is P.O.D doing ?"… So he was like "I'm gonna give these guys a call, and start put it in their ear like hey do you wanna do a record, call me, do something !". So we started talking as a band, we got to him, he did the new record and here we are. We knew we needed a whole new team. New managers, new attorneys, new everything. It's working for us and people love the music, so we're stocked on it !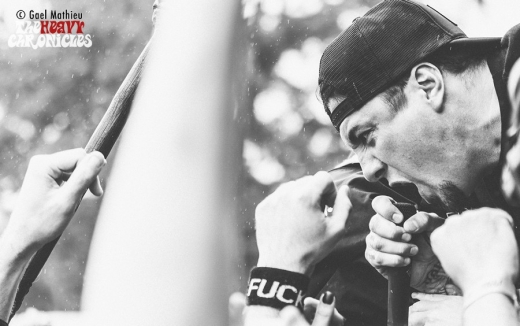 Sonny Sandoval in the crowd at Hellfest 2013
We went on a hiatus because we had to find that desire and that passion again. If you do it for the wrong reasons, you burn yourself out. 
What about the new album ? I found it more straightforward than the previous one, "When Angels & Serpents Dance"…
MC : With "When Angels & Serpents Dance", we were going through a lot of stuff internally as a band. We were dealing with a lot of personal issues, that's why we took the hiatus. Of course, on this one we're on the same page, we're kicking on full like cylinders. We have the same vision, the same desire and that's what you're hearing.
There's some kind of "back to the roots" feeling, there's a lot more rapping from Sonny, it's more aggressive. Was it intentional to kick the door in this way ?
MC : The intention was definitely to give people 100% old school P.O.D. You know, there's still some people that don't think that, but hey, we do what we feel. It's not necessarily trendy, we're all about feeling the groove and the vibe. It's kind of just like when you're going to a reggae concert, everyone gets into the vibe, but we do that with rock. It's groove, man… That's the only way I can explain it !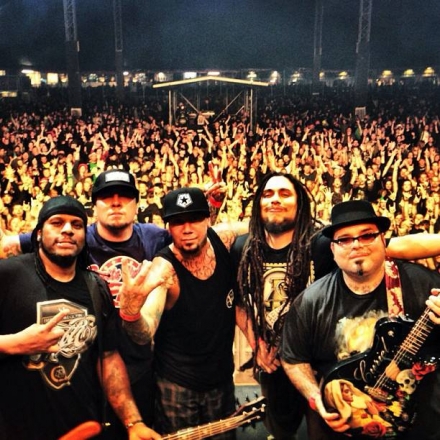 It's kind of just like when you're going to a reggae concert, everyone gets into the vibe, but we do that with rock. It's groove, man…
Definitely. That's we we find so many different elements in your music, like reggae, hip-hop, punk…
MC : That has a lot to do with where we come from. Southern California is reggae, hip-hop, punk, indie, so we've always done that. If you do your history on P.O.D, we've always mixed those elements into our music. We're not scared to show it, especially when we're playing a metal fest. We think that sets us apart, and bands that have influences like Bad Brains, Suicidal Tendencies and stuff like that. Locally, we were able to do it naturally, not forced.
So what are the most receptive crowds to your music ? The metal crowds or the hip-hop crowds ?
MC : The music lover. You know what ? There should be no boundaries in music, a good song is a good song.
Today at Hellfest, I'm sure there were a lot of people who didn't know they were about to face some more urban vibes, and I think they loved it !
MC : I think 10% of the listener is close-minded. The other 90%, they don't just listen to metal, so I think that connection we made with a lot of the fans out there, either they were down or they didn't knew us, they were like "oh, I like it, these guys are throwing it up !", because it's connecting to THE SOUL. That's all we're trying to do.
Speaking of connection, are you still connected with the music scene in San Diego ?
MC : Oh yeah, big time ! We just did a charity event with Tony Hawk and we like to give back to our community. We've done a few charities, where we play for free and all the proceeds go to a foundation. We do our part, but I think San Diego loves it. They're like "these guys don't think they're too cool or better than everybody else". How I act with you, that's how I act with everybody. Just because I play music doesn't give me the right to be a dick or an asshole.
Are there some bands from your hometown that you'd like to highlight right now ?
MC : The big thing out in San Diego right now, it's kind of like the Sublime style. You know Sublime ?
No…
MC : Ah, they're band that was popular in the skate.They call it "white boy reggae". Look it up and you'll go "ok, I know that". Their sound is big in our area, but the bands that come from San Diego like Blink182, Switchfoot, As I Lay Dying… See how different the bands are ? There's not one set scene. It's a very laid-back scene. But we come from the hood, the ghetto, it's a beach community. Everyone like surfing, we're close to Mexico and not so far from Los Angeles, so there's a lot of things to do. Reggae is a big deal in San Diego.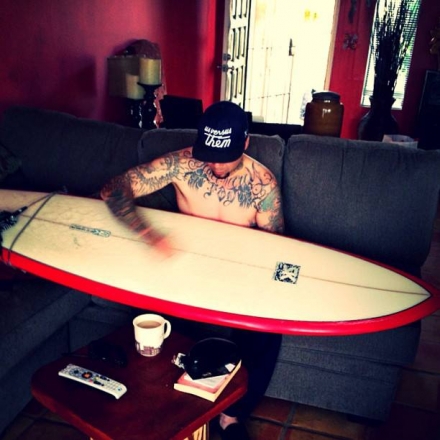 San Diego has a very laid-back scene. But we come from the hood, the ghetto, it's a beach community. 
What do you do when you're not playing music ?
MC : I have two boys, a 10 year old and a 3 year old. I bring them on tour when they don't have school, I try my best to be a dad. Then I like to ride my motorcycle a lot and just have fun. Go shoot guns, but not in violent way, like clay. I like to go fishing… I'm also constantly writing. working on a lot of electronic beats, I produce little artists like 16-year old rap. I make beats.
Do you produce artists on your own, or did you set up a music label in that purpose ?
MC : On my own. I use Reason and Machine, so I love electronic music, I love all that stuff. But I lean more towards the hip-hop side.
Last but not least : what's in the future for P.O.D ?
MC : One day at a time, because everytime I try to pinpoint something that I want to happen, it doesn't happen. So if I keep it open…
…Anything can happen, right ?
MC : Exactly ! You're good vibes, girl.
Last modified: 11 February 2015