When I stumbled upon
GURT

the first time, I was like : "Damn ! Does this filthy muddy sound REALLY come from England ? I can't believe it". At that time, my little knowledge of the British sludge scene brought me to think that

real fucking thick and aggressive metal

 could only come from New Orleans, Savannah, Atlanta, or basically any place under the Mason-Dixon line in the US. That was so restrictive of me. So yeah, besides the fact that this London foursome plays a groove-laden hardcore sludge metal served with badass grunt vocals,

they also show a great sense of humor

in their videos and stuff. But wait, GURT is also a bunch of rippers when it comes to live performances : just ask the hundreds of people who attended their gig on the second day of Desertfest London 2013.

Jules Winfield would say they're "badass motherfuckers"

. They are, but not so many people are aware of that (yet) outside the UK, so this is the moment when you fall off your chair in amazement (and not because some amusing bastard kicked it). Meet the nicest boys around.

First and foremost : what kind of beast is GURT ?  

Gareth (vocals) : GURT is a beast with two backs, it takes all the things you love and turns them into one thing that you love even more!

Your music is so soaked with the swamp's mud, it's so filthy, greasy and groovy… I feel like getting drunk in the bayou when listening to all of your records, but that's probably just me. What kind of things did you want to express when writing these songs ? 

G : FUN! We like to wear our influences on our sleeve and celebrate the music we love by making music we love, BUT its all about having fun and not taking yourself too seriously… That's all we want to express!

Most of the aggressiveness in GURT's music comes from the vocals. Gareth, how do you come up with that part ? Any influences you'd like to claim ? 

G : I can't sing so it helps that I sound like I do, I suppose. But I am OBSESSED with my vocalists and always have been, so try to have a nod to my favorites in my vocal style like Karl Middleton, John Morrow, Paul Catten, Dani Filth, Martyn Jacques, Frank Regan, Jon Laughlin, amongst many many others!

Which GURT song represents the band the most and why ? 

G : WOW, that's hard as certain songs represent different stages of GURT, but probably "Soapfeast" or "Dudes with beards with cats" as they are the most fun to play and represent our sense of humour best. The new songs we are writing are pretty representative of where we are now, GURT is evolving and what we are producing now is a lot stronger and fun to play. We can't wait to start playing these live, which will be soon!
We are about half way through the writing our first full-kength record, but with costs and all the fun that comes with being in a band, its probably going to come in 2014!
You released four badass EPs between 2011 and 2012, including a very cool split record with late UK band Dopefight. What can we expect for 2013 in terms of releases ? 
G : We are about to release a single of a song that been doing the rounds of late "Hoboreaper". It was supposed to be part of a split being released earlier this year, but sadly it had to be put on hold so we just want to get it into the world, we are firm believers in keeping busy. So we are also due to release another split project later this year with very good friends of ours, a London sludge band,  and most importantly writing for our 1st full length. We are about half way through that, but with costs and all the fun that comes with being in a band, its probably going to come in 2014!
The Desertfest performance at the Underworld must have gotten you loads of new fans ! Everyone who attended the gig was blown away, and enthusiastic comments have spread like wildfire… 
G : I don't think any of us have got over that set yet! It was completely unexpected to have such an amazing turn out at that time of day and playing to a full house in the Underworld was truly mind blowing. There are many videos turning up on Youtube if people did miss out. Our friends at Monster Riffage captured a lot of the set so it can be watched there.
Rich, you joined the band in late 2011 if I'm right, and you also play guitar in Sedulus. How do you prioritize things with both bands ?
Rich (guitar) : I love being in both bands! Fitting it all around a day job can be a challenge, but you do what you have to do, when you're really into something as much as we all are into our music. But it's not that difficult really, so far there hasn't been many or any gig clashes I can think of. As a fan of the band already, I was incredibly honoured to be asked to join GURT when Jamie left. The two bands are different beasts, which is ideal for me as it keeps things interesting and I'm nice and busy, playing all the time.
Ok, now I'd like you to explain the concept behind this song called "Dudes with beards with cats". The video is fucking hilarious, but I still haven't got the point ! 
G : Simple, I love cats and pissed myself when first seeing the website dudeswithbeardswithcats.com, I wanted to be on it. When taking a photo of me with a cat did not work, I thought that writing a song about it would draw attention to the fact that it was so awesome. It uncovered many cat lovers when I made the video for that song, I put a post out asking for fans to send in their cat photos and ended up with about 300 photos in the first week. The whole thing was a bit of fun, really, and it seems to have worked as the video for the song has racked up over 10,000 hits now! But still no word from the owners of the DWBWC blog…
Your drummer Simo is the only dude in the band who doesn't proudly sport a beard or a stache. How are you guys getting over that obvious act of rebellion ? 
G : Between being a Drummer, a Powerhouse, a Doctorate, a new Father, an excellent songwriter and an all round bit of a tyrant! We have to let him do what he wants or he'll beat the living shit out of us!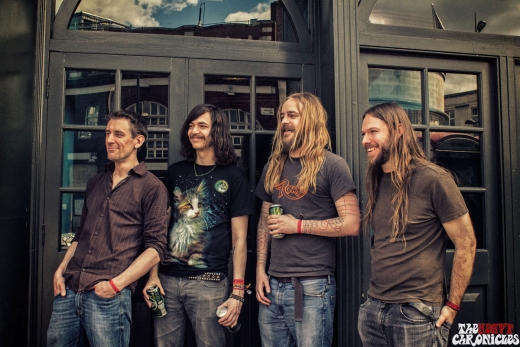 Like most English gentry, we enjoy tea, fine wines, long walks in the park and taking care of animals. 
How do GURT guys occupy themselves when they're not writing cool riffs or performing kickass gigs ? 
G : Spicy is an amazing designer with many awards to his name, Simo is a Doctor in quantum physics and by far the most intelligent of us all, and me and Rich both work in the office job side of the live music business. So it's a damn bit of a mix really, that's our day jobs… Other than that, like most English gentry we enjoy tea, fine wines, long walks in the park and taking care of animals!
What would you say about the heavy rock and metal scene in London ? Do you feel like this city gives bands a chance to get known and do what we they have to do, or in the contrary, all the prospects are already saturated ? 
G : It's very "healthy" at the moment and is getting to the point possibly where it could be considered too saturated. I think with the amount of promoters that now have set up in and around London, it is definitely a lot easier to get gigs here BUT the general fans here are way too spoilt, so it's all about working with the right people, on the right bills and getting the people in. There are a lot of promoters out there that think its easy to make a quick buck from getting bands in, and not paying them anything as well as not pushing their own shows. The key is to get in with promoters who are obsessed with the "scene", or who are in a band themselves as you know they are in the same situation, and nine times out of ten you will play to a busy room, sell some merch and go home with some dollar in your pocket. The best examples of this are nights run by Desertscene, Human Disease, Seven Churches, as well as When Planet Collides (see question below) and I like to think it's partly why Desertfest is such a success too!
Since I've got more keenly into the UK's heavy scene, I've seen a lot of write-ups coming from When Planet Collides which, I think, has something to do with you, Gareth. Also, I saw there were some gigs booked by WPC. Could you tell me more about it ? 
G : When Planet Collides was set up by me, firstly as a way to get GURT gigs with like minded bands. It was in 2010 and at that point, there were nowhere near as many promoters in the area as there are today. It has been awesome as we have met many of our great friends through it : Sedulus, Diesel King, Iron Witch, The Bendal boys, Steak, Dead Existence, Dopefight, Sea Bastard, Slabdragger, LIMB, Torpor, XII Boar… The list is very very long, and most importantly it got us close to the great promoters around London and the UK, and ultimately led to me being closely involved in Desertfest, which really is the icing on the cake!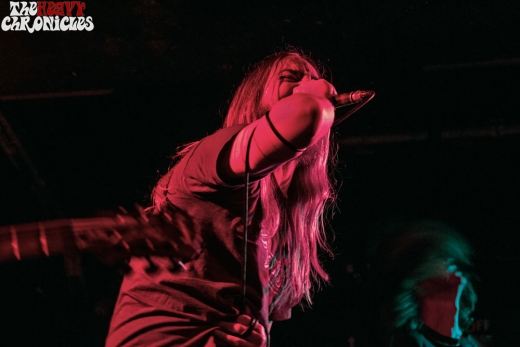 There are a lot of promoters out there that think its easy to make a quick buck from getting bands in and not paying them anything as well as not pushing their own shows.
You have a bunch of cool gigs coming in the next few weeks… Which dates people REALLY shouldn't miss and why ?
Gareth : We are playing in a couple of places for the first time, Manchester and Weymouth being the highlights (Weymouth being Gareth's home town). But you should not miss any of them if you have the chance, as we really are mixing up the set list and playing a different set each gig and premiering 2 or 3 BRAND new songs too!
Any chance you'd cross the Channel for a few European dates soon ? I've heard about a gig with Jucifer in Paris…
G : That gig has had to be put on hold, but we certainly have the plan to come to France and the Netherlands very soon indeed. Watch this space!
To end this interview, just tell me what are the coolest records you've been listening to and you'd like to recommend to the readers.
Gareth : The new albums from Ghost, Earthtone9, Steak's new EP and Dillinger Escape Plan's new one too!
Rich : I've been really into Witch Mountain and Royal Thunder. Loving those female vocals over dark and heavy riffs!
Spicy (bass) : All things fuzzy : Church Of Misery, Weedeater, Red Fang and the more recently, the Wytches.
Simo (drums) : Anything by the one, the only Iron Monkey, Led Zeppelin and Down!
Now I let you the final word, feel free to say anything you've always wanted to tell here… 
GURT : We always enjoy getting the last word!
GURT SUMMER TOUR 2013
JUNE 11th @ The Borderline (London) w/ NAAM and SEDULUS
JUNE 29th @ The Windmill (Brixton) for SUMMER SIZZLER festival 2013
JULY 5th @ Pig & Drum (Worcester) w/ DIESEL KING and more
JULY 6th @ Gullivers (Manchester) w/ DEAD EXISTENCE and more
JULY 13th @ Finns (Weymouth) w/ BULL RIFF STAMPEDE
JULY 27th @ The Black Heart (London) w/ SPIDER KITTEN and more
Last modified: 11 February 2015