And then there was the legend.

For 23 years, the American foursome CLUTCH has played

a heavy rock that has always been deeply rooted in blues and rhythm'n'blues

, far from the trends. Because hell no, they never cared of what people say. Fourteen records later (including a big handful of classics), their new album "Earth Rocker" won unanimous support, wonderfully summarizing the band's spirit : strength, fun, rock'n'roll and harmony. "Earth Rocker" was built for the stage, like

CLUTCH's magnetic frontman NEIL FALLON

. The man is a real rock'n'roll preacher : you listen to him religiously, only have eyes for him, hang onto his every word, then you end in a trance. Off stage, Neil is as peaceful as he is enthralling. With his barytone voice, he shares his thoughts and experiences with generosity and sincerity. A few hours before their gig in Bordeaux, Neil welcomed me in their quiet dressing room on a comfortable red leather sofa, and it just felt like home.

We talked about touring, of course, and inevitably about the new record.

Icing on the cake : we drifted from the main topic and chattered about

tourism and Z movies

. Let's meet with Neil for a lesson of Rock'N'Roll, straight from the source. (Cover picture : Krissy Bertram)

First of all, how was Kristonfest in Bilbao last night ? 

It was good ! There was only 3 bands and unfortunately Karma To Burn didn't play, I don't know why. We've known those guys for twenty years. The crowd was great,

I met Orange Goblin last night in Toulouse. They say hi and apologize for all the British drunk friends on tour…

(laughs) That's alright ! The one thing I've found is, no matter where you go in the world, if you play live music and you add beer, people always act the same. We're used to it.

Clutch and Orange Goblin kind of share the same path in music, as you've been around for more than twenty years and always sticked to an underground state of mind. I think you deserve a lot more recognition. How do you explain the fact that you've never gained a more "mainstream" recognition, given your success within the rock community ? 

It's hard to say. In the 90's, major labels were signing up a lot of bands because of Nirvana, and we were of those bands even if you we were nothing like them. We got thrown into a machine that expects hits and platinum records, and we're not that band. We write music for a more select group of people. We've never tried to write hits, we don't know how to do that. But I'm glad it couldn't work because one sure fire way to break up for a band is to have a huge hit. One, they kind of have to live up to it, and two, they get used to a certain lifestyle that usually goes away very quickly. We just like playing music, and I get to travel the world and meet people, and be with a band of guys that I get along with great. I think that's maybe one of the things people like about Clutch, because we're accessible. You know, it's not going to an arena and seeing those people who look like Legos…
We got thrown into a machine that expects hits and platinum records, and we're not that band. We write music for a more select group of people. We've never tried to write hits, we don't know how to do that.
But aren't you tired of touring sometimes ? Don't you want to go back to an "average boring life" ? 
I like touring, but the elder you get, the deeper your roots go. We all have families now, we have children and it's harder to leave home because of that. But that's also how we pay our mortgages, so as much as I hate leaving home, I'd rather have the worst day in rock'n'roll than the best day of sitting in morning traffic, going to an office… Because I would go crazy ! When we do go home, we're home 24/7. We don't have to go anywhere, we can play with the kids all day long, it's almost like going on vacation… with a 3-years old ! (laughs)
So what do you think you would do if you weren't a musician ? 
(sigh) It's hard to say, because I don't have any marketable skills ! I thought about teaching, just because I didn't know what else to do and I liked school. So maybe that'd be one thing I'd like to do, but you know, touring is a good education too. We get to tour the world and go to some places over and over again… We meet people in a real way, it's a great education.
So what's the best place you visited, then ? 
You know, I can't say the best place because it always upsets all the other places ! (laughs) I like going somewhere for the first time, like a couple of years ago we went to Athens, and went to see the Acropolis and all those ruins… I like that kind of stuff, I like the history. To be able to spend a day in that kind of environment, whereas in the United States a lot of nightclubs are in street malls, next to… Walmart… boring (laughs). So I'd take the Acropolis.
Europe is definitely a good place for any history freak, as it really oozes something special… 
You can see it everywhere and you get reminded that it's very humble, because of you can see how have evolved the generations. In the US, it's such a new country… I think one of the reasons Americans can be so arrogant is because they don't have that point of reference. History only begins 200 years ago or so. Coming here is pretty fascinating. I do all the tourist shit all the time, I take pictures on my phone…
I thought about teaching, just because I didn't know what else to do and I liked school.
Many musicians love coming to Europe because apparently, the crowds are much more enthusiastic here than they are in the U.S…
The crowds are more positive crowds. We have great crowds in the United States, don't get me wrong, but there's also kind of an animosity in hard rock there that isn't here. There are many fights, crowds can be really aggressive sometimes… Sometimes that's fun, sometimes that's not ! (laughs)
To me, you have a very down to earth way to write lyrics. But for all the non English-speaking people out there who'd like to know, what are the topics you approached on the new album ? 
Well, if I had one criticism about myself, I think I write to many lyrics in a song, like it's too wordy. This time I wanted to keep it more simple. "Strange Cousins" was sort of a dark record, I wanted to write a more fun record. It's kind of about rock'n'roll. The older I get, the more aware I am of the history of rock'n'roll, and what small part we may have played in it, and kind of respected and treated it. I take it for granted because I'm around it all the time. It wasn't that long ago when rock'n'roll was a forbidden thing, it was very dangerous. You know, you would burn Beatles record, that sounds absurd now ! There's that element to "Earth Rocker" and that sort of escapism, because I approached lyrics by writing short stories, so that I can say whatever I want and be right. We have a boring life, so I can't talk about my personal experience. It's more about a fantasy I guess…
Oh come on, I'm sure you have a lot of stories to tell. Or maybe you just don't want to talk about it…
You know what, I'd have to take a lot of poetic lessons to make it interesting… (laughs)
So literally, what is an earth rocker ?
It's sort of a motivational speech. We have an expression amongst ourselves, referring to somebody who's in rock'n'roll for their life. We call those people "full time jammers". For example, it would be Lemmy Kilmister or Wino. I tried to put that phrase into a song, but it had too many syllables. So I came up with "earth rocker". So earth rocker means "I'm a lifer, come hell or high water".
"Earth Rocker" means "I'm a lifer, come hell or high water". 
You couldn't have found a better title for this record, because it's probably the most straightforward and rock'n'roll one Clutch has ever done… It really gives a lot of energy when you listen to it ! 
Cool, thank you ! We wanted to write a very efficient record that just didn't play around, you just get to it. It's modeled after all the records that we like which are short records like Black Sabbath or Led Zeppelin, that are only 40 minutes long… Side A, side B… So by the time you're done, you wanna hear it again. Hopefully, we accomplished that.
And what about this absolutely fantastic slow tempo song "Gone Cold" in the middle of the record ? 
Well usually, when Clutch writes a record, we say "we need to write more fast songs". This time around, we listened to everything and said "we need to write a slow song". It just kept going and we wanted to put a moment in the middle to catch a breath. You gotta clean your ears out and turn the record over, hypothetically on the side B. It was pretty easy to write once we knew what we had to do.
I read that the recording process on "Earth Rocker" was pretty different from usual, each instrument being recorded separately in the studio. How's that ? 
It was not only separately spacely, but also time wise. We did a lot of pre-production in Jean-Paul's basement with the machines, and we recorded a demo of the record exactly how it was. All the tempos, the solos, all the lyrics… For the first time, I wrote the lyrics before going in the studio. Everybody knew exactly what they had to do, so Jean-Paul went to the studio all by himself, played all the drum tracks in a matter of days, and then Dan went there for two days, played all the bass tracks. I didn't even see those guys ! It's very strange for us, because usually it's the three of them together in a room and me in the vocal booth. I don't think we could have been able to do that, if we haven't done as much pre-production and known exactly what we were gonna do.
But it's still quite impressive to know that you know each other so well, that you did all the recording session without putting heads together.
And it wasn't a lot of Pro Tools trickery, you know ! The drum track is just the skeleton to everything, and once that's laid down and perfect, then everything else come very easily…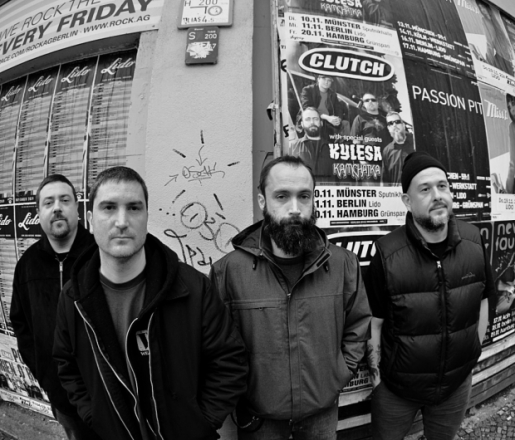 But because we're a band of four equals, we need a producer, a temporary dictator who'd say "that part sucks" or "that part is good".
So basically, Jean-Paul did a lot of the pre-production job…
We all did. We rehearsed in his basement, because it's a lot easier to bring a guitar to a room than it is to bring drums. He's got a little studio down there, he's kind of teaching himself production, so we fortunate to have that set up. But because we're a band of four equals, we need a producer, a "temporary dictator" who'd say "that part sucks" or "that part's good". Sometimes when you write a riff, you wanna hear it sixty-four times… Producer says "no, play it eight times". So once the record's done, you overthrow the dictator and go back to being a band.
So we agree that the dictator is an evil necessary to have a fresh feedback on your work.
(nods) Because the four of us know each other so well, it's one of those things where we say "what do you wanna do ?" "I don't know, what do you wanna do ?"… It'd go round and round in circle ! To get a fresh pair of ears is a good way to get perspective on things.
Oh, and last night when I talked to Ben and Martyn of Orange Goblin, they told me that the guy who recorded and produced their last album wasn't even into metal before having the band in the studio. And in the end, it was really refreshing to have him around, I mean, this album is one of the best they ever released ! 
Yeah, I love that record. It's good to get out of your comfort zone, too. Stepping out and getting somebody like him, that can bring something really exciting to something that has become kind of a formula.
Speaking of exciting things, what did you listen to recently that you'd recommend to the people ?
I have heard a band called Moab and their album "Ab Movo", it's maybe two years old, but I heard it for the first time while flying over here. It's a great record, the vocals are really cool, he sings in a higher register that's really good. What else ? Hmm… You know, I'm around music so much that I listen to a lot of silence… But what did I buy recently ? Oh, German band Kadavar, they're really good. (I point at my gorgeous Kadavar shirt) Oh, there you go ! (laughs) I didn't know them until we played SXSW on the same stage. They reminded me of German krautrock from the 70's, where it was heavy but it wasn't a guy trying to scare you, but more of a kind of psychedelic and ethereal, I like that quite a bit. (then I told him about Mammut's departure, he also asked me a few questions about the circumstances and the new bass player)
I really only watch three shows on TV : The Walking Dead, Game Of Thrones and Breaking Bad.
Clutch's song "The Regulator" was recently featured on The Walking Dead TV show. Are you used to watch those kind of shows, and most of all : do you like zombies ?
(laughs) Zombies are becoming quite the thing, hey… I've always liked zombies, all Romero movies growing up really big with me. I don't watch a whole lot of TV, but The Walking Dead was a show that I watched before they used the song. So when I knew that they would use it, I was genuinely excited. I really only watch three shows on TV : The Walking Dead, Game Of Thrones and Breaking Bad. I think it has to do with writing. So yeah, zombies have become quite the popular thing…
Maybe too much…
Yeah, it's like anything else, you know. It gets discovered, people get excited about it, then it becomes boring and people lose interest.
Ok, I guess that's it for me, let me wish you a great show and a great tour. Will you be back next year in Europe or anything ?
I know as far as playing Europe, this is it for 2013. If we come back, it'll probably be spring of 2014. We're gonna take a little bit of a break, I gotta paint the house… (laughs)
FIND CLUTCH ON THEIR OFFICIAL WEBSITE & FACEBOOK PAGE
ON TOUR THIS SUMMER : 
July 4th- Metaltown Fest / Goteborg, Sweden
July 5th- Tower / Bremen, Germany
July 6th- Vainstream Rockfest / Munster, Germany
July 7th- Kulturfabrik / Luxembourg, Luxembourg
July 8th- Waterfront / Norwich, UK
July 9th- Rock City / Nottingham, UK
July 10th- The Ritz / Manchester, UK
July 11th- Forum / London, UK
July 13th- Principal Club Theater / Thessaloniki, Greece
July 14th- Gazi Music Hall / Athens, Greece
Last modified: 20 April 2016