I like to think that
Swedish rockers TRUCKFIGHTERS

don't only fit to the stoner rock etiquette. One year ago, Joerg Steineck's movie "Fuzzomentary" gave some clues about what's been going on with these fuzzmasters since 2001, portraying the daily life of "a band of average guys". So yeah,

they play fuzz rock, heavy and powerful fuzz rock from outter space

.
Going through a lot of lineup changes since their creation in 2001 (most part concerning the drum section) hasn't seemed to affect Ozo and Dango, given that they've been

on a serious roll for a year

now. A new amazing drummer by the name of McKenzo, intense touring all over the globe, aaaaaaaaaaannnnnnnd some jams for a new record. Yes, we needed to meet, debrief, and know

what TRUCKFIGHTERS are up to for 2013

. Between two mouthfuls of chicken, we made small talk before their stunning gig in Toulouse (France). Skaal !

Could you introduce the band to those who don't know you yet ?

Dango (guitarist) : Truckfighters from Sweden, probably the best band in the world. We play some kind of heavy fuzzy music, very dynamic and melodic.

You played in South America for the first time a few weeks ago. How did it go with the audience there ?

McKenzo (drummer) : It was great ! The people are really friendly, really into the music and everything.
Dango : Now they're all connected through the Internet, spreading the music. It was cool, we played our first show in front of 600 people. We were a bit shocked, because we didn't know we had so many fans down there !

I heard you're about to release your first album since 2009. Do you already have some materials recordings done ?

D : Yes ! It sounds a bit like the old stuff. If you mix together the three albums we made, then you'll have the new album (laughs). It's kind of progressive, yet very groovy. And because the three of us really worked together on this one, it's going to be really well-thought. I played a few songs for some people and they said it sounds definitely like old school Truckfighters… But I don't really know myself if it's true ! (laughs)

Ozo is also part of Greenleaf, so how do you guys manage to combine your side activities with Truckfighters ?

D : To me it's important to keep that as a main focus, and let the other stuff remain side things. Otherwise it's hard to have the time to do everything. It's impossible. It takes so much time, especially when you're touring all the time. But it's fun, it's a lifestyle !

Speaking of which, will you play any festivals next year ?

D : Of course ! But I don't know if it's official… We're gonna play at least one in France.

Oh really… Hellfest ?

D : Maybe… (laughs) (NDLR : two days later, Hellfest actually announced Truckfighters as part of the 2013 lineup)

English promoter Desertscene is booking your tour with Steak in the U.K, but they also promote Desertfest… Any chance you would play there in 2013 ?

McK : No comment. (laughs)

Now let's talk about the movie "Fuzzomentary", which probably contributed to expand your fanbase. What was the general feedback from the fans ?

D : Hmm, good question. I think most of the fans liked it a lot. But some people expected it would me more concerts, footage, but it's not a music film in that way. It's more a documentary than a music movie, it's about how the band lives. That's what I liked about it, the things they show in the movie, no one could actually see them if they don't know us already.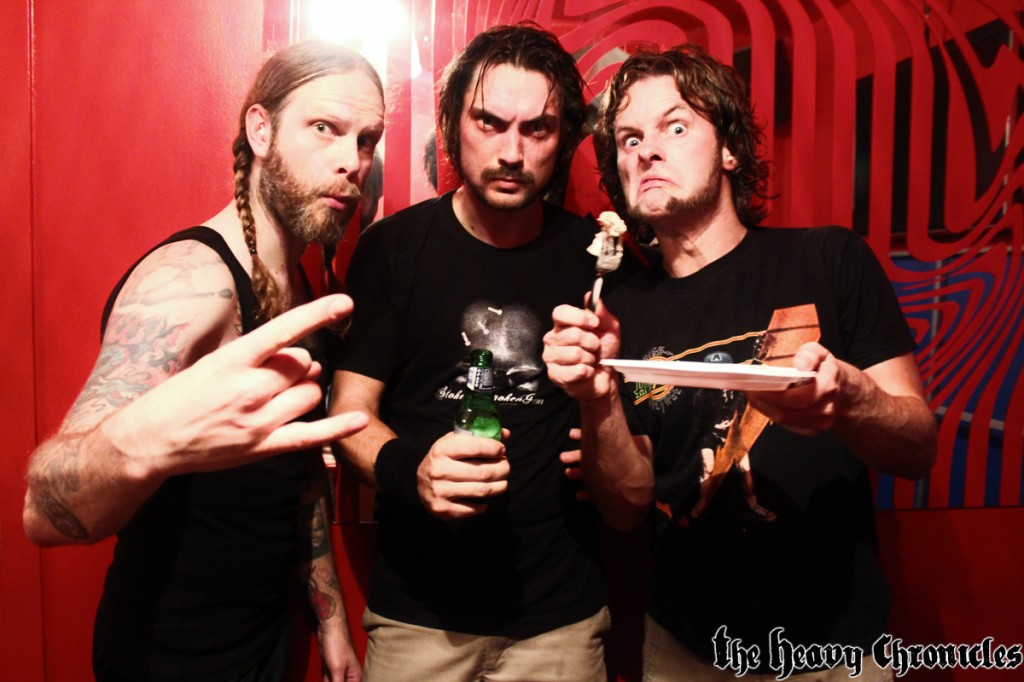 In the movie, Josh Homme said you were "probably the best band in the world"…
D : (he cuts me off) No no no ! He said : "the best band that ever existed" ! Really !
Wow, that's even better ! Joerg Steineck, who directed the movie, is presently trying to release a documentary called "Lo Sound Desert" about the origins of desert rock and the Desert Palm's music scene…
D : Yeah, he's been working on it for ten years or so !!! (laughs)
Could you tell me about the bands you like, internationally speaking, then in a more local way ?
McK : Queens Of The Stone Age is one of my favorite bands, I like them very much, as well as Clutch. In Sweden, there's a very good band you should try to listen to, it's called Satan Takes A Holiday. Yeah, the devil needs some vacation too, you know !
D : I still listen a lot to 90's music, like Soundgarden. Did you like their last album ? It's so good ! Recently I also had a revival with the first Queens Of The Stone Age albums. And there's this swedish band from our hometown called The Durango Riot (they released two albums on Fuzzorama Records, which is Truckfighters's music label) which is actually one of my favorite bands.
If your promoter was giving you the opportunity to share the stage with any other band, dead or alive, who would you pick ?
D : Nirvana.
McK : Why not Led Zeppelin ?
D : Something I usually say is that a good live band is not the same as a good studio band. A lot of bands make great records, but they can be very boring on stage. That's what we try to be good on the albums and even better live. And that's why I actually adore Nirvana because they were really great on stage. Every show was something.
McK : Not the show I went to… (they start to share their point of view about it) I was very disappointed. It was in 1991 or 1992, during the Nevermind tour in Sweden. They played well, but I mean, like Dango I saw the videos where they were crazy, jumping on the drums… And there, nothing happened ! (laughs)
That's weird, because all you could expect from Nirvana was them smashing things and stuff…
McK : Yeah, but Kurt Cobain was sometimes great, sometimes mellow, and sometimes he just didn't want to play.
D : …He seemed to have his ups and downs. But I heard a fan story about their last UK tour, they actually lost money because they destroyed everything in every venue and hotel they went to ! But in Sweden they couldn't bring any drugs, otherwise they would be taken to prison, so maybe that's why they didn't like it !
Well thanks for ending this interview on a funny note, I hope to see you in France next year ! Enjoy your night here anyway ! 
Last modified: 11 February 2015