ORANGE GOBLIN are legends.

These guys are like the Motörhead of stoner metal (and not only because they come from the same area). For 16 years, they have proved to be one of the most solid and consistent bands in the metal scene, constantly pushing forward the primal sense of "heavy", bringing a unique musicality and intelligence to their sound while still being able to awaken the headbanger's most feral instincts. Shaking out of a long hiatus, ORANGE GOBLIN released

"Eulogy For The Damned"

earlier this year, which is unquestionably one of the best, if not THE BEST release of 2012. They've also embarked on

an international tour

, so yeah, you can definitely say the band is back in the business for good. I think it's time to review the situation with the band's charismatic frontman BEN WARD, and see what else they've got up their sleeve…
PLAY WHILE READING…
First of all, how was touring with DOWN in the U.K ? It certainly felt like a great start for your fall/winter tour, playing at home with one of the most influent bands in the metal world…
It was great. Pretty much a dream come true for us to tour with a band that as influential as Down. We have been big fans of theirs since the first album and although we have known the guys in Down for a quite a few years, we had never played any shows together. All 3 shows were great and Down really looked after us and showed us a lot of respect. They are so professional and deserve all the success that they get. It's been a very successful year for Orange Goblin and this was the perfect tour to end it on!
The release of "A Eulogy For The Damned" was postponed several times, but it was tenfold worth the wait. However, it seems like once in the studio, you got all the material done quite quickly. In which conditions did you write and record this album ?
Well a lot of the material had been knocking around for a few years but we just never got around to putting it together and recording the album as people's personal lives just seemed to get in the way. After we did a US tour in 2011, we decided it was time to sit down and work on it and by the end of November 2011 it was all finished. I consider it our best album and definitely the best sounding. I think that we have all improved as songwriters on this record and probably as performers too. The whole thing took about 18 days, spread over the course of 9 weekends. This gave us a chance to distance ourselves from the record and go home to think about what it needed. It was a great way to work and Jamie Dodd, the producer, was brilliant to work with.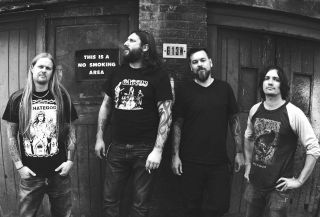 Now let's talk about the music itself. What kind of universe did you intend to bring up here ? I guess your lyrics are still a lot influenced by horror culture and all its imaginative world…
Musically I think the guys just draw on their favourite influences and put them all together to create that 'Orange Goblin sound'. We didn't set out for it to sound like anything in particular. Normally Joe and Chris will come up with an idea and then all of us will work on the structure and putting a song together. Martyn also came up with a lot of material on this album, so it was a real team effort. Lyrically I wanted to enjoy myself and that's what I did. On the album before I had limited myself as it was roughly a concept album, but this time I wrote lyrics based on books I'd read, films I'd seen, and pretty much anything that I enjoy and wanted to do. Lyrics are a form of escapism so using the imagination is a nice way of getting away from the mundane realities of life. The rest of the band just let me get on with it.
You will be touring U.K, then flying to the antipodes for a bunch of gigs in Australia… What kind of expectations do you have on this whole touring ?
Yep, the UK tour is at the end of January and then half of February before we head to Australia for the Soundwave Festival. This will be our first time in Australia so it's exciting that we get to do it as part of a travelling festival alongside bands such as Metallica, Slayer, Anthrax. Kyuss Lives!, Ghost, Red Fang and many, many more. We'll also be doing a few smaller, club shows over there before we head to North America for a seven weeks tour over there too. After that we come home and tour Europe before going back to the US and more. It's going to be a busy year but a great deal of fun too!
The European continent is definitely missing you ! We mainland people eagerly want to know if we'd have a chance to be next on the list…
As I say, next summer we will be doing a full European tour as well as many festivals and things like that. We want to make sure we do every part of Europe as we have been guilty of missing certain countries out in the past.
Last year, you headlined the first Desertfest in London, which is a brand new festival that embraces pretty much all the stoner landscape. What are you thoughts on such a festival, compared with Roadburn or Hellfest where you also played ?
It's great. Anyone in this scene knows that Roadburn and Hellfest are probably two of the best festivals anywhere on Earth, but slowly and surely the guys at Desertfest are trying to build their festival the same way, so it's brilliant that it's happening on our doorstep here in London. If they continue to attract the big bands they did last year and have so far this year, then it's going to take off and will be another great showcase for this style of music!
Last split EP you released was the one with Alabama Thunderpussy, 12 years ago. Do you have any plans of recording another split EP anytime soon ?
Not really. We have enough trouble writing material for albums so we never seem to have any spare recordings lying about. Of course those type of things are great for getting your name established and they are brilliant for the fans too but we have no plans for anything like that anytime soon.
Last but not least : what's in your stereo at the moment and which records would you recommend to the readers ?
Well, I don't really listen to that many new bands and I always seem to listen to stuff from the 70's or early 80's but a few of my favourite albums of this year include the new ones by Baroness, High on Fire, Winterfylleth, Turbonegro, Kiss, Grand Magus and a band called Mount Carmel.
Thanks for your time Ben, we're looking forward to welcoming you back to France really soon !
Thanks for the interview and we look forward to seeing you in France sometime in the summer!
Last modified: 18 November 2016