When I heard that metal prog legends BARONESS have planned to release a new album for the end of 2011, I told myself "damn I must write a review of their two albums, so the world could know". Yes, the world have to know that BARONESS is an out-of-the-range band that carries a fantastic universe through their music. They're good, proof is : two records, two masterpieces.
Why would I write two reviews in one ? To me "Blue Record" and "Red Album" are two sides of the same coin, or two chapters if your prefer. That last example is a better illustration of what kind of fantastic stories BARONESS can deliver : real epic tales in which skies meet the sea. Both blue and red artworks are so strangely representatives of these tales… Actually I've never seen artwork that so closely represents the music inside, pretty normal since singer/guitarist John Dyer Baizley drew these works of art. Now let's talk about music with the band's first record "Red Album".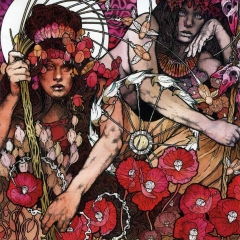 Artist : BARONESS (page)
Album : "Red Album"
Release date : September 2007
Label : Relapse Records
Genre : sludge/prog metal 
Notation : ☆☆☆☆☆
The band introduces us to its world with Rays On Pinion : a new age atmosphere emphasized by a wonderful set of clean ethereal guitar harmonies, quickly followed by a strong prog sludge assault. A 7-minutes moment of oneiric intensity that gives goosebumps and sets the bar high for the rest… The Birthing follows on naturally from Rays On Pinion, a BARONESS' typical kind of "chaptered" song that lets a small but sufficient space for Baizley and Blickle's vocals and which structure is totally unsuitable for boredom.
The word "fascinating" is fully realized with Wailing Wintry Wind : we touch the abyss while carried by whales' songs (literally). The higher the song gets, the deeper we go into the ocean depths. Then it increases in power like the sudden rise of a storm, but no one should feel afraid here because Baizley accompanies us along with his strange incantations "See inside/Till you find me blindly/Slice the rind/Till you see me bleeding/Thousand blades/Of an unbeliever/Sift the sand/Hear the wail of winter winds". This prog masterpiece was obviously inspired by Metallica's "Call Of Chtulu" for its aquatic atmosphere but it keeps its own character thanks to the band's "Savannah touch".
Back on terra firma after an eventful saga aboard Nautilus, BARONESS takes now an acoustic pause playing the melancholic redneck Cockroach En Fleur. Still and always the band banks on melody and emotion, even though they often like to combine them with raw power.
If Isak reminded me neighbours Kylesa, no doubt Wanderlust reminds me yellers bearded cousins Mastodon. Anyway you'll devour a song, then another, then another… Each one of them slides down the throat easily thanks to this combination of strenght and mellowness, of epic melodies and raw post-punk riffs springled sparingly with some vocals here and there, just enough not to be bored with sludge prog's typical rebarbative screaming. Like we almost forgot there are humans behind all this universe, like we're plunged into the story without any interferences.
Time for another small pause with stoner prog Teeth Of A Cogwhell and let's get back to (tough) business with O'Appalachia, a track that makes you feel like your feet are tied to a rope, dragged by a crazy mustang throughout green blossomed valleys, here's the feeling. Thank you goodbye, the Red Album ends on what a neophyt like me would call a Sonate or a Symphony in D Major, anyway I have no f-ing idea of what it is but it's as beautiful as a symphonic orchestra that would have decided to play on Bad Cat amps.
You got it, BARONESS took all the influences, thought, tested, then produced a 10 powerful and heavily emotional "music tales". I will go further saying there is something untypically jazzy and sometimes classical in their writing. Respect that. Time to shush me and take flight with the Red Album…
THE ODYSSEY RUNS ITS COURSE, NEXT EPISODE : "BLUE RECORD"…
Last modified: 11 February 2015