Last and final part of the retrospective on American sludge band BARONESS… You lived a fantastic saga with the "Red Album", now it's time to end the story with a flourish with the colorful "Blue Record". I hope your imagination's wide open because this album turns out to be another very rich experience…
BARONESS knows exactly how to plunge the listener into their quixotic universe in the blink of an eye, with catchy and subtle introduction songs which are real masterpiece ways in. One minute twenty seconds only to enter progressively their world with Bullhead's Psalm, an enchanted lullaby that beautifully announces the following riff tornado…The Sweetest Curse is such a perfect name, inasmuch as it made us dive with delight into the band's typical progressive sludge sound : a super heavy side combined with a flood of hothead rhythms and a blazing vocal duet (Baizley and newcomer Steve Adams). Nothing original with this track, besides the whirl Allen Blickle on drums is a total mindblower !
Jake Leg is a smashing track that totally dips into the Balkans to create its atmosphere. Mixing a prog metal fury with some gypsy airs is something no one would have thought of, and yet it's working as hell. Plus Blickle is still hammering like crazy on his drums, so hard he would almost break his drum toms !
A traditional break teleports us right into the 70's : See the Beatles ? See Blue Oÿster Cult ? Take both and make them record an acapella over acoustic guitars and you'll get Steel That Sleeps The Eye, a track worthy of opium-smoking rooms full of disillusioned hippies… It feels like the story's constantly repeating itself since the end of the song melts lovingly with the beginning of Swollen And Halo, the longest and probably best track of the whole record.
Like a bridge or a symphonic prelude, Ogeechee Hymnal uses the melancholic theme from enchanted Bullhead's Psalm to announce the following fantastic horseback ride :  A Horse Called Golgotha, O'Hell and Hide and War, Wisdom and Rhyme, three wild tracks that create an awesome rollercoaster effect in the middle of the record.
A rustic and baroque break plus a sludge progressive track later, this enchanted theme that became familiar through the listening is back : Bullhead's Lament, a prologue filled with harmonies and supernatural sparkles which is no more and no less the mystical echo of the record's introduction song.
As much as "Red Album" was a 70% instrumental gem, "Blue Record" is liven up with Baizley's rough tone way more often than its predecessor was. Anyway I find this evolution well accomplished, as it cleverly serves the interests of their music. Furthermore, the band tends to tinge its prog metal sound more with stellar post-rock than with psychotic sludge, a step farther on far far away galaxies where they're used to drag us…
BARONESS will release their third album at the end of the year, in the continuation of the two previous records it'll honor a thematic color. Will the magic operate once again ? THE HEAVY CHRONICLES will be up to date to throw light on this event…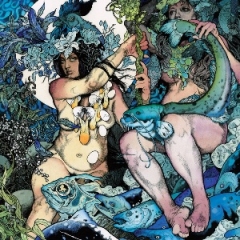 Artist : BARONESS
(page)
Album : "Blue Record"
Release date : October 2009
Label : Relapse Records
Genre : progressive metal/post-rock
Notation : ☆☆☆☆☆
Last modified: 11 February 2015