A sludge supergroup. Just saying those words makes my heart skip a beat. T-Roy Medlin (Sourvein), Dixie Collins (Weedeater, Buzz*Oven), Vince Burke (Beaten Back to Pure), Erik Larson (Alabama Thunderpussy). Announced as the misanthropic, sludge terror of the year (which is easy to believe), "Disperse The Curse" is the band's second LP and it adorns many more assets than it appears to have…
With their first release, HAIL! HORNET criminal conspiracy overwhelmed us with their sludge, a complete representative of Dirty South's neurotic darkness. Their second record "Disperse The Curse" reaches a level of sonic violence that could blow up the sound barrier. 
Without any warning (except for that highly mystical intro) the band pulls out the big guns with dipped-in-acid bullets with Shoot The Pigs, a 100% grindcore killer start with a "take no prisoner" attitude. T-Roy's insane rasping screams has a lot to do with the feeling of rabid rebellion. "Faster and louder !" as yer old 80's thrashers would say  !
The guys show off their comfort with playing chainsaw riffs and merciless blast beats, like sludge supervillains who have a sudden need to go crust. And it has to be said : "Disperse The Curse"'s crust tracks such as Gifted Horse, Suicide Belt or Scars (with Dixie Collins' super trip on bass) are fucking war machines ! Sludgecore track Beast Of Bourbon clearly makes the record reach its peak of intensity : Burke has refrained from playing solos until now because, he was actually baiting us, holding back his secret weapon. Epic one.
But hey, don't think HAIL! HORNET stopped representing their dear sludginess just because they served us hardcore/grind stuff : just listen to Unholy Foe's intro riff, muggy bass and hateful break to understand that none of these guys would let you mess with their heavy side.
Bloodshed ends on the killer's sadist jubilation : Blacked Out In Broad Daylight, or how he finally collapsed dead, exhausted after such a slaughter (considering he only had a chainsaw as a weapon, damn you have no idea how heavy a chainsaw can be !). Beautiful ending with that track, the band sends you six feet under with a shovel as your only company. I'm sure you're still hearing his evil laughter in the distance, like a deafening feedback…
"Disperse The Curse" is the result of the association of four wild, high-level musicians who are in symbiosis with that criminal act of theirs : they hate the world (you included) and their hatred salvos will fire at everybody. Run miscreants !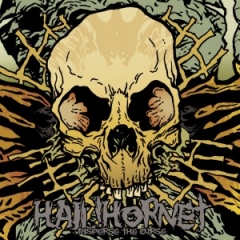 Artist : HAIL! HORNET (MySpace)
Album : "Disperse The Curse"
Release Date : Juillet 2011
Label : Relapse Records
Genre : sludge/doom/crust
Note : ☆☆☆☆
Last modified: 11 February 2015