No need for an elaborate blurb to introduce you to Håndgemeng, this new quartet hailing from Nørway. Just behold the artwork of their "Motorcycle Death Cult" EP (2019) and you'll understand who you're dealing with… Look at this cover! A Frazetta-like Death Dealer, proudly riding an Easy Rider chopper, squealing tires, all in a most stoner decorum. The Lord Humungus of space. The mood is set: they brew fatness, fuzz and heavy grandiloquence all together with a sacred dose of hardcore punch… as well as a good slab of derision.
You don't indeed take yourself too seriously when you answer by the name of Hellvis Presley (vocals), Abuse Springsteen (guitar), Jeans Simmons (bass) or Motörola (drums). These guys don't give a damn about the established order of all rock chapels. They come straight from Norway, and bear the same vices as their compatriots Kverlertak or Turbonegro: we're in for one hell of time time, one that is made with noise, fury and sweat.
On their debut album "Ultraritual", the band completes its molt from hardcore to a fire-driven blend of stoner, doom and sludge, just like an electric golem that should win over crowds beyond their northern lands. And Ripple Music won't certainly contradict me. They might play with a lot of clichés like a good student reciting his lesson, but we must admit that their energy is 100% sincere.
Håndgemeng must be taken for what it is: they don't break any wheel but their music is helluva contagious. At the heart of this decibel debauchery, some tracks stay stuck in mind with a formidable efficiency: "The Astronomer", "Ultraritual", or the closing of "Tales from the Thundra". These are the most explosive tracks that hold our attention — they know the recipe to deliver powerful bangers. There we said it: Håndgemeng has just found its own formula, which we hope be even more brought forward in their next outings.
After a bunch of songs oscillating between agitated stoner, murky and sticky doom, "Ultraritual" get wrapped up against the current with "Occulation Of Mars" — a final of cosmic dimensions whose astonishing length is only a pretext to make Hellvis Presley's vocals burst in the middle of the track, supported by epic heavy choirs. This voice between punk shrieks and sandpaper-scrubbed vocals is what makes Håndgemeng more appealing than many bands. Next to these brutal moments, there is always a catchy and melodic je ne sais quoi that makes all the difference ("Tempel of Toke"). We can already imagine ourselves chanting "Thundra!" in a deluge of electricity and sweat.
In the end, once we've apprehended the primitive songwriting, "Ultraritual" leaves the excellent impression of an ultra-feel-good record, one which their fellow illustrious Nørwegians have the secret. And that's all we're asking for, right? Doom'n'roll, motherfuckers!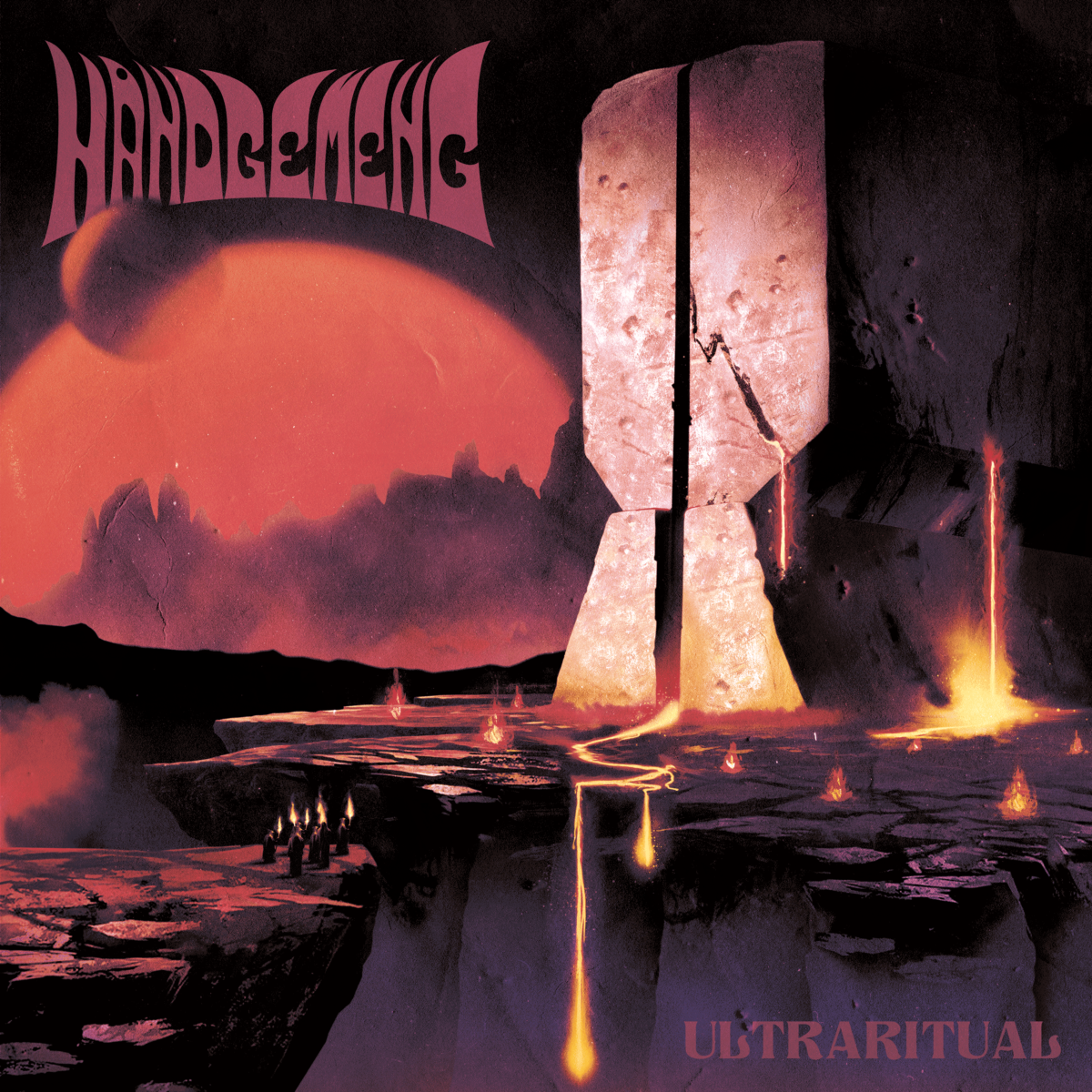 Last modified: 12 April 2023