DAY 2 by Yannick K. (Cover photo: Jake Lewis)
This second day at Desertfest London starts with a surreal interview with Greenleaf outside the Black Heart, a truly feel-good moment. Time to head upstairs, as I hear some fat fuzzy riffs echoing from afar. The Black Heart is definitely too small to welcome London unit Orbital Junction and their road trip-ready heavy rock. Alongside other companions in misery, I try to make my way from the stairs to the stage, dragged by these catchy melodies and Owen Armstrong's croon, reminding me of an early day Tony Reed.
Now time to walk through Camden: today is Saturday and the neighborhood shows its true colors. The sidewalk is crowded with rubberneckers, jam bands, young drunken punkoids and peddlers… At last, I arrive at the Roundhouse, a former rotunda-shaped locomotive warehouse turned into a concert hall. Such a setting allows the sound to submerge the audience fully, which fits perfectly Elephant Tree's doomgaze as they perform their last album 'Habits' in its entirety. And what a surprise to see Peder from Lowrider join them for the set opener "Sails" (his favorite Elephant Tree track)! These guys keep surprising us… Just like when they invite a violin and cello player on stage to play two acoustic tracks. The overall peacefulness and smoothness bring some of us to tears. A flawless performance by one of the most unique bands in the modern Heavy Rock scene.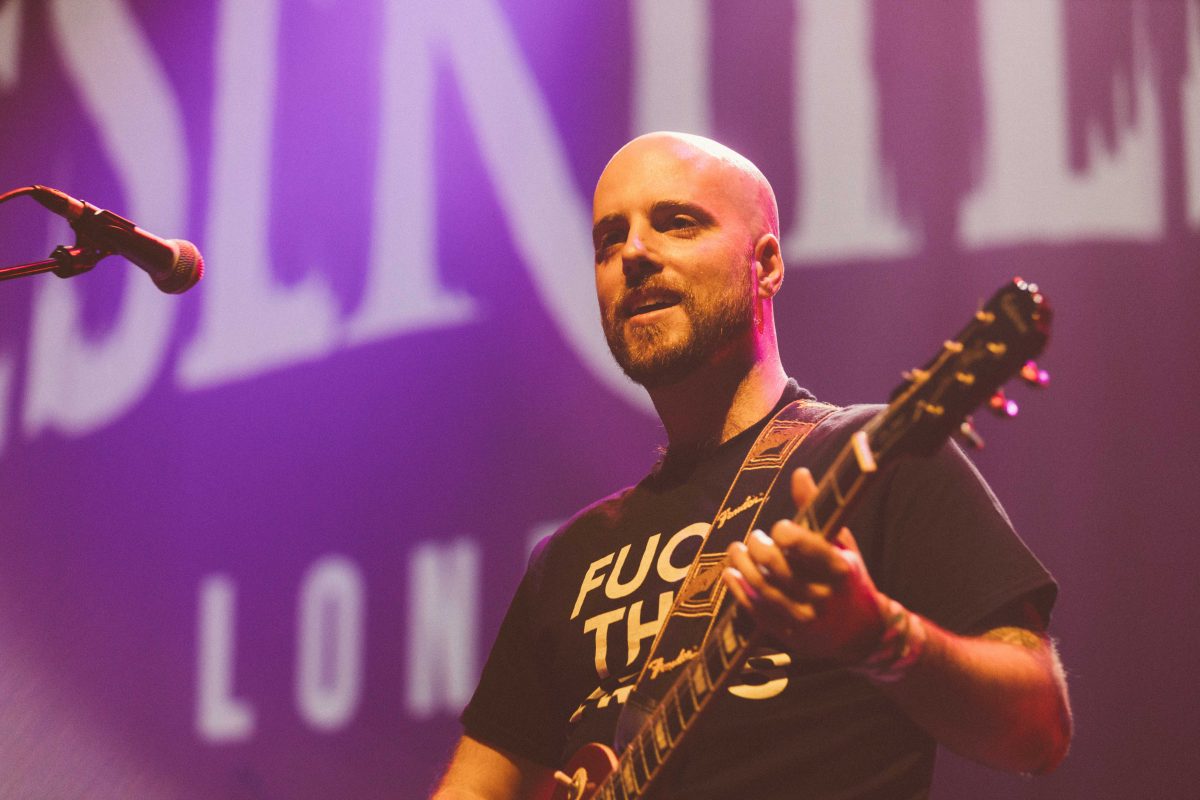 Another obstacle course awaits to catch My Sleeping Karma, official defenders of relaxation and mind elevation in heavy music. Maybe my chakras are not open enough as of now, but I expected a much warmer and more organic sound than the instrumental mechanics I'm hearing. It's now 5pm and I'm pressing play to record what will be the most uncanny and impromptu interview ever with four Elephant Tree and two Lowrider sitting on a truck tailboard! A WTF moment and some of the truest camaraderie you'll only witness at Desertfest.
Back to the Ballroom, where I feel good in the end (mostly because it saves me many treks across Camden). With the mixed feeling of their debut album in mind, I stick to the bar for Stöner, the latest project of Sons of Kyuss Nick Oliveri and Brant Bjork. Against all odds, they are a full-fledged and much more balanced unit than on record, halfway between Brant's coolness and Nick's instability. BB turns into the "low desert punk" we love so much thanks to his sidekick. It's getting so groovy in here that the Ballroom floor gets suddenly covered with hot sand, almost burning when Nick decides to beef up his friend's bluesy jams. It only takes two all-time faves like "Green Machine" and "Gardenia" to make a hysterical crowd literally melt under their mighty fuzz.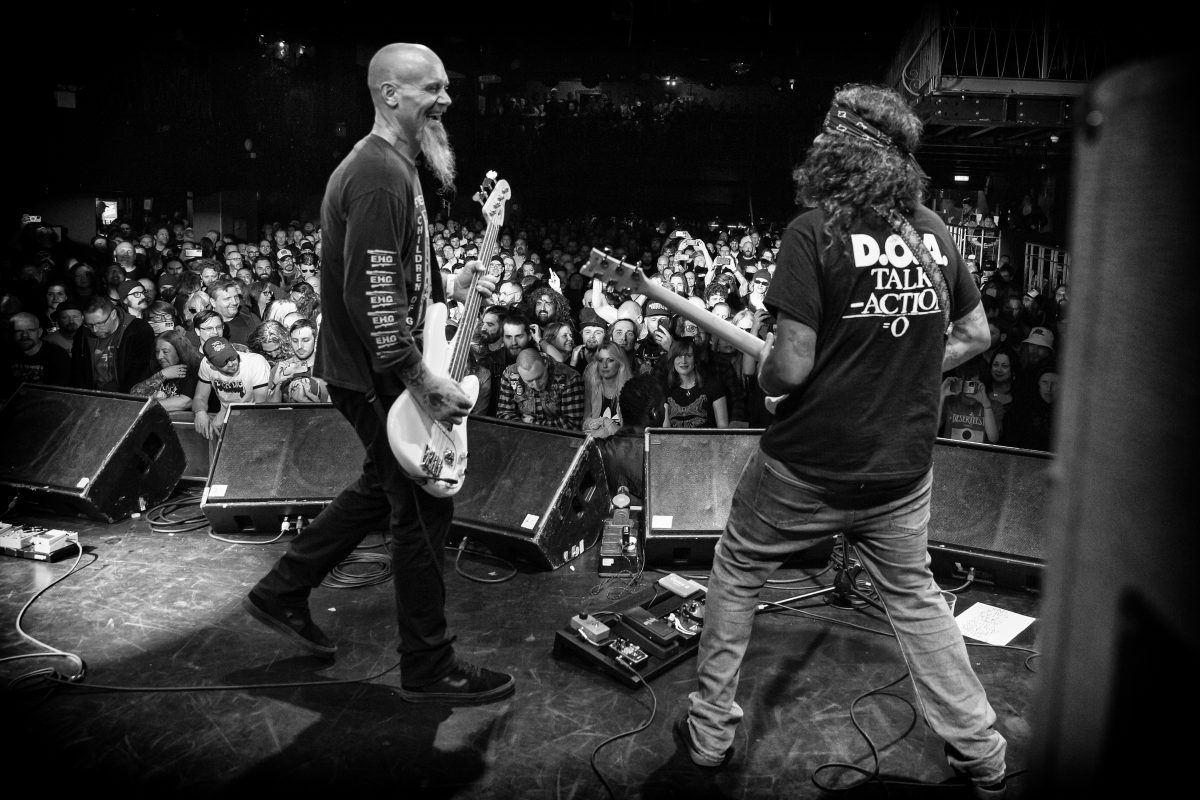 While Camden's streets are nothing but hustle and bustle right now, Earthless slowly but steady lay their desert rock foundation to conjure the four elements in the heart of Desertfest. Isaiah Mitchell's riffs are liquid, water flows between our legs, and rocks levitate in the room right before lava erupts from the Earthless volcano, consuming the Ballroom skyline. The wind rises and make one with this sonic prayer, the sky rumbles under Mario Rubalcaba's hammering and gets Sabbath-dark in a barrage of decibels. Impressive.
No sooner had I gobbled a spicy Jamaican burger than Motörhead's #1 worshippers Orange Goblin kicks off in the Ballroom. Within minutes, the Londoners spray the venue with sonic napalm and make the entire audience go bonkers. Only Ben Ward's massive silhouette stands out through the stage's glowing red lights, like Uruk Haï rising from Isengard. Fire-driven bangers like "Diesel", "Saruman's Wish", "Made of Rats", "Sons of Salem" and "The devil's Whip" tear the roof off, and we can only regret that we don't get to see these goblins often in France. Even shoes fly above that sweaty moshpit!
No band on Earth could ever take the stage after OFGB's hail of firebombs. The only outcome? Quench our thirst inside a sweaty and packed Black Heart in the small alley across the street to chatter about that epic day in the company of Kip, Mehdi, Tommi, Arvid, Matt, Peter and all the others, as far as I still remember…
Day 2 by Sofie Von Kelen.
It's always when I decide not to drink before 5pm that someone shows up with a pint. Today, this someone is Greenleaf's drummer Sebastien Olsson, as I'm about to interview his hilarious bandmates Tommi Holappa and Arvid Jonsson. "Surrealistic" is an understatement when coming to describe this very encounter during which we will discuss hangovers, German audiences and Scandinavian spleen — all punctuated by the beers Sebastien keeps bringing us with a regularity that is rather surprising for someone who doesn't play to a click. These guys' kindness overwhelms me and the interview keeps flowing well beyond the initial timing. I might cry once transcription time comes, but I'll probably also have a good laugh…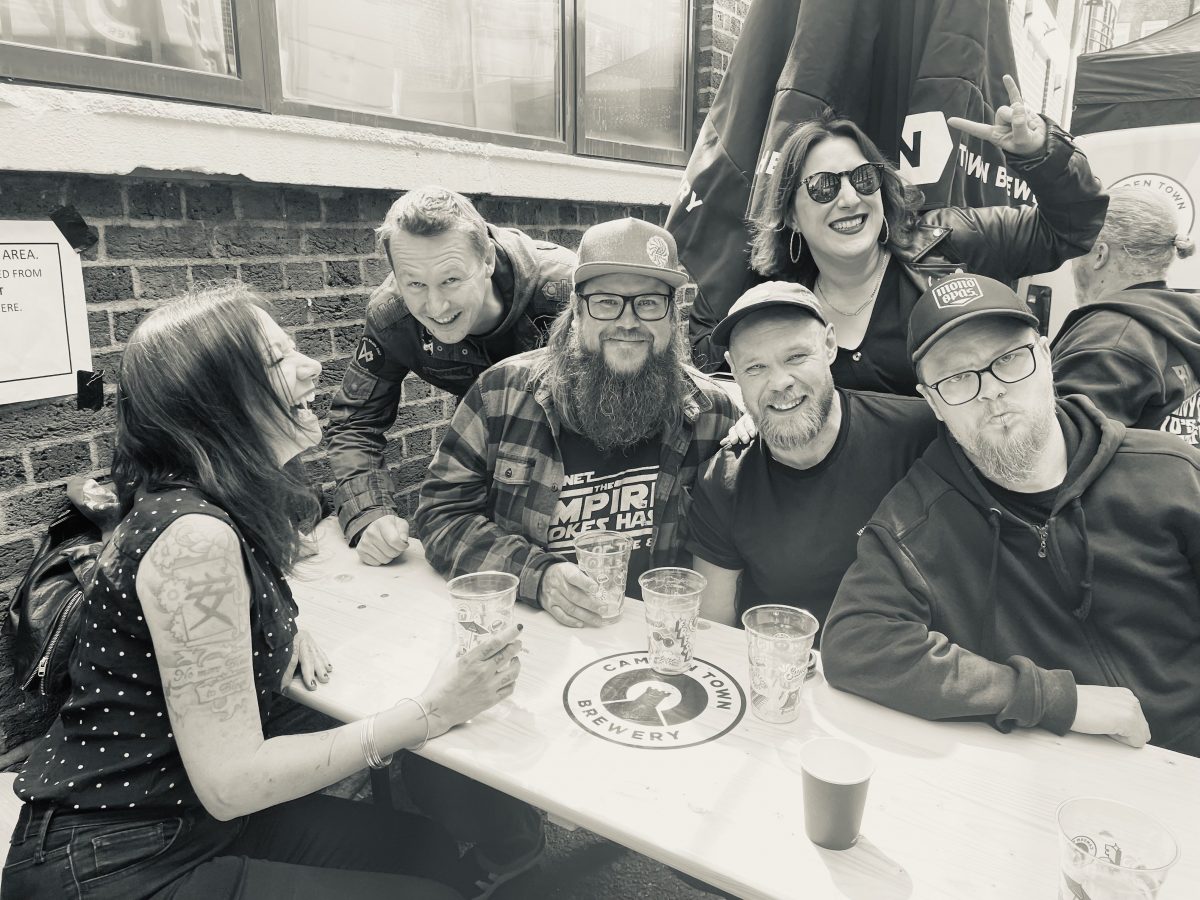 While I'm trying to sort out the Elephant Tree / My Sleeping Karma clash, I bump into Your Highness' lead guitarist right before their Black Heart show, which solves the problem immediately. Thirty minutes later, the Flemings turn the Black Heart upside down like a mere pancake. Their set is heavy, bluesy and sexy, they're all about fire, black fever and nods to old school horror movies. Melodies brim with emotion and vocals are fierce as hell: they literally have nothing to do with the band I saw years ago in Bordeaux (R.I.P Heretic Club). I'm blown away as if they just kärcherized my emotional system.
However, the universe always knows best and I stumble upon a couple of friends as they're on their way to The Dev to catch A Gazillion of Angry Mexicans, whose sonic beatup shortly annihilates any introspection attempt. These guys are hard to pigeonhole. I hear hardcore, doom, nods to the 90s inside all wrapped in a super groovy package. The sound is terrible but no one cares, the Australians are cut out for this kind of set, when the idea of changing the sound settings would never come to anyone's mind. A proper punch in the face highlighted by The Dev's bucket-sized glasses of wine.
I'm not going to lie, when I rush into the depths of the Underworld after a quick tapas break, I'm not that articulate anymore. And what better condition than being slightly inebriated to catch those who started it all: Greenleaf. This band is literally made for the Underworld: its cosy setting allows intimate performances while its temperature is close to that of a bikram yoga class and its acoustics favors the interaction between the low frequencies and your stomach. Originally a side-project/all-star-band with members of Dozer, Demon Cleaner and Lowrider, Greenleaf has become bigger than the sum of its parts, i.e. reinventing the hotchpotch that is stoner rock while injecting it with pure heavy metal madness. Things are no longer about fuzzed-out psychedelic purrs, but well and truly a fucking war machine whose epic breath makes you want to go on a quest to the other end of Camden.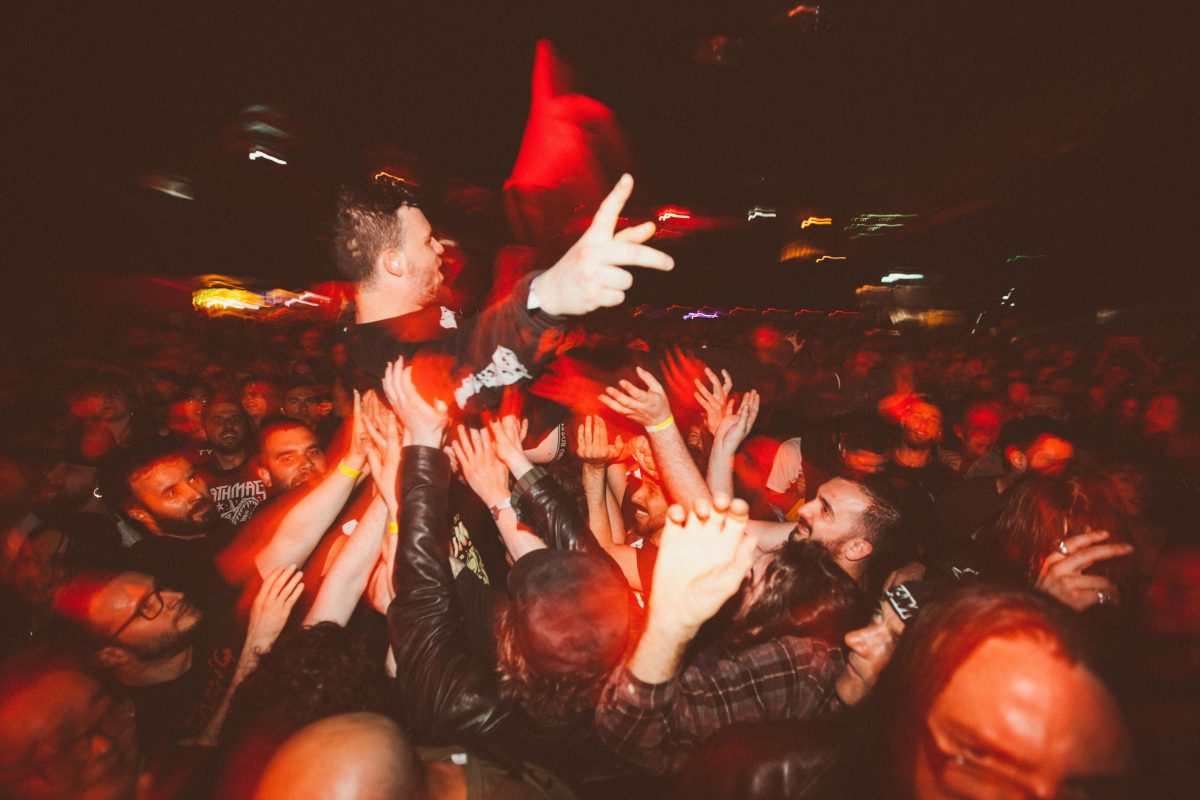 Whereas I haven't even come back down to earth yet, I dive deep into Hangman's Chair's set like in a silky, murky water awakening the senses like never before. Nothing could have wrapped up my day more intensely than this experience "made in France", one with perfectly defined contours that embraces its darkness fully. Comfortably settled on the press pit on the left of the stage, I can contemplate Medhi's playing, whose movements exude a soul-stirring power rarely seen among drummers, melding glowing sinusoidal energy and bold breaks. The guy is clearly great at creating suspense and tension, as Beeho will tell me afterwards.
Do we need to dwell on the absolute freestyle of an after party that followed at Black Heart? I don't think so… This is only my fourth time writing for The Heavy Chronicles and I would like you to keep a flattering image of me. See you in a few days for the final part of this review…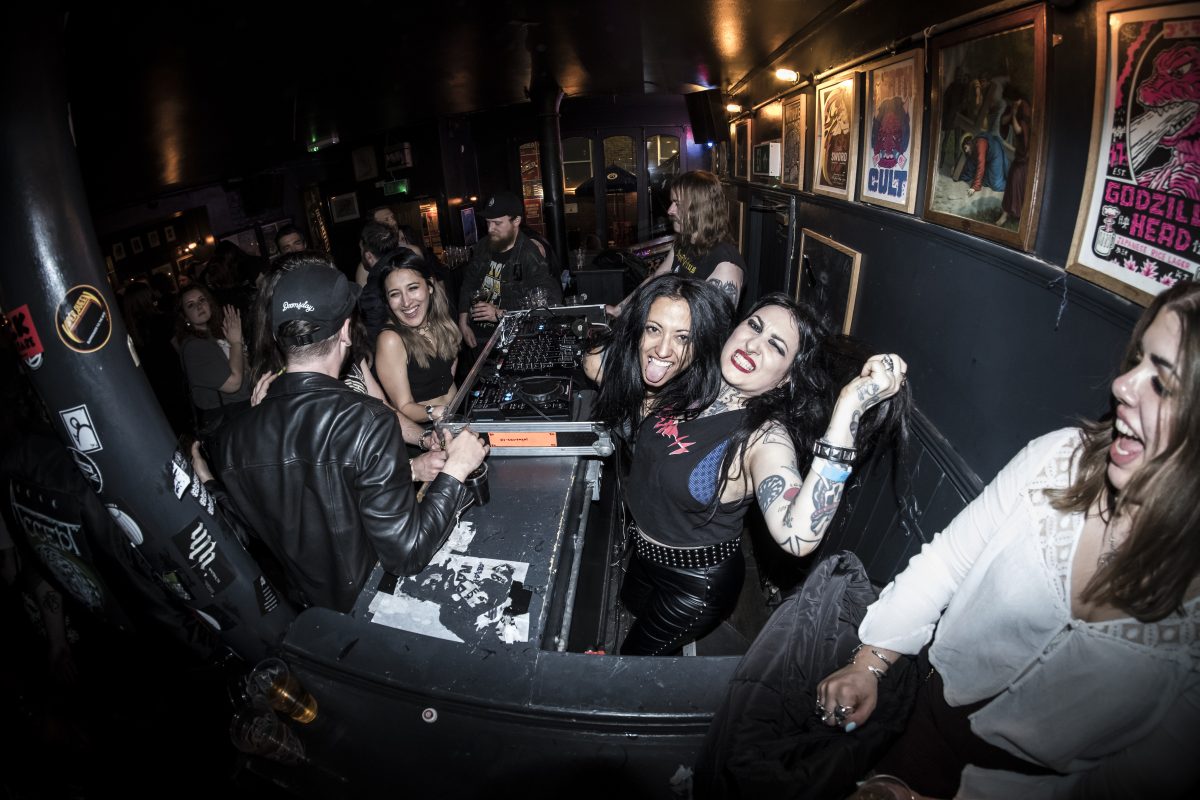 Last modified: 8 June 2022