Day 3 by Sofie Von Kelen
There are days when nothing goes as planned. When your highlighted Clashfinder goes into oblivion. There are days when the Universe decided to screw everything up the Matrix way, and you realize that you unwillingly took the red pill. You feel that the white rabbit is going to catch you, shake you, chew you up and spit you out in the middle of the night, without a fucking explanation. I should have known that among the cornerstones of any ood festival, namely people, music and booze, the human factor would dominate everything else today.(PHOTO: Sam Huddleston)
Roundhouse, 1:00pm. Beeho and myself are cooling our heels ahead of our imminent interview with Gary Madder, bassist of NOLA's war machine Eyehategod and member of the small circle gathering the most ethical and deepest human beings to grace this scene. For those unaware: Eyehategod is, alongside bands like Crowbar or Acid Bath, one of the biggest spearheads of the sludge scene emerging from Louisiana in the mid '80s, with anxiety, drugs, war, misery and depression as its favorite themes. Nothing in this interview will be rational… Neither the location, a metallic staircase overhanging the Roundhouse's loading area. Nor our conversation, an unsettling and heartfelt exchange in which someone who has lost so many loved ones from natural disasters and the pandemic, shows us without reserve that coming to terms with your emotions is one of the greatest strengths in this world. The interview leaves us speechless, with our eyes moist and our mouths quivering, agreeing that moments out of time like this are worth all the setbacks, canceled Airbnb and recording screw-ups…
With a little delay, I spring in the darkness of my dear Powerhaus. I dreamed of it, Brits made it a reality: a Trouble tribute. You may say that this is a dicey challenge and that Eric Wagner was a hopeless bigot filling his lyrics with catholic references. Indeed. However, Trouble is and will remain (more than Pentagram) the epitome of epic doom and "Psalm 9" deserves its place in the pantheon of genre-defining albums. I don't know anyone on stage except Harry Armstrong, who recently joined Orange Goblin on bass and also plays in The Earls of Mars. The set only lasts five tracks and not the least. It slays as expected, and all DesertFest's nostalgic xennials shake their split ends to the glory of old-school, when bands didn't know trigs or aircraft carrier-sized pedalboards yet. Up to this day, nothing remains from this one-off project, except for a Tweet, a Youtube video, a pic of the setlist and the vivid memories of those who were there.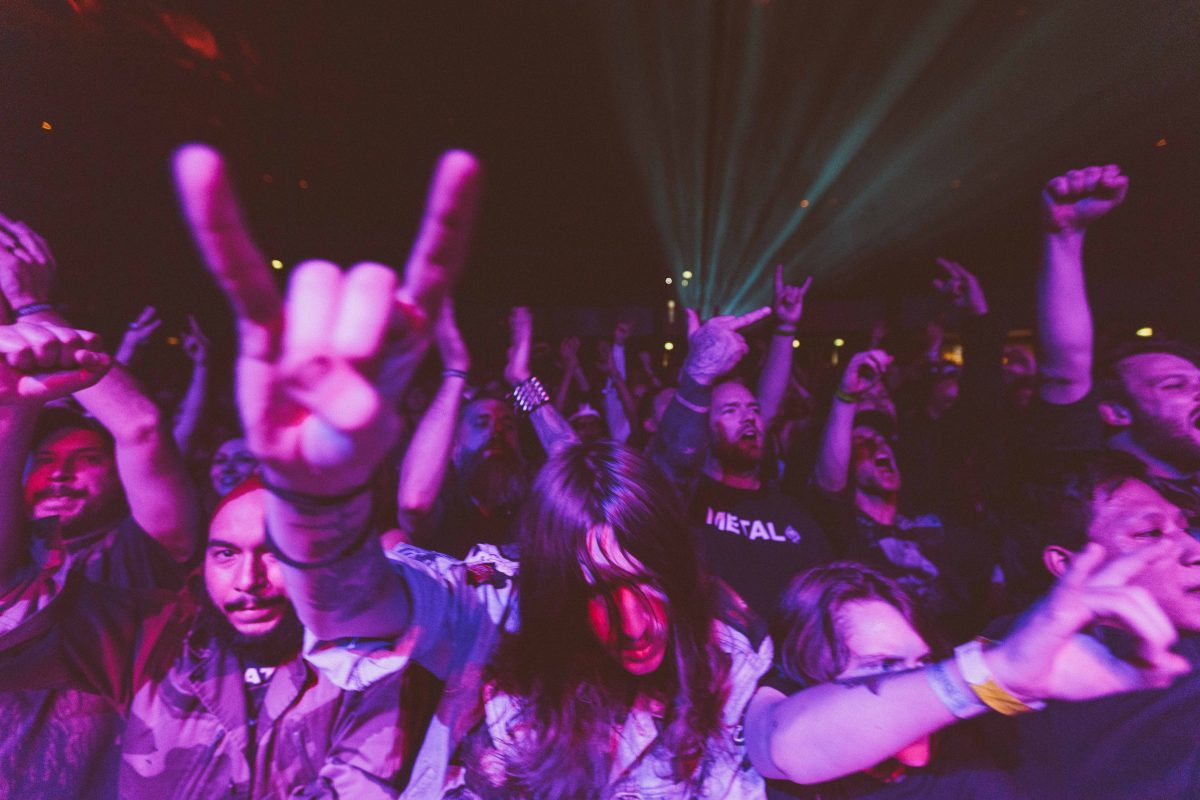 What I wanted to do next was to go and eat tapas again and go on a nice little bender, just to digest the fact that I was going to leave my second home the next morning. But Beeho can be persuasive, and I find myself following the canal towards the Dev, putting off the idea of having any food. Wolftooth. The name alone inspires me. The music does, too. You can hear some Sabbath from the "Paranoid" era, hints of power metal à la Heavy Load and of course, the not so fresh shadow of Mr Liebling… Three albums, three riff-driven onslaughts that just blow your brains out. This is precisely what I need to get back on track after the Gary Madder episode that ruined my mascara and sowed the idea in my mind that anything can happen today.
And there it is, the temporal flaw of the story, in the formerly named Hobgoblin, which is perhaps the trvest pub in the whole city. Held by the loveliest crew ever and oozing an underground vibe that isn't just about looking metal, the Dev's prices are also much lower than its neighbors. Sometimes it's good to leave the other festival HQs and take refuge here, just to catch your breath. Except that, this time, I didn't leave. Yannick will tell you about the grand finale of this phenomenal 10th edition because in the meantime, I went down the rabbit hole, pushed by planets alignment like you rarely experience. The aforementioned human factor, ONE probability on 1,000 000…
I don't come back until late in the night, my guts are faltering, my heart is on fire and my brain as empty as an IPA bubble, only able to down glasses of wine at the Black Heart afterparty with friends, remembering that I WASN'T EVEN SUPPOSED TO BE HERE!
Day 3 by Yannick K : doom and good fun.
It's raining. The infamous London weather is taking over Desertfest, yet Camden remains as generous with music as ever, even in the street, where cover bands and world music jam bands follow one another. The Ballroom being no longer available on Sunday, the festival epicenter settles at the Roundhouse with the doomiest of al lineups: DVNE, Conan, EyeHateGod, Yob and Electric Wizard.
The Roundhouse is close to Camden's famous Stables Market, so I kick off the day with a proper shopping session although I just had swore to myself, "enough!". Camden certainly is a feast for merch and food lovers. 3:00 pm. Time for some MUSIC with DVNE. The Scots open this last day at the Roundhouse by performing their revered "Etemen Ænka". And what a treat. Even though the set doesn't reach any particular climax, their blend of prog, post-metal and sludge plays with both melodic and rhythmic contrasts and is incredibly well-executed (that drummer!), while the venue's acoustics definitely suit their dense and massive sound.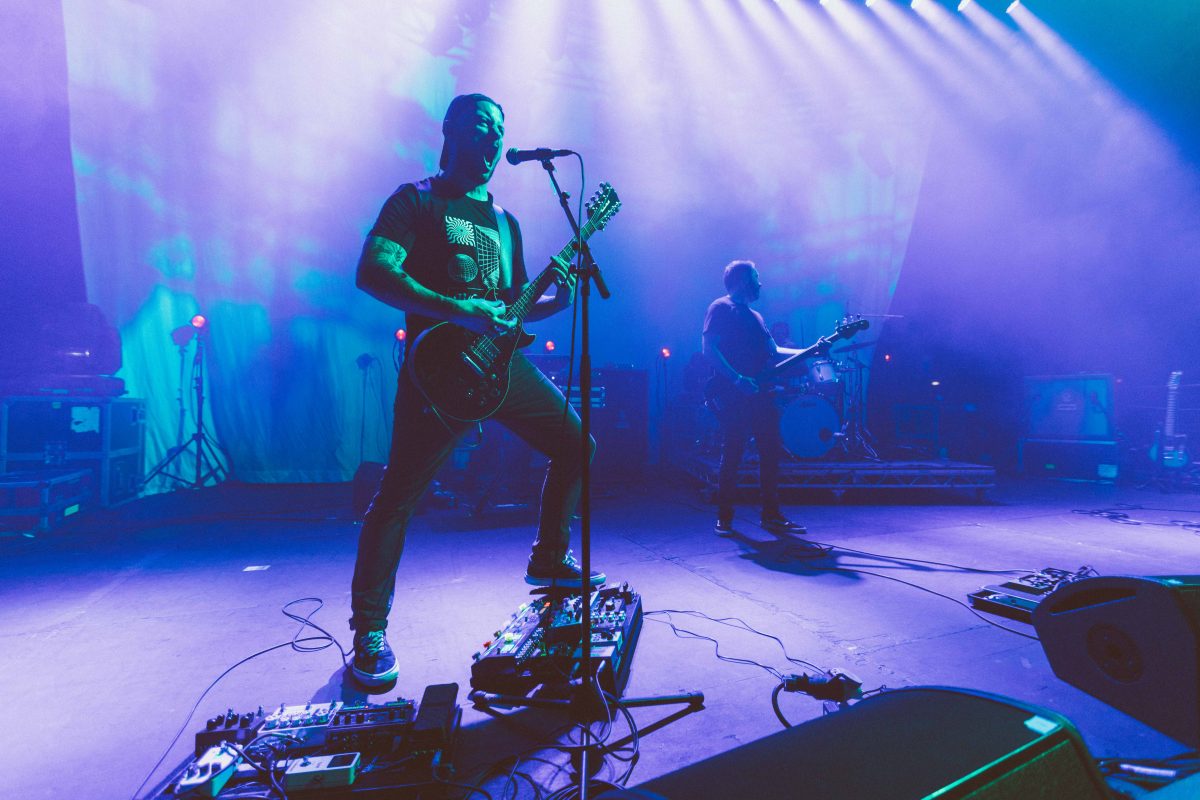 After such a lush and complex sonic trip, I'm not ready for Conan's dizzying mega-doom. On my editor's advice, I rush into an already packed Underworld to have fun with Trippy Wicked & The Cosmic Children Of The Knight. Who the hell hides behind this hell of a name? This merry and funny face looks familiar: Pete Holland from Elephant Tree fronts this trio, who plays an exhilarating and mischievous blend of blues and doom. It's all about fun… in slow motion. Black Sabbath on nitrous oxide. Grooves are so wild that necks can't help but dislocate like in a honkey tonk. Banter reigns supreme here (the crowd even asks for covers of Justin Bieber or Limp Bizkit) alongside a healthy dose of self-mockery. One advice: check out their "Going Home" album, for which the band is celebrating the 10th anniversary by throwing a dozen vinyls in the pit.
Let's say in the bayou for a while, with NOLA veterans EyeHateGod, whose presence in London is a miracle, as the band cancelled their entire European tour a few weeks before the festival. However, technical issues follow one after the other, visibly restraining the band's energy. The set turns out to be more disjointed than anarchic, and messier than deranged. Nothing seems to stick to Bower's riffs, who's the only one to stay on track during this performance. Mike Williams wiggles, gesticulates, destroys his mic and lays into the entire world… but it's no use. Not everyone is Iggy Pop.
We make up for it with the other most anticipated show of the day in a rammed Roundhouse: Yob. From the first notes of "Prepare the Ground", the ordinary guys turn into archangels of doom to interpret the Apocalypse according to Saint Mike. The trio gets drowned in projections of shimmering mandalas that confer an almost biblical theatricality to the stage, like a divine apparition. Yob are absolutely majestic tonight: they are darkness, they are light. They are thunder, they are the sun. They are nothing and everything all at once. Yob IS Love.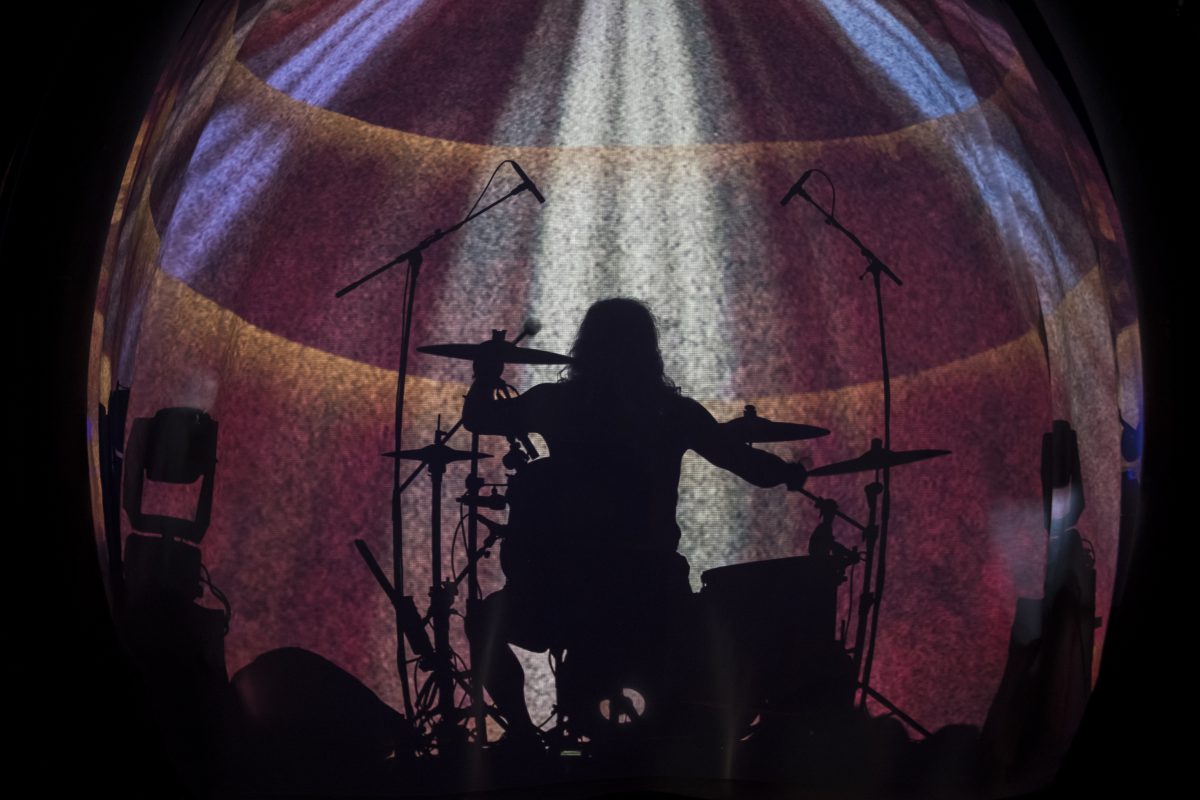 Camden is getting empty and the cold now bite my legs. After Yob's cosmic rays bath, I can't immerse myself in Electric Wizard's gloom and doom, especially given my current state of exhaustion. I need a stiffener and against all odds, I just found it in the dampness of the Powerhaus with Bongzilla's muddy and filthy vibes. I'm not exactly a fan of this kind of weed-worshipping music on record, yet it grooves as hell right now. Muleboy masters the balance between singing and offering dirty, uplifting and at times toughening up jams. Shout out to the people in the crowd who offered the band a few spliffs, and the band, who challenged Electric Wizard on socials as they're playing right now at the Roundhouse.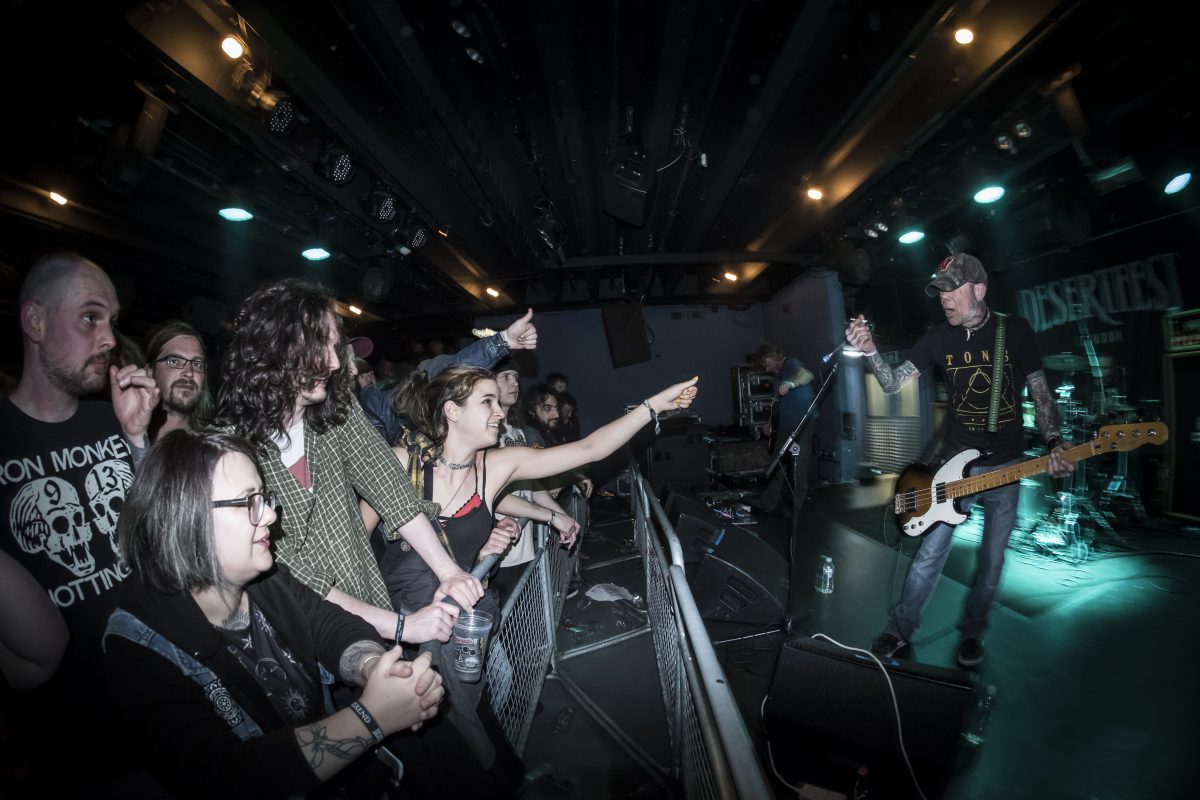 Bongzilla make me feel alive again and I'm now ready to enjoy a late-night oddity and official festival closer: Ten Foot Wizard. And what a treat! We've already heard this explosive cocktail of blues, funk and stoner many times before, and the comparison with Clutch is more than obvious. But just imagine Neil Fallon's band playing in your fave dive in front of 400 people braving the fatigue and London cold. Their magic formula made of fat groove and riff-tasty hooks literally turns the venue upside down. Add a good dose of humor (songs like "Namaste Dickhead") and intense cowbell hammering, and you get a jolly mess and the most memorable conclusion of this Desertfest 2022. For 2023, flowery swimming trunks will be highly recommended.
For a third day placed under the sign of doom, it feels uncanny to have such a good time with bands advocating nothing but groove, fun and good vibes. Or is it not? After months of festival withdrawal, the idea of sharing the passion and sweat altogether supplanted everything else.
And what could be better than to experience this in the heart of the ultimate festival town: Camden? If I had to convince you, I would quote Desertfest mastermind Reece Tee: "We are proud that our festivals happen in the cities, it gives it a dirty underground vibe which is fitting. These cities are where these bands work hard to make their careers, these are the dirty bars where people make their name so it's the real deal, we don't need to build a city in a field, we have the real thing."
Enough said. Thanks and see you next year.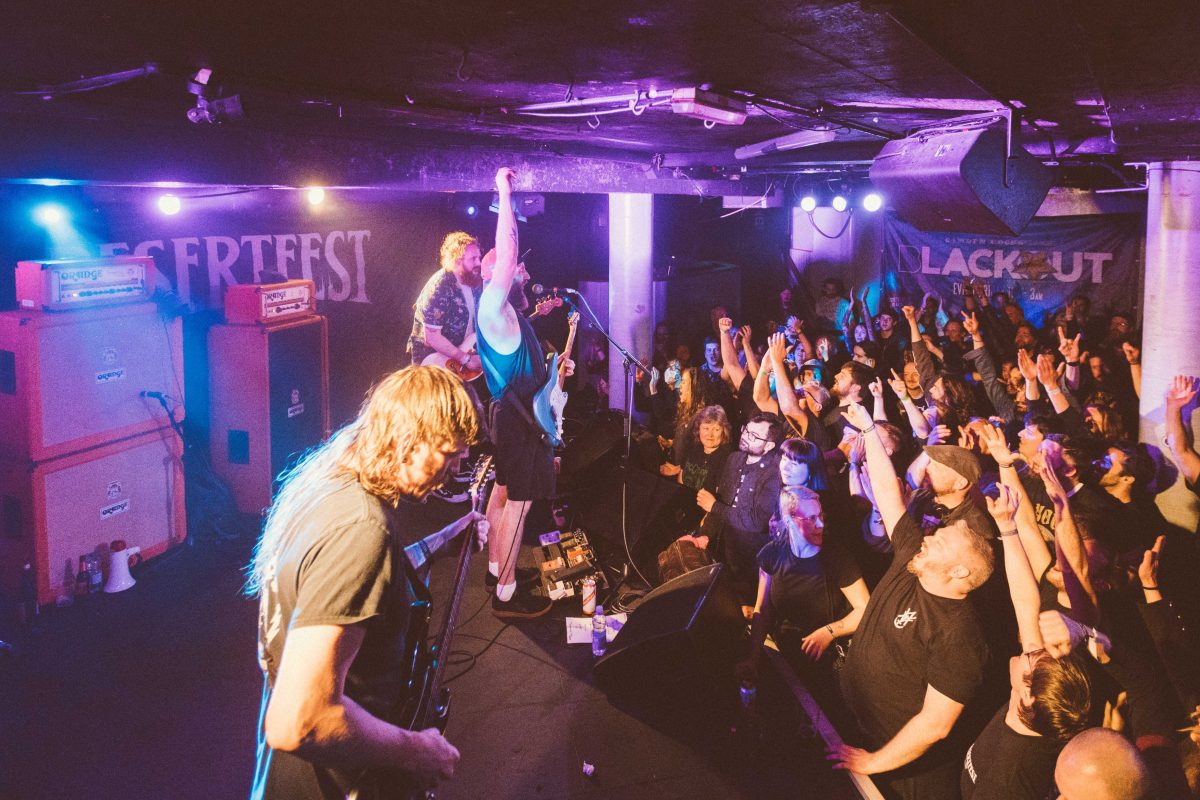 Last modified: 15 June 2022