Belgian five piece

YOUR HIGHNESS

(finally) return with their third album, soberly titled 'Your Highness' — probably to remind those who thought they split that they are well and truly alive and kicking the mud.
As it happens, it was worth the wait and this new release sounds like it was brewed and crafted in the swamps of Louisiana. Yet, it all hails from Belgium. You know, this country mocked by French people and deprecated by Dutchmen, who speaks two different languages and has however helped me build a strong knowledge of everything fuzzy thanks those maniacs at Stonerbixxx. You think I'm going off topic. But it is precisely on that website that I've first heard of Your Highness. And I remember thinking that these guys were just as good as their US peers.
They put the boot it with their outstanding 'Blue Devils' EP so hardly that my expectations kept rising and I was sure YOUR HIGHNESS would become the European (and funnier) answer to Corrosion Of Conformity. I was a bit disappointed by their next releases, so I was rather stunned when my editor urged me to check out the new album… and I'm now happily taking up again with these sludgers.
Inspired by our decaying society, YOUR HIGHNESS rub us up the right way with a Savannah-friendly opener, one that Black Tusk surely wouldn't have disowned. Ben Baert's growl brings out that primitive instinct deep down from our guts, making us joyfully scream along the lyrics. It's only when "The Flood" kicks in that you can hear this delightful and highly distinctive feature of theirs: the blues side, reaching climaxes on their catchy single "Born Anew", a genuine Flemish western depicted by a hilarious video where we can witness the band riding mops.
Not only YOUR HIGHNESS can craft short, straightforward bangers, but never they lose any intensity on longer tracks: it's not a tempo thing, it's about their songwriting skills and the ability to craft build-ups that carry you throughout each one of their manifestos; manifestos written to make people rise and awake from numbness.
YOUR HIGHNESS have just wiped the floor with our ears, and it's an absolute pleasure to see the Belgian back on top form, proving that those filthy swamps have no borders. Your Highness are Great, Your Highness are back, and they came to kick your ass. You have been warned.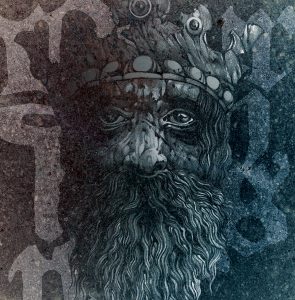 ARTIST: Your Highness
ALBUM: "Your Highness"
LABEL: Hoogheid Records
RELEASED: 11 October 2019
GENRE: Sludge punk blues
More: Facebook / Bandcamp
Last modified: 19 November 2019