Let's be honest, we don't know much about LOW FLYING HAWKS excepted their music and two initials: AAL and EHA. And two faces. Nothing more. Yet, two EPs ago, the duo has enrolled a behemoth rhythm section in the person of bassist Trevor Dunn (Mr Bungle, Fantomas, Melvins) and drummer Dale Crover (Melvins, Shrinebuilder, Nirvana) — a detail that would definitely arouse the hype around a band. and this is how they caught my attention.
LOW FLYING HAWKS' music is a trap: it's deviously heavy. Don't get fooled by the aerial introduction song: this EP was built around the « Somewhere Part 1 » and « Somewhere Part 2 » dichotomy, opposing mystical peacefulness to world-shattering doom gloom. As if the band was constantly blackening their psychedelic inclinations with a tar-thick doom/sludge khôl.
Yet the darkness isn't enough. Throughout "Anxious Ghosts" five tracks, LOW FLYING HAWKS drags you slowly into an insidious schizophrenia, through numerous effects, synths, voices, overdubs… auditive hallucinations that you will only notice after a few listenings. Therein, closing track « Doors to Nowhere » is the epitome of dense and suffocating dark psychedelia, that will let you in total distress and disoriented once the music stops. As if, for thirty minutes, the frontier between reality and insanity opened. As if anxious ghosts came whispering all the despair in the world.
Such oppressing and anxiety-inducing psychedelia inevitably leads to comparisons with Pink Floyd. The one Floyd who, mind-blown by its acoustics and otherworldly silence, decided to play in former Roman city-state Pompeii's amphitheater, allowing the crowd to fully embrace the anguished, almost possessed mood of Roger Waters' "Set the Controls for the Heart of the Sun" and "Careful With The Axe, Eugene".
This is as close as « Anxious Ghosts » gets from crafting the soundtrack of the tragedy that stroke the peaceful and thriving city, annihilated in a few hours by a volcanic eruption that mummified everything in its path and froze all trapped souls into its incandescent ashes column. Among its ruins, only the breath of forever wounded ghosts would remain. « Anxious Ghosts » is the sludge answer to Pink Floyd's eerie experimentations in Pompeii. These are the streets of a psychedelic city engulfed by sonic sludge and devastating magma riffs came to petrify the listener into a permanent state of distress and insanity.
Beware of the dormant volcano in LOW FLYING HAWKS.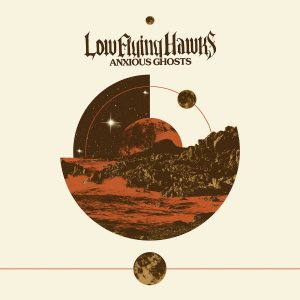 ARTIST: Low Flying Hawks
ALBUM: "Anxious Ghosts
LABEL: Magnetic Eye Records
Genre: Atmospheric doom
More: Facebook / Bandcamp / Magnetic Eye Records
Last modified: 18 August 2019