Cackling right back at us again through the haze, like some kind of crazed witch astride a hot-rod fueled with liquid depravity, DOPETHRONE return with their fifth full length. Put simply, the cheekily-titled Transcanadian Anger (a possible Darkthrone reference perchance?!) sums up this much-loved Montreal trio's drug-guzzling sound perhaps more perfectly than ever before, with a record that slots right into any well-bolstered sludge collection like a beer and a blunt on a hot, sticky summer's afternoon.
After building up a consistently solid rep for banging heads and blues-grooved filth mongering on their red-raw debut Demonsmoke and the sublime Dark Foil, it was never in doubt that DOPETHRONE would have what it takes to become a worldwide leader in underground sludge metal. But yet it was the gloriously anthemic rifforama of III that cemented these French-Canadian bruisers in our hearts here at THC. The stopgap EP 1312 followed a fourth full length effort in Hochelaga, which was an altogether darker, slower burn all being said. But with no more a wink and a smirk, frontman Vincent Houde and bassist Vyk Riffbanger have knuckled down together with new drummer Shawn and fired the mighty 'Throne back to their triumphant best this fifth time around.
Opener 'Planet Meth' wastes no time in cracking skulls and cranking out yet another hook-laden scuzz fucker of a tune, slipping and sliding between dirty groove after dirty groove beneath Vince's demonic scowl. It's a pounding start to a deliciously riffy affair and as this driving surge of an opener eventually collapses upon its own grimacing, tiranical darkness, a train quietly rumbles down the track, headlong into 'Wrong Sabbath'. This one's more of a mid-tempo swagger through fields of gently torched marijuana and that Bongzilla-via-Blue Cheer vibe that Vince's guitar seems to ooze out so effortlessly. The chorus itself is more a snaking riff than a vocal hook, but either way, you could still barbecue all the gazelle carcasses you want on the back of this brooding, smouldering rager.
Wanna hear a song about a killer bulldozer? Well, who the fuck says no to that! With a full bong and a tank fulla gas, 'Killdozer' flies into life, easily one of the fastest, dirtiest instant classics DOPETHRONE have committed to tape yet. If that hasn't wet your chops enough as you swig that cheap bourbon ever more hungrily, the one-two jaw-breaking combo of 'Scuzzgasm' and 'Tweak Jabber sure as shit will. With the former a delightful ode to "an orgasm you wished you never had" slowly meandering across open plains of succulent fuzzy sludge and Vince's trademark rabid but sincere blues, the latter slams back into you like an overdriven tidal wave of beer spewing from the glands of an angry, ship-eating sludge whale. Heads will bang, including yours.
'Snort Dagger' is so slow and heavy it's virtually comedic as to just how knuckle be-draggen it's possible to get and the sneakily-titled 'Kingbilly Kush' is actually ZZ Top's 'Tush' given the full spliff-n-riff treatment to genius effect. But it's DOPETHRONE closing up the coal shed with the grimly rolling drums and gut-tugging basslines of 'Miserablist' that reminds you of just why you came here: to get your brain warped with volume on one side and fried in acid on the other. A truly scorching finale.
DOPETHRONE don't over extend themselves. They don't grow up. They don't do a quiet night in. They don't fuck with the formula they've refined as their own and they don't turn their sludge-quaking, drug-addled amps down for no-fucking-one. That's why they're up there with the best in today's fuzz business whilst as ever appearing to be having a shitload of fun doing it with us all live on stage. Based on this drunk, stoned, blazed-up rampage, it's fair to say that DOPETHRONE certainly remain full of Transcanadian Anger, but yet it also still feels as if they're only just getting started.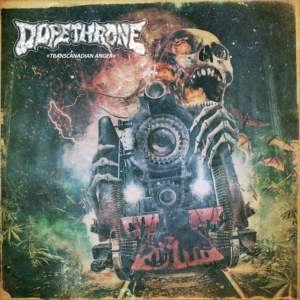 ARTIST: DOPETHRONE
ALBUM: "Transcanadian Anger"
RELEASE DATE: 25th May 2018
LABEL: Totem Cat Records
GENRE: Slutch metal
MORE: Facebook / Bandcamp
Last modified: 2 August 2018