I'm not really a regular of Washington DC's 'drunkards',
BORRACHO

. So when I heard of their « Riffography » release on Ripple Music at the end of last year, I first thought of, you know, solvency proceedings. You can call it as you please: a snapshot, collection, summary, portrait… yet, to me it felt like a forced stocktaking with a handful of exclusives at front display.

But BORRACHO think outside the box, and decided to put only rarities or previously unreleased songs together. The latter are to be found on the band's various split records, like Ripple Music's well-acclaimed « The Second Coming of Heavy » series or alternative studio versions. I can hear you from here: they are shaving the ice cube. You guys think too hard. And too hastily. Avoid spending a fortune on discogs.com, and get this record from BORRACHO – I highly recommend it.

The outcome is interesting in more ways than one. BORRACHO have been around for a decade now, and through this compendium, the band is telling you their own story. Each band has one. This are the chronicles of a band of musicians, through their evolution, lineup changes, their doubts and misguided ways, their renewal. Everything you won't find on a best-of album.

You will caught yourself reading the liner notes in order to situate each song on the band's timeline, as well as embracing its true meaning. You'll witness their evolution as songwriters, shifting from a trademark, self-proclaimed « repetitive heavy grooves » (« Rectify » or the amazing and high-octane « Concentric Circles ») to a dirty, fuzzy brand of hard rock – their sessions with Geezer are prime examples.

But this change hasn't been made without trouble, as the trio had to experiment different things such as hosting Noah Greenberg on vocals. Their existence and presence here prove a sincere will to keep going on with him. Their riff-benchmark yet shaky track « Stockpile » gives most arguably the best picture to grasp some of the doubts they've had as a band who tries to find its way. For once on a record, flawed songs are just as useful as the most refined ones, and make this compilation captivating, and even touching.

Far from being a filler or an anthology packed with countless demos of a hit single, this album is even farther than your average "very best of". "Riffography" has to be seen as a documentary about a band of guys from the underground heavy scene, a band among hundreds others, trying through thick and thin to make the crowd groove. After listening to this album, you will feel grateful whether you liked it or not. These guys deserve respect.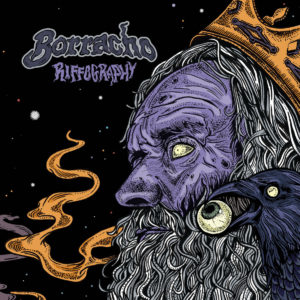 ARTIST: BORRACHO
ALBUM: "Riffography"
RELEASED: 8th December 2017
LABEL: Ripple Music
GENRE: Heavy rock / Stoner rock
MORE: Facebook / Bandcamp
Last modified: 19 January 2018