Like a waking dream, this weekend at 
DESERTFEST LONDON

 was once again too short. You get to Camden on a Thursday evening, you blink, then it's Sunday already. To hell bitterness! There are still loads of great bands to see and cool stuff to do on this last day, this is why I filled my programme with so much goodness that I expected no less than my heart and my brain to blow up all over Camden's walls, afterwards. Take your one-way ticket to the heavy rock and doom heaven, with

CHURCH OF MISERY, ELDER, LONELY KAMEL, KONGH, BLACK RAINBOWS, BRIGHT CURSE, WOLFSHEAD and THE MIDNIGHT GHOST TRAIN

. (PHOTOS: Dean Millar)
SUNDAY HAZY SUNDAY
On this third and last day of Desertfest, I'm starting to feel the aftermath of an intense weekend of gigs attendance, rushing and partying. But the festivities that'll follow are so exciting that aching muscles and headache are really secondary. My first appointment is set at 2.45 PM at the Ballroom for an interview of Norwegian rock bandits Lonely Kamel, but for now, I intend to see War Wolf on stage. Thing is I'm so spaced out that not only I head to the Black Heart instead of The Underworld, but I'm also twenty minutes early. I make the most of it to check up on my bros Bright Curse, who just played an acoustic set at the Vans Store and are about to play the Underworld in a short time. When I realize I should be taking to my heels to catch WAR WOLF, I get a text message from Lonely Kamel's PR. Too late! Anyway, given the cool pics taken by my lovely colleague Dean Millar, the gig seemed to be a BANGER.
After twenty minutes spent in company with four very laid-back Norwegians in their Ballroom dressing room, I go downstairs to see BLACK RAINBOWS (who just released a 4-track EP with Naam, The Flying Eyes and White Hills, available here). The trio seems to be making an impression on the Ballroom crowd, and to be honest, I didn't think their music could get such a powerful turn on stage. To me, Black Rainbows is one of these bands who produce a really fun and catchy stoner rock, but who don't bring anything new to the genre. However, their heavy concoction sounds pretty cool live!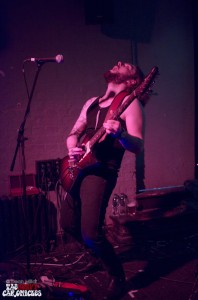 After a quick glance at my watch, I dash to the Black Heart to see BRIGHT CURSE. It always feels good to see the Franco-British trio on stage, but today is a special day, as it's the first festival performance for their new bass player Jack Boughton. The atmosphere is quite chilled and familial in the venue, you can feel the band is popular among Londoners, given the number of private jokes coming from the small crowd. As usual, the guys promptly take us from cosmic melodies to massive fuzz outbursts, and even treat us to two very colourhazeful new tracks of theirs (see one of them below). Sonically speaking, Boughton provides the band a doomier touch, which is perfect, for the band chose to record their first full-length with Conan's very own Chris Fielding and Jon Davies this summer. The only few things I would reproach about today's performance – and that, only because I've probably already seen them too many times – is a lack of mastery on vocals and a couple of weird breaks at times. After forty minutes spent in the cosmos, I have to leave the venue for another show.
LETTING THE DOGS OUT!
Four o'clock, it's teatime. No, wait… It's actually time to stuff our faces with the tasty Norwegian riffage cooked by LONELY KAMEL. The bearded foursome is already pouring their sonic grease all over the Ballroom when I enter the venue. The first thing I notice is their "I'm With Stupid" shirts, pointing at each other with an arrow. This, and the fact they all look like they just escaped from a Game Of Thrones episode (the Winterfell badass kind, though)… These guys are the epitome of Cool, and their heavy blues sounds so groovy and sexy that it makes you want to sway your hips, no matter what song is being played. Obviously, the song "Damn, You're Hot" would win first place when it comes to that… but when "Stick To Your Plan" kicks off by the end of the gig (you can watch my shitty footage here), I revise my rating immediately. Daaaaamn! As good as their records can be, you really have to see Lonely Kamel live to enjoy the heaviness and positive energy that ooze from their music, to let their face-melting solos and – technically perfect – warm vocals infiltrate your ears and soul… Basically, you need to witness their fucking magnificence on a stage. When roughness meets an utter level of class. Top highlight so far! (VIDEO)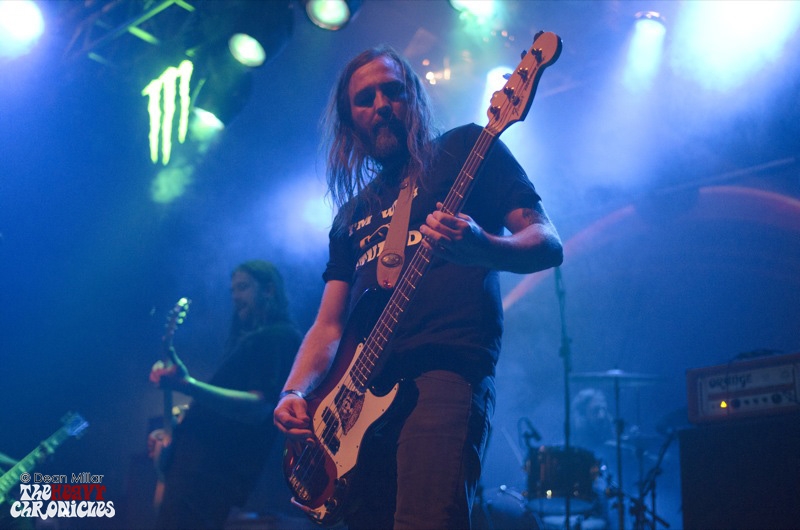 It's now WOLFSHEAD's turn to be scrutinized by the T.H.C. eye, as today is the first time I see the band performing. The Black Heart is now pretty packed and the trio from Hampshire is already blasting their thick and brutal metal, blowing everyone away with their relentless energy. At this point, even the term "frenzy" doesn't fit anymore, for it's a fucking sonic storm (and hell it feels good after the amount of heavy/stoned bands I've seen throughout weekend). It's kind of hard to label their sound, so let's just say there are reminiscences of High On Fire, Red Fang, The Shrine… and Bison for the edgy sludgy side. Nothing but kickass live bands, hey! Each Desertfest edition brings its share of live discoveries: last year has The Shrine, this year, it's Wolfshead. Two words: raw power. Oh, and loads of fun. These guys are brilliant. Can't wait for them to cross the Channel and take over our lands with their "garage doom" craziness!
LOST IN THE REALM OF PSYCHEDELIA
Good thing with festivals, is that you can move from a brutal sludge outfit like Wolfshead to 70's blues rockers like RADIO MOSCOW within ten minutes. I was particularly excited to see the San Diego hippies delivering their psyche jams on the Ballroom stage, yet as happy I am to hear their live renditions of  "Broke Down", "250 Miles" or "The Escape", the performance doesn't seem to be really leaving the ground. Don't get me wrong, these guys are all amazing musicians and Parker Griggs is one of the most gifted guitarist of our time, but the electric shock that usually makes their crowd go nuts is just not happening tonight. You can't succeed everytime, I guess! But there's no doubt the people for whom it was the first Radio Moscow experience remain amazed by the band's bluesy magic potion. (VIDEO)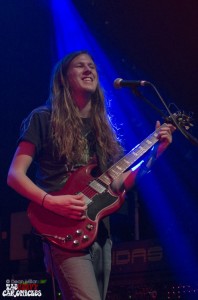 Yet another band I was looking forward to see: ELDER. Elder are like young stoner rock geniuses, a mysterious outfit who only released two records since the band formed in 2005. The three Americans can be discreet, yet they have earned a solid reputation among the scene. The security guys at the stage look astounded by the reactions on the front row, especially a small group of very enthusiastic – and drunken – Americans, who're making Nick DiSalvo grins in between the songs. Despite a(nother) bass overload in the PA, the band doesn't take long before propelling us into their epic world made of heavy riff spirals and bass rumbles. "Dead Roots Stirring", "Spires Burns", "III"… Tonight, Elder give us our money's worth, plus a new track, and even some lovely smiles. Weirdly, it took me maybe two songs to really get into it, yet I leave the Ballroom all satisfied and perked up after this major stoner kick in the ass. SIMPLY MIND-BLOWING.
ALL SET FOR THE METAL EARTHQUAKE
Without a second thought, and after I realize Sourvein will play later because of a delay, I rush to the Black Heart for THE MIDNIGHT GHOST TRAIN. Inside the venue, the usual warmth has turned into a tropical mist. Nothing to lose, it's now or never to cut loose and enjoy the southern flavor of their hectic heavy rock'n'roll: let's bring headbanging to another level! It must been said the Topeka trio is used to pour so much energy into their shows that it's getting contagious. In front of an over-excited audience, Steve Moss (guitar & gravelly vocals) stands up on the monitors to warm us up even more. No other gig has brought me to such a state of exultation this weekend, and all those blissful smiles around me prove that the feeling is unanimously shared. It's 8 o'clock in Camden, and no matter what the other hundreds of Desertfesters are doing at that very moment, right here, right now, we feel AT HOME. Damn, it warms my heart to write this. And as if all the warmth and fuzz wasn't enough, the band offers a one of a kind gospel moment (watch here), making all of us clap our hands and chant in a huge rock'n'roll mass. Clearly one of the most festive moments of the weekend.
That gig was so insanely good that I've lost all notion of time, almost forgetting about CHURCH OF MISERY. Drunk with good music and soaking wet, exuding joie de vivre, I head to the Ballroom for what is – to me – the real headliner tonight. For Church Of Misery has been representing stoner metal beyond the European and American frontiers since 2005. And if I picked the term "stoner" here, it's because you'll find every single fundamental element of this culture in their music (on top of an inordinate fascination for serial killers), and that's why they're so respected among our scene. At first, I'm slightly perplex when I realize the singer (Hideki Fukasawa) is different from the one (Yoshiaki Negishi) who got me mesmerized at Bilbao's Kristonfest back in 2011. Ok, Hideki was COM's singer between 2004 and 2009, then he joined again in 2012, but you can't deny all those lineup changes are a bit disconcerting! No matter what kind of weird puzzle I'm trying to mentally put together at the moment, the band is presently blasting the heaviest, dirtiest and grooviest metal ever in front of hundreds of, well, MESMERIZED people. Church Of Misery could basically stand there on stage and just play their instruments, we would settle for that, because their psyche-boogie sludge is a mass weapon on its own… And yet, they give everything on stage. With a vintage video projection as a scenery, the show gets even more striking and epic. Epic Church Of Misery are epic, and they sure once again left their mark on Desertfest London.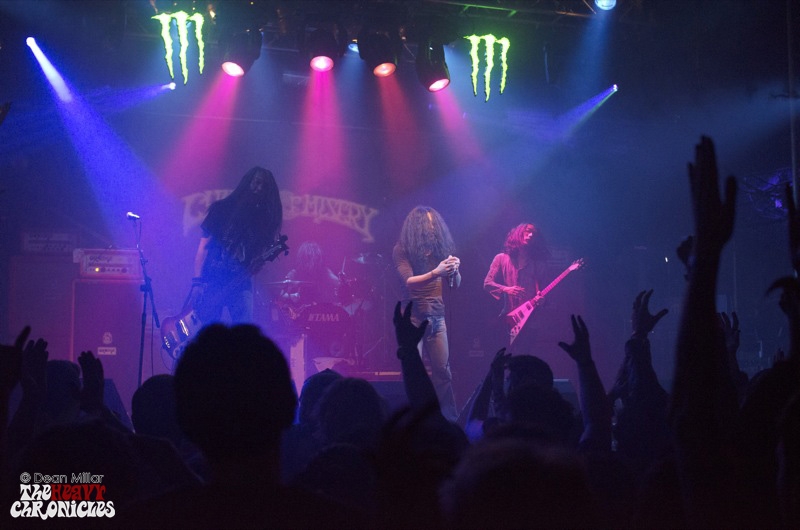 NO REST FOR THE WICKED
I stay only fifteen or twenty minutes to see BORIS' show – the only reason is that I have a beer to finish – and honestly I really just can't get into it. Not only the drummer's constant whooping is over-irritating (seriously, dude?), but the band's lack of musical identity makes me feel like every single song is devoid of soul. It sounds dull to me. But I guess they are the kind of band you just love or hate, given the very differing comments I heard after the show. Time to make a strategic withdrawal to the Underworld, where the last afterparty of the weekend will take place. Swedish doom metallers KONGH are in action there, literally "crushing the living" (or what's left). The sound is so hypnotic that I don't react swiflty enough to film, when the band kicks off an improvised cover of Sleep's "Dragonaut" to cope with small technical problems. Anyway, for this one and only reason, you should have been there.
Afterwards comes the traditional closing party where you meet up one last time with your festival mates, as well as a couple of bands who came to chill-out before hitting the road again in the morning. Only at Desertfest, you'll find yourself jumping around on some old school tunes with the Radio Moscow guys, chattering about "Eastbound and Down" with Lonely Kamel's guitarist or having Jäger shots with Kvelertak's frontman. Only at Desertfest, you'll sing your head off on "Roadhouse Blues" or move your body on some Slo Burn. Only at Desertfest you'll feel THAT free and understood by the people around you. I'll stop beating the drum for now, but as Uncle Steve said when the Underworld finally shut at the end of the night, this weekend was "QUALITY BOLLOCKS!!!".
Massive shout out to the Desertfest team for turning this event into an amazing experience once again: Reece, Jake, the Quietus, When Planet Collides, Human Disease and Metal Hammer stage promoters, all the lovely volunteers and merch boys/girls, Kippa and Rich (best DJ set of the weekend, guys). Shout out to the bands who've given us thrills for three days, and the crowd for proving once again that stoner people are the best. Thanks again to Dean Millar for being the most irreproachable and dedicated partner and photograph. Big shout out to my hostel roomies, and a special thought for my friend Lorène Lenoir whom we terribly missed on this very weekend… Countdown is activated: 345 days left before Desertfest 2015! 
READ ABOUT  DAY 1 AND DAY 2 OF DESERTFEST 2014
Last modified: 10 February 2015