HELLFEST 2014. Probably the most mind-blowing lineup that a modern metal festival has ever offered, EVER. for this ninth edition of the biggest metal event in Europe, the promoters not only put all into the lineup, with an unseen ratio of legends (Iron Maiden, Black Sabbath, Aerosmith, Deep Purple…), but also with an exceptional scenery, dragging us into a crazy theme park for metalheads. The sun being an all-present guest during these three days, we could have nothing but a blast. Now, let's look back on this very intense and highly emotional Hellfest. Day one. (Photos : T.H.C. / Gaël Mathieu)
After an intense Thursday evening reunion with friends made over a "bunch" of beers, red wine, French dishes of all sorts, and me telling everyone how much they should attend MARS RED SKY opening gig at the Valley, I had to set a good example myself. There is an hiccup on this first morning of the event, as the security at the gates of the fest has decided to be slow as hell, which gets me to hear most of the stoner trio's performance from the queue – yeah, I forgot their was a special entrance for press this year – under a scorching sun. And this is driving me mad. When I finally enter the site, the band's almost done playing. Double gutted. On the positive side of things, for such an early hour (10.30AM), the Valley is pretty full and the atmosphere is also really warm. I'm so glad my friends are getting the support they deserve!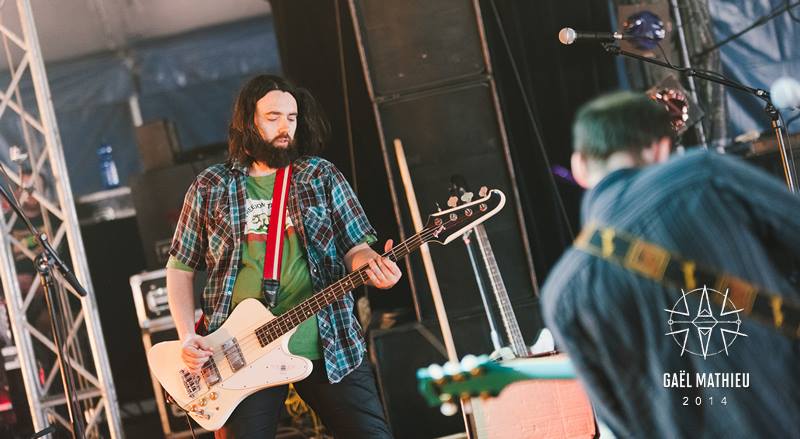 Next on stage: Britain's doom monolith CONAN. I was eager to see them live for the first time and get my brain properly crushed on the first day of the festival. No sooner have I arrived in the photo pit that I already feel the effects of a way too heavy doom breakfast on my small body: the bass overdose strikes already (and will basically hit us the whole weekend on this stage), which makes my experience too painful to be lived in full. I have to pass. As I'm also attending Hellfest for work, I spend the next three hours at the press corner to handle some promos. A short break allows me to enjoy TOXIC HOLOCAUST, literally tearing down the Mainstage and all of those who decided to risk their lived under the burning sun. Portland's legendary thrash band is going straight to the point, no questions asked, moshpits are being launched all across the pit, and dust clouds are starting to form above the already suffocating crowd. This is the moment I choose to take shelter near the big central screen and its oh so appropriate military tank.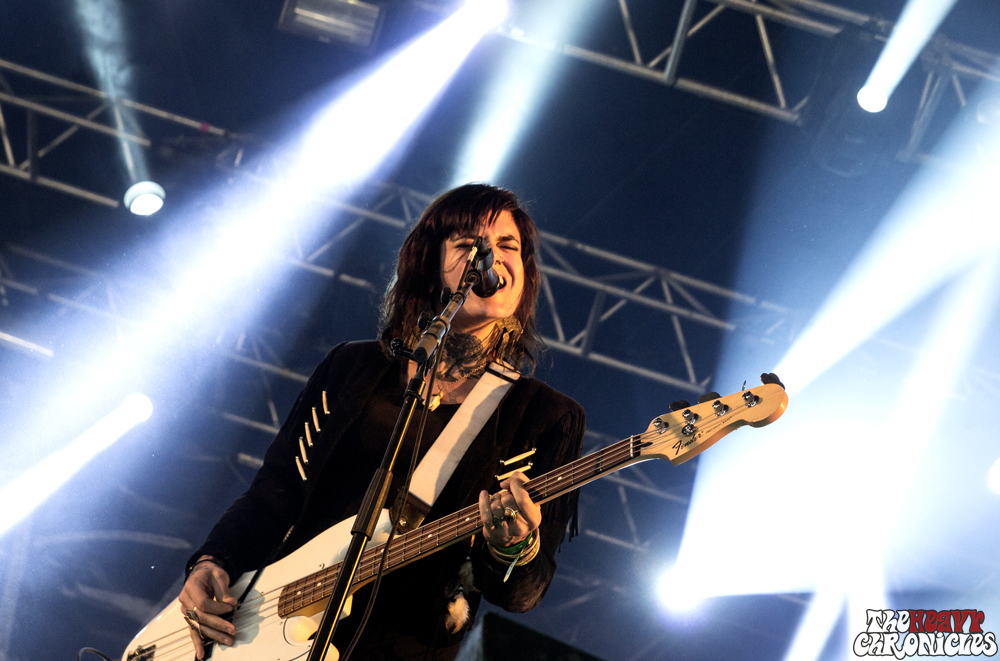 Then comes the time to see ROYAL THUNDER, who kind of blew my mind with their first and only record "CVI", which was released two years ago via Relapse Records. Atlanta's dark rock outfit delivers a very varied set of songs, between stoner, cold rock, and sometimes even pop (in the noble sense of the term) with utter class, even though the whole thing is a bit lacking of… fire power. However, brunette frontwoman Mlny Parsonz (see above) will have to be counted as one of the best female rock vocalists of the decade, that's a no-brainer.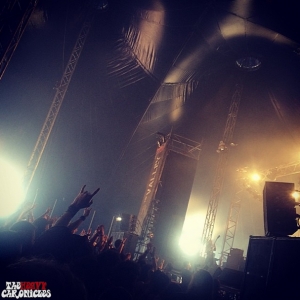 The first big rock'n'roll party of the weekend is happening right now under the Valley tent with KADAVAR. And the favorites of the revival rock wave don't disappoint, once again! The tent is packed of an audience who needs only two or three verses to get completely nuts, declarations of love are echoing from all parts each time the band puts a cool break (their specialty)… This is about my 56th seeing them on a stage, the experience remains as face-melting as ever. It has to be said that among that "new proto-rock wave", they're the band who releases the more energy (and watts!) on stage. So here's a massive electricity fix for all of us here, resulting in loads of love vibrations sent to the band. Oh yeah, France, Europe, THE WORLD has been loving Kadavar with a sheer and sincere love since day one. Hand heart xx. That's a quite different but still stunning bunch of performers who go next on the Valley stage: US groundbreaking sludge prog metallers KYLESA. With power and charisma, the foursome drops a bomb after another with a striking precision. For the record, Laura Pleasant also just became my woman crush: she's so badass and inspires so much respect, I'm in love. A wall of sound is rising in front of us, everyone seems mesmerized. That's a band I'd really like to see in a smaller venue to complete the experience. Enjoy an excerpt of the gig below.
Time to reach the Mainstage area to enjoy the first big headliner of the weekend: IRON FUCKING MAIDEN. On my road to the stage, I get joyfully collared by a bunch of friendly die-hard fans, which makes my beginner's experience a lot more fun. And what a delight to be able to singalong on "Run To The Hills" or "The Number Of The Beast", when the band's energy and Bruce Dickinson's high-pitched vocals have remained intact after all these years and tours. Nonetheless, I have to complain about the sound, which is definitely too low when you're standing far from the stage. On the other hand, I'd like to applaud Dickinson for having specifically requested a TV screen on stage, just to be able to tell us – in French, s'il vous plait! – the score of the France-Swizterland football match, between two "allez les Blooouuus !". With this very friendly vibe and a short appearance of Eddie on stage, I can say that this gig was pretty much a good one for anyone who went to discover Maiden live today.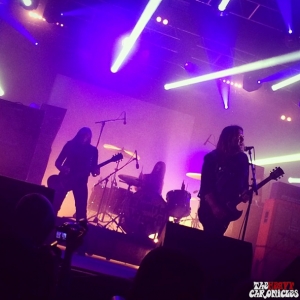 As the announcement of GODFLESH's delayed gig starts to stir up confusion among the ELECTRIC WIZARD fans, I rush to the Valley… just in case "our" band would have to play earlier. Then starts a long sitting, with saucisson and Grimbergen to help killing time. On my right, bongs are being lighted up. Above me, two monks with a joint on each ear. The color is set, I think. When the returning Wizards get on stage, I feel a huge wave of excitement and emotion flowing through the audience. Fuck yeah, they're back. Heaviness deserves a golden 'H' when it comes to describing the wonderful best-of setlist they're offering us tonight, ranging from "Supercoven" to ""Dopethrone", "Witchcult Today" and that face-melting conclusion on "Funeralopolis". The Valley is totally under the wizards' spell, all bodies and souls being devoted to the lords and great priestess of doom at that very moment, while a swarm of riffs is slowly and deeply scraping our lungs clogged by Clisson's dust. Despite a long hiatus, Jus Oborne and his clan never really slipped out minds, and tonight they prove that no one is worthier of that Doom Throne than them. With smiles as a bonus.
After such a sublime earthquake at the Valley, I undertake to get straight to the Warzone to see vikings noisemongers KVELERTAK perform the ultimate show of the day. My heart is filled with joy and dripping fuzz right now, so I just run. While the North Wind is blowing over the place, I'm being seized by a very different kind of trance. Like taking some speed right after a massive weed joint. The Stavanger outfit is playing so relentlessly that it feels like a medley set, and it drives everyone insane. If you never experienced Kvelertak live, I have to tell you that you've been missing one of the most fascinating and exciting metal live acts of our time. Not only their heavy mixture of black metal, stadium rock and hardcore punk allowed them to stand out from the crowd in less time than it takes to say their name, but these fellas also prove to be the wildest motherfuckers on a stage, releasing a great positive energy from the beginning to the end. And this is the exact reason why they deserve their success. And because you have to experience it to understand fully what I'm talking about, I won't feature any video. I'll just leave you here with this fantastic picture taken by my friend Gaël Mathieu (check out his own photo gallery of the festival for more wonderful live snaps like this one)…
Bonne nuit, Hellfest.
READ ABOUT DAY 2 AND DAY 3 OF HELLFEST 2014
Last modified: 10 February 2015