I discovered UNSANE not so long ago upon advice of an expert, and I don't regret it at all… Here's a review of their latest album "Visqueen" released in 2007. Don't forget they'll be playing live on Music Day in Bordeaux (thanks to Allez Les Filles for that) !
First of all : what is UNSANE ? A noise rock band from NYC, what else ? Some loud and dirty sound, dirty like downtown's sidewalks. Asphalt, struggle, sludge, cig-butts. Yet that ain't it. "Visqueen" is : fuzzy riffs perpetually in a borderline state of overdosis, an overwhelming and powerful bass, a countryside vibration lost in the middle of an over industrialized urban landscape. Industrialized, why ? Just listen to the instrumental outro East Broadway to seize this smouldering and muggy factory's atmosphere…
The most vivid examples of this feeling could be real time bombs like This Stops At The River, No One or Windshield, when the damp deep bayou meets the streets. When the bottleneck meets the pressure of an intrusive overdrive, when a mild airstream comes to cool a suffocating urban atmosphere… Actually, THIS is "Visqueen" : no break, a dizzying cadence, a punk warlord's energy.
From A to Z we feel like a rat dragged by mistake into a Chevrolet's engine, to show you how gleaming is the joint. Then you got the voice, what am I saying ? Chris Spencer's rageous and husky screams ! And the guy isn't done with us : he's about to punish the world, crush it like shit. As far as I'm concerned I'd like to be punished that way more often…
TOP TRACKS :
Windshield
Against The Grain
This Stops At the River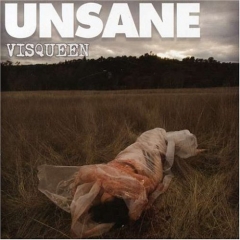 ARTIST : UNSANE (official website)
ALBUM : "Visqueen"
Release Date : March 2007
Label : Ifecap
Genre : Noise rock / Blues
Note : ☆☆☆☆
Last modified: 11 February 2015