"V" is the latest offspring of instrumental stoner kings KARMA TO BURN, released merely one year after "Appalachian Incantation". The latter announced Karma To Burn's fusion with Year Long Disaster, introducing Daniel Davies on vocals. "V" is another not-only-instrumental record, with no less than 40% of vocals in it. So what's the vvvvverdict ?
With both albums being released pretty close together, does that make "V" a spitting image of "Appalachian Incantation" ? Let's say it's more like a second part . As for its predecessor, the riffs on "V" are way less addictive than they were on "Almost Heathen" or "Wild, Wonderful…Purgatory" : your ears will have a blast (fucking hello, it's Karma To burn !), but in the end, not as many tracks will remain etched into your memory.
Something that never changes is the band's straight up habit of setting the tone from the very first seconds of the record, with a V8 instrumental that combines Oswald's fire, Mullins' earthquakin bass and Mecum's recognizable, heavy but rustic guitar. 47 IS that V8 song. 50 is quite a good track right in the same vein as "Almost Heathen" and yet it's no great shake ; 48 is more interesting in its noise rock sound and its mysterious and exciting, western atmosphere ; as for 49 and 51 they sound like regular K2B good songs. In spite of the great display of heavy riffs and cool bridges, the fact remains that those five instrumentals are below the level of creativity we could expect from the band.
Basically, a KARMA TO BURN record CAN'T suck, that's a fact. On "V", the magic happens right when the band shows its skills as a 4-piece : Daniel Davies gets on the mic and the whole band seems touched by God's grace. They actually get so fired up that you could burn yourself listening to these tracks (and you'd like it). I never thought I'd say this in my entire life : the 3 only non-instrumental tracks Jimmy Dean, The Cynics and Never Say Die are the best tracks of the album by far.
In the end, "V" isn't a disappointment, except that it seems to be written as a continuation of the previous record "Appalachian Incantation", as if they didn't rack their brains much and just decided to jam on. However, we're talking about an excellent bunch of musicians who know how to bring out quality, even from the most regular song. That is called TALENT and that is why they're called "instrumental kings".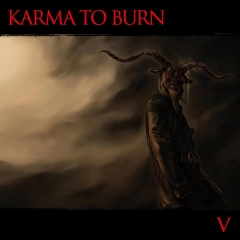 Artist : KARMA TO BURN (official website)
Album : "V"
Release date : May 2011
Label : Napalm Records
Genre : stoner/rock/instrumental
Note : ☆☆☆
Last modified: 11 February 2015