Finally. The new LOWRIDER album has finally landed. Saying it's been highly anticipated would be an understatement, in so far as the fans were already on pins and needs back in the days. In 2000, four Swedish teenagers decided to unleash « Ode to Io », which convergence with the Palm Desert had them nominated for "best Kyuss copycat award" by Kerrang. Whatever, with one record, these young fellas had opened the path to a whole generation of fuzz lovers in Europe. (Words by Yannick K.)
And then, nothing. So little. A few announcements or appearances, an album in the making — often hinted but postponed endlessly — made some fans spit their venom and show their contempt. Considered as ever-cult by some, pretenders by others, the elusiveness of this sophomore album definitively relegated it as the « Chinese Democracy » of Stoner Rock.
From the very first notes of « Red River », the LOWRIDER Galaxy Express starts up to fly in orbit of the Rings of Saturn ; your face gets instantly deformed by the engine's supersonic speed and your brain burnt out by the fuzz. Propelled into hyperspace within six tracks, you barely realize what just happened to you! With those massive grooves (« Ol'Mule Pepe), interstellar riffs (« Sernanders Krog), volcanic fuzz on all levels and molten organs (« Ode to Ganymede »), stunning and solar-hot vocals, Lowrider deliver the definitive recipe to desintegrate our neurons like virginity on prom night. Experience always wins the day, as we say, and these Paul Bocuse of Stoner Rock definitely know that the heavier the song, the tastier.
With a tremendous, cosmic sound, « Refractions » is wrapped in Peder Bergstrand's class, contrasting with the impetuosity and sense of urgency of the « Ode to Io » early days, these songs are marked with nostalgia yet they embrace their history without being backward-looking (« Give me something new, Something that feels true, Refractions of a view, Fragments from our youth » on "Pipe Rider").
Not only Lowrider cock a snook at their detractors, they just released one essential record that will define Stoner Rock for the (twenty?) years to come. Just like another band before them. Instant Classic.
---
After becoming Kyuss' sole heirs when the latter went on hiatus, the Swedish also went missing for almost two decades. (Words by Pierro)
Today, after witnessing the genre decaying for two decades, spoofing itself to the point of overdose on the filthy curb of Fuzz, the mere thought of listening a new great stoner rock album started feeling like a chimera. And from the first listening, one thing is for sure: "Refractions" is the best Stoner Rock album ever released in twenty fucking years.
When "Ode to Io" was the product of a band of youngsters stuck on their idols and a sonic emission that got many "stoners" awestruck, this album marked an entire scene who could hardly accept the fact that LOWRIDER killed it with a buzzer beater.
Like an undefeated boxer defending his title, Lowrider could have worried about their physical condition and ability to stay on top of the game when he hasn't fought in ages. Except that no one can compare to this outstanding musicians. "Refractions" stands a the perfect definition of each element, each sound, each riff, each pattern that makes up THE stoner sound in the collective imagination: from fierce, dust-kicking rhythms to vertiginous heights taking us for psychedelic takeoffs, not to mention Peder Bergstrand's sublime performance on vocals, everything in this record is perfectly thought-out and played, creating a feeling of plenitude just like when you reach the highest peak and contemplate the beauty of the surrounding landscapes.
Lowrider is no more a stoner band. Lowrider is a mythologic deity descended to grace us with the greatest sonic orgasm ever — one that will be passed from generation to generation, endlessly following their masters' path in order to be able to reach the cornerstone album status of "Refractions".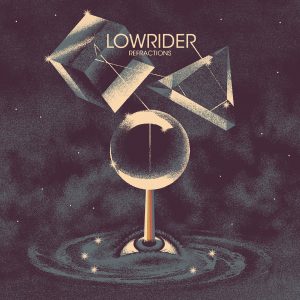 ARTIST: Lowrider
ALBUM: « Refractions »
RELEASED: 21th February 2020
LABEL: Blues Funeral Recordings
GENRE: Stoner rock
MORE : Facebook / Bandcamp / Blues Funeral Recordings
Last modified: 21 February 2020