Throughout twelve years of career, Jon Davies and

CONAN

rarely let the audience breathe, relentlessly releasing full-lengths, EPs, live and split records. It's been only two years now since delivered their last album, and here they are with "Existential Void Guardian". So does the follow-up to "Revengeance" on Napalm Records bring anything new to the table?
Jaded heavy fans would probably say "nothing". But it would be reductive and unfair, this is why diving deep into the album is the best way to avoid comparisons of any sort. The lineup may be changing on a regular basis, yet Jon Davies — the mastermind and founder of the Liverpool hydra — has grown new heads where the previous had come off, surrounding himself with the finest, battle-hardened musicians to bring his beast's new sonic curse to life.
It's pretty simple: "Existential Void Guardian" is the epitome of Conan's sound. Previous album "Revengeance" was their punkest and fastest record to date, drifting away from the band's habits and getting some fans confused. "Existential Void Guardian" gets back to the roots of a slower and heavier doom, as well as a top-notch production that properly highlights vocals and also makes the drums sound more sharpened.
Lyrics-wise, Jon refers to medieval and warrior imagery like a roundabout way to deal with deeper and more serious topics such as depression and the daily struggle to survive… Obviously, Conan's music can be enjoyed both as an in-your-face treat, as in a more thoughtful state of mind. To be honest, it all ends too quickly — proof that "Existential Void Guardian" is a brilliant record that has definitely reached its goals. With an unfailing dedication and a constant will to evolve, Conan have established their trademark sound and become a cornerstone act of the doom scene that doesn't leave any room for contender, if any. I'm sure we will see them soon on club and festival stages!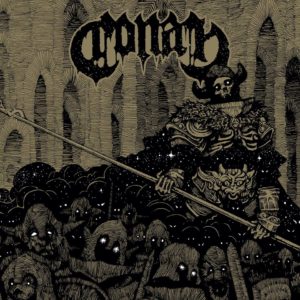 ARTIST: CONAN
ALBUM: "Existential Void Guardian"
RELEASED: 14th September 2018
LABEL: Napalm Records
GENRE: Troglodyte doom
MORE: Facebook / Bandcamp
Last modified: 12 December 2018