In 2011, the underground scene got carried away when one of the best 70s Sabbath-infused heavy records saw the light. With "Blood Lust", Kevin Starrs aka
UNCLE ACID

delivered a mind-boggling album chock full of mournful yet explosive riffage, creepy highly-pitched vocals, and a vibe worthy of horror B-flicks.

Once the hype had faded, the darkest four-piece has striven to plunge us into a surreal world filled with daggers, witches, black masses and torture sessions ("Blood Lust"), messianic neurotics ("Mind Control") or bloody hellish maniac murderers ("The Night Creeper").

As if time had no effect on them, those B-movie nerds remain disciples of the occult Sabbathian riff, however the songwriting is now wrapped in a poppier package. When each one of their previous records is better enjoyed as a monolithic whole or concept-record, "Wasteland" is nothing but a collection of underground anthems, while never infringing on that new universe Uncle Acid has crafted for us. Less firepower but more catchiness! Songs like "I See Through You" and "Shockwave City" resound like sinister dirges, Kevin Starrs indulging himself with some pop gimmicks and hoodoos brass.

Once the melodic coating is cracked, you'll embrace "Wasteland" as a powerful and edifying story coming out of its maker's fertile imaginary. It depicts a society withdrawn into itself, barely surviving in urban prisons and open-air sewers. It's enslaved by flickering propaganda screens and lobotomizing news. Constantly stuck with daily disinformation, those tech living dead under surveillance are sacrificing their remaining brainwidth to a wisely orchestrated fear of one another.

This is why this album is so powerful. "Wasteland" is simply a straightforward metaphor of our decaying western societies. Daily news seems filled with those stories the horror masters have crafted. And vice versa. This dystopian tale is the mirror of our world's brutality, making Wasteland's macabre fantasy even more relevant and disturbing. Like Romero did before them with his dear living dead. What goes around comes around.

True to what made them stand out and fiercely vintage, UNCLE ACID & THE DEADBEATS has gotten bolder and more unsettling than ever, but also catchier. Uncle Acid's piping vocals drone the usual sordid lyrics and weaves not-so-fictional stories, bearing a judiciously disturbing message. UA&DB are not about a rehash of retro doomsday-laden aesthetics anymore, making "Wasteland" a highly immersive and resonant piece of music. Welcome to the real world.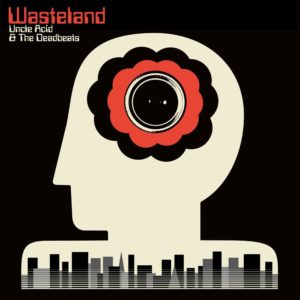 ARTIST: UNCLE ACID & THE DEADBEATS
ALBUM: "Wasteland"
RELEASE DATE: 12th October 2018
LABEL: Rise Above Records
GENRE: Heavy rock occulte
MORE: Facebook / Bandcamp / Website
Last modified: 26 October 2018