First, let's make things clear: Rescue Rangers do not play stoner, fuzz or desert rock, so it would be useless to weigh in on their music on that basis. With Join Hate,
RESCUE RANGERS

simply released the album that the entire French noise rock scene should have put out… 20 years ago. When the scene used to involve thousands of bands, and wasn't spoilt by fucking broadcasting quotas. Yet, for lack of active bands in the scene (R.I.P. Portobello Bones, Sloy, Sleepers…), only French outfit Sofy Major and USA's very own Helmet remain to keep it alive – this is the moment I tell you that Helmet's frontman and handyman

Page Hamilton produced this record. Enough said.

When listening to Join Hate for the first time, there are chances you will be thrilled by this wound up and melodic rock, filled with sharp riffs that could be enough, if it weren't for some proper vocals-laden tracks that can surprise without sounding out of place for all that. That kind of true rock record has become all too rare in France, so much so you must enjoy it loud enough to make your windows burst into pieces.

RESCUE RANGERS will ravish those who were old enough in the 90's to experience US college radios, British bands like 3 Colours Red, then the Pixies as well as a slice of grunge (Join Hate features an ode to Nirvana), among other things. Reducing Join Hate to an album longing this era, as well as a collection of tributes would be small-minded. The profusion of good music that was played on air back then is a however blurry memory, yet the record rekindles that spirit with verve.

More than just showing allegiance to its influences, this is the kind of noise rock album you'd like to see released on the Helmet camp – the pre-Aftertaste one – blasting riffs and hits in such a metronomic way as a ball machine. Helmet haven't released such an album in a while, so let's forget about them. Even though it's not unusual to shoot on sight on a band that sounds too much like its influences, it would be a shame to miss out on Join Hate, because it does it so well!

RESCUE RANGERS will certainly win over the 40-somethings like me, and I'm afraid that the younger ones may miss out on this, because of a lack of promotion – moreover, the Marseille outfit is the only one to play in that niche in France. That's too bad for them. Crank the volume and have a blast: Join Hate is a pure fun-laden record: life is too short to get bored.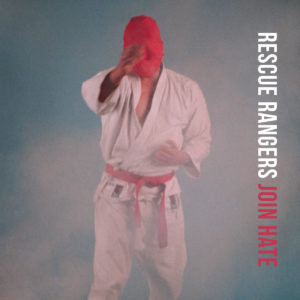 ARTIST: RESCUE RANGERS
ALBUM: "Join Hate"
RELEASE DATE: 1st September 2017
LABEL: S/R
GENRE: Noise rock
MORE: Facebook / Bandcamp
Last modified: 21 November 2017