Canada's hairy, heavy-hitting beasties
BISON

are back! And they're back as the plain and simple Bison, none of this Bison B.C. nonsense these days, which is nice for all concerned.

Let's tuck straight into the grooves, 'You Are Not the Ocean You Are The Patient' is a hulking slab of primal, but calculated, hardcore-fuelled, riff-rock madness and is easily the heaviest and most confident-sounding album the Vancouver foursome have mustered up in their now lengthy, but on-off existence. Whilst not quite a concept record per se, 'YANTOYATP' ('cos who doesn't love an acronym, right?) sees dual-frontmen James Farwell and Dan And approaching some very interesting philosophical concepts, namely that we are no longer at one with the natural world as beings, instead we are but slaves trapped within the constraints of a poisonous society… Or something like that. Anyway, I think it's a cool notion, but you really don't have to buy into the thought processes here too much when the riffs are this fucking fat. Or phat? Heck, both.

Kicking off with the crunching flow of 'Until the Earth is Empty', Bison prove that despite the line-up changes over the years, they've lost none of their ability to piledrive you into the floor with rifforamas that dissect the gauntlet between Kowloon Walled City's muscular weight and the confident mastery of ISIS. Farwell and And (that's weird to say…) roar adeptly over the chugging undertow of a bass-heavy amp bombast that feels as satisfyingly accessible as it does cold and brutal.

After such an opening, the short, snappy and punky 'Anti War' is just what you need to nurse your already aching ears. 'Drunkard' then drops the speed down to a swaggering lurch, bouncing Shane Clark's cavernous bass tone back off wall after wall of hench guitar rips.

Midway point 'Kenopsia' is the cornerstone of this hulking bullet shell of a record. Exploding the riffs and influences back towards the direction of post-rock, it harbours a wavering ray of a positive spirit that none of its accompanying blasts quite manage to completely succumb to. As an instrumental affair, it's somewhat more exciting to hear where these guitar adventures are going to take us without And and Farwell's authoritative bellows competing for your attention.

'Tantrum' goes right back to six minutes of blunt-force riff punishment initially before dropping down into a violin and woodwind-enchanted intersection only to recover and blast us again and again with frenetic, thrashing riffery. 'The Water Becomes Fire' is a fitting end to this brooding, complex and thoroughly rewarding album. Several moody semi-acoustic trawls lead us through a cavern of furious vocal devourment before those mesmerizing drums march us to our eventual demise, smouldering in the embers of all the speakers and minds Bison have just blown to sweet smithereens.

Described by James Farwell in the accompanying press release as "an album of daily living, for everyone", 'You Are Not The Ocean You Are The Patient' packs so many punches it's hard to put up a defence to its thunder and ingenuity in both its performance and its bleak underlying storyline. Surrender to the herds upon the plains, this is a towering achievement. Bravo, sirs. Bravo.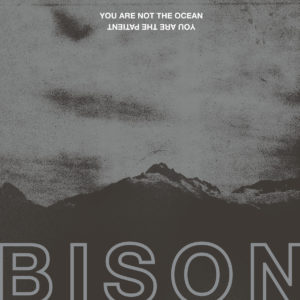 ARTIST: BISON
ALBUM: "You Are Not The Ocean You Are The Patient"
RELEASE DATE: 7th July 2017
LABEL: Pelagic Records
GENRE: Pure hardcore sludge
MORE: Facebook / Bandcamp
Last modified: 27 November 2017