As their 30th anniversary approaches, NYC hardcore noise legends
UNSANE

deliver their eighth full-length – fifth as the current 1994-old lineup. While the band's recurrent themes has been revolving around urban decay, one wondered if the three member's relocation in different places (Dave Curran in Italie, Chris Spencer in California and Vinnie Signorelli between New-York and Mexico) would alter their creativity and soften their sound and intentions.

So what can we expect from the noise hardcore pioneers, whose album releases are just as scarce Tool's? Are people still into the genre, when it has never been put to the forefront by the media mass? Here's the kind of silly questions to which Unsane answers through such a visceral and vehement bomb. One of the reasons why UNSANE are still around, is mainly because all three members' bond goes beyond the band, and that they perfectly know how an Unsane record should and will sounds – not to mention that bassist Dave Curran actually recorded it. The balance between the groovy, and more upbeat and frontal side is perfect, while vocals manage to leave enough room for the rhythm section, before rubbing it in even harder afterwards.

Sterilize is the epitome of the UNSANE sound: Spencer's dreadful shrieks makes you feel as if the world's misery has landed upon your shoulders and our Civilization was about to collide, the guitar sounds so sharp that you just expect it to blow to pieces any time, the bass is doom-heavy and so groove-laden that even Clutch weep over the fact that they can sound just as good… and the drumming, man the drumming is so fire-driven and powerful that it could only be brought forth by a daredevil like Signorelli! To cut it short, UNSANE once again delivered a hardened steel record. Haters will say "yer, as usual". Well, go to hell. The amount of albums of such caliber is so rare these days, that each new release from the trio is like watching a stallion running a Grand Prix: you know that its best, how it'll gallop throughout the race, and that you will exult once it'll cross the finishing line, far far ahead of its competitors. You don't believe me? Ask those who saw the band's performance at Desertfest Belgium last weekend.

Almost twenty years after Occupational Hazard, Sterilize establishes itself as the new Noise Rock cornerstone for the two or three decades to come… Or at least, until the NYC trio releases another record.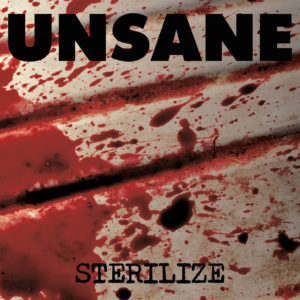 ARTIST: UNSANE
ALBUM: "Sterilize"
RELEASE DATE: 29th September 2017
LABEL: Southern Lord Recordings
GENRE: Hardcore noise / Metal
MORE: Facebook / Bandcamp / Website
Last modified: 23 October 2017