That first day at

HELLFEST

was the toughest by far, with a severe hangover combined to the heat wave and dust hitting our sore bodies since dawn. With less than 10% of our brain capacities, we're going to be put to the test with sometimes barbaric, sometimes LSD-driven shows along with heavy hitters ELECTRIC WIZARD and MINISTRY, black metal freaks DØDHEIMSGARD and, in a softer range, RED FANG and SUBROSA. The festival's site hasn't undergone many upgrades this year, except for the increased capacity and Mainstages which were pushed back. New wristbands and security systems have been exerted at the entrance, and both seem to have won the votes among the festival-goers on that first day. Now time for some action! (PHOTOS: Sylvain Golvet)
After briefly gazing at the VIP corner's amazing bones-built frame, I find myself in front of the first band of the day: VERDUN on the Valley stage. With a heavy sound somewhere between sludge and funeral doom that emphasizes the death overtone of the infamous town in the East of France. I don't have the chance to see more than two songs, but this fine starter has definitely waken up the crowd. Now off to see French veterans SIDILARSEN , a band I've been listening during my teenage years, but with a bit of perspective, I. Can't definitely condone their lyrics – and above, vocals – now. Their fusion of metal and electronic samples do the job well, and remind me of fellow Frenchies Punish Yourself. However, they set their audience ablaze… under the blazing sun.
SUBROSA are next. My legs being like jelly at the moment, I decide to take my first "Valley nap" of the weekend. All indolent, I let myself being carried away by the violins and bewitching guitars, that sometimes remind me of my beloved Swedish Cult of Luna. The singing may not be constantly in tune, they are all forgiven for the music forms a very consistent and dream-inducing whole. This had me all pumped up to get going on the rest of the shows! It's only the beginning!
Let's now ruin our ears with the barbaric noises of KRISIUN. As expected, a dazzling and highly technical brutal death metal bulldozer overruns the Altar. This steamroller that makes me wanna destroy everything around us, could be best described as Brazil's best metal band, way better than Sepultura or any other Cavalera-initiated project.
I make my way through the crowd to join the other tent, for a rare band that is nothing short of strangeness: DØDHEIMSGARD. They might have the most esoteric-sounding, cold and obscure moniker, and yet the stage is filled with colors, Hindi symbols, incense, mysterious flags… The hell is this? Band members seem like evil corpse-painted creatures, with a special mention to their frontman who's wearing a psychedelic Kali demon t-shirt, blood-soaked bandages, handmade voodoo necklaces, and – a mere but significant detail – eyes painted on his eyelids. Add to this a zany on performance and lunatic grins, and music that is so experimental, that even connaisseurs don't seem to get the drill. Cold, mechanical drumming lays on top of messy and over-saturated riffs and dreamier, more melodic parts. I really don't know how to describe that music chaos.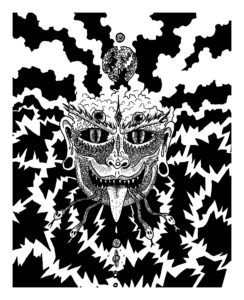 Now that this discovery got me all shivering, I need a proper warm performance and head to the Valley to see RED FANG. I must say I was apprehensive of their comeback. They put on one of the most insane performances that stage has ever known back in 2013, making the whole audience go totally bonkers. Yet, the band's success could also drag a huge crowd of mere, immobile onlookers. The Portland four start right away with songs off Murder the Mountain like "Hank Is Dead" and "Wires", then give star billing to their new tunes, which haven't grown on me yet. I find the sound a bit weak for a start, vocals less in tune than usual, and they are even revisiting some parts as the latter is completely at odds with the instrumental. A technical issue occurs at the end of "Dirt Wizard", which occurs a delay in their set. As a result, "Prehistoric Dogs" gets fired hastily at the end of the show, for the best: chaos breaks out from the first rows to the back of the Valley tent, now that's what I'm talking about!
What a thrill to see the one and only kings of industrial metal MINISTRY, especially when I'm blowing during one of their fiercest songs: "Señor Peligro". I was a bit reticent about seeing them during daylight, but you don't mess with the Chicago steamroller, which is running over a quite lethargic crowd – blame the heat wave. Our brains are being ground like hell, helped by subliminal footage of drugs, murders and spangled banners displayed on the background. The set ends with a lethal "NWO" + "Just One Fix" + "Thieves" combo, sounding louder than ever. Uncle Al looks in better shape than usual and let us know what's up, with his unbeatable charisma. This is how you get your brains completely upside down.
After being jack-hammered the hard way, we head off to see the long-awaited, legendary DEEP PURPLE whom, despite putting on a great show back in 2014, are back sensibly wearier. It's a hard task for me to get moved by the endless organ pads, out of breath Ian Gillan who's doing nothing but stage roaming, while the rest of the band keeps struggling… we step back to avoid this saddening view, and come across another kind of monster with BELPHEGOR, if you're in for a proper laugh. These guys surely don't have the word "subtlety" in the vocab. These barbarians all about blood, overdone, nutty Austrian-sounding black metal and, well, a pretty darn sound for what it's worth! I'd stay if I could, but some mystical forces are dragging me under the Valley tent, for the show I was looking forward the most to attending on this very first day at Hellfest…
Tonight, we're being treated to a séance of hypnosis by ELECTRIC WIZARD. The sound is perfect, less loud and messy than three years ago on the same stage, while the setlist focuses on Witchcult Today with hints of more "recent" gems such as "Black Mass" and "Return Trip"… Add to this mass some psychotropic footage drowning us in red and purple lights, where bodies of naked possessed women bewitch the audience in between two blood spurts, and awaken our free will (or what's left of it) until the final masterpiece: "Funeralopolis"… The Brits knew that most of us wouldn't be 100% sober when landing under this tent, so they made the most of it to throw down some whirlwinds and other spirals as if they wanted to brainwash our brains (and clog our lungs). Nobody got out of here in one piece, not even Jus Oborn who seemed to get lost in its own evil axe's distortion…
I wake up somewhere in the Warzone, witnessing some lamey punk performance (RANCID, from what I remember), sat down in the synthetic lawn with my sore ears, under the watchful eye of Saint Lemmy's iron statue. When we finally rise from the dead, we head off one last time to the Valley stage to see MONSTER MAGNET. Well, it's no understatement to say that the latter have nothing thrilling to offer, compared with the Wizard… but what a groove! The place is right and the mood is set, while the audience – the same than one hour ago – is letting themselves carried away by the desert rock princes. Thanks to yet another set of images worthy of a National Geographic show being displayed in the back, we welcome the stars and, eventually, some atomic shrooms and rusty satellites stuck between two stages of Evolution. Electric Wizard crushed our brains, and now our shelves are ripped apart after such a long (and to me, endless) day at the festival. Off to bed, then we'll be back at it tomorrow!
Last modified: 30 July 2017