Paris promoters
Stoned Gatherings

put together one high-level rock bill this March 15th. Yet it seems that only the finest ears were ready for it, given the rather sparse audience who attended

DUCKTAPE

and more importantly

VODUN

, who crossed the Channel for the very first time in order to present their afro-tinged heavy roc. Needless to mention headliners

DEATH ALLEY

, who offered a one-off 3-guitar performance in celebration of the release of their "Live at Roadburn". A packed crowd at Roadburn then such a small attendance in Paris? What a shame. But hey, we enjoyed it the rock'n'roll way anyway.

First on stage is a young guitar/drums duo called DUCKTAPE, and one knows that this kind of setup usually demands twice as much energy… which they don't fail at providing. The guitarist fills the room by making the most of his fuzz-laden bass and treble tones while the bun-wearing drummer puts on a hell of a show, for a confident performance reminiscent of a Nirvana or Melvins-like grunge metal vibe. Worn out but happy, the pair just won over their attendance.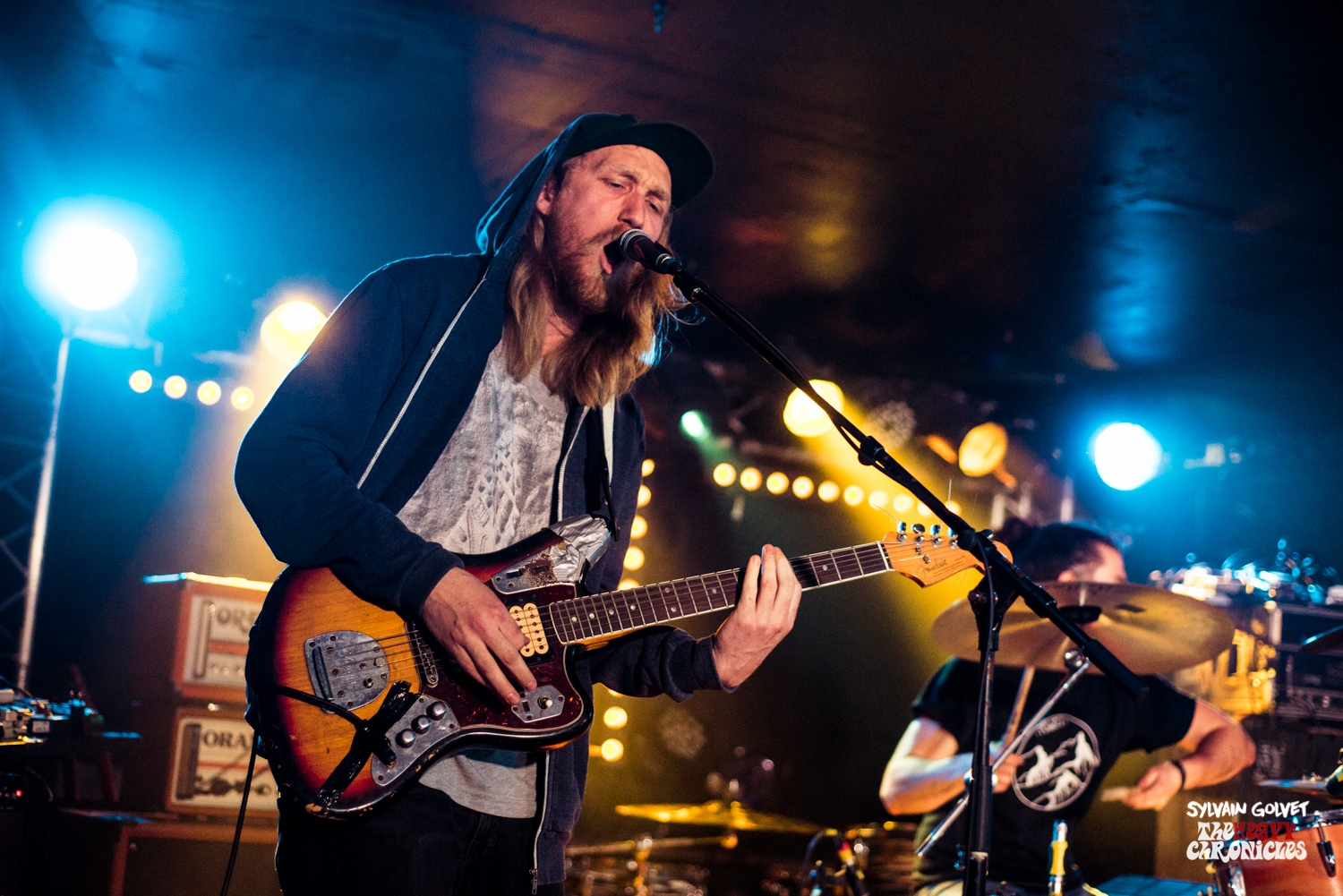 Future will tell, but VODUN have everything to become the next sensation, just as Zeal & Ardor, who also tend to highlight a concept ahead of their music. Vodun tinge their heavy sound with Afro-Caribbean infused rhythms, with the aid of body paint and percussive instrumentation – the vibe is set. Surprisingly, they sound harder and sharper than expected, despite soulful vocals that would remind me more of Skin (Skunk Anansie) than Aretha or Tina. As for the guitarist, he's audaciously blending doom riffage with heavy arpeggio and, at times, punker accelerations. Thing is, it tends to go all over the place, which makes it hard for the listener to be hooked on any particular song (apart from those delightful cowbell-laden rhythms). Not sure it will do the trick as for being more than just a cool live discovery.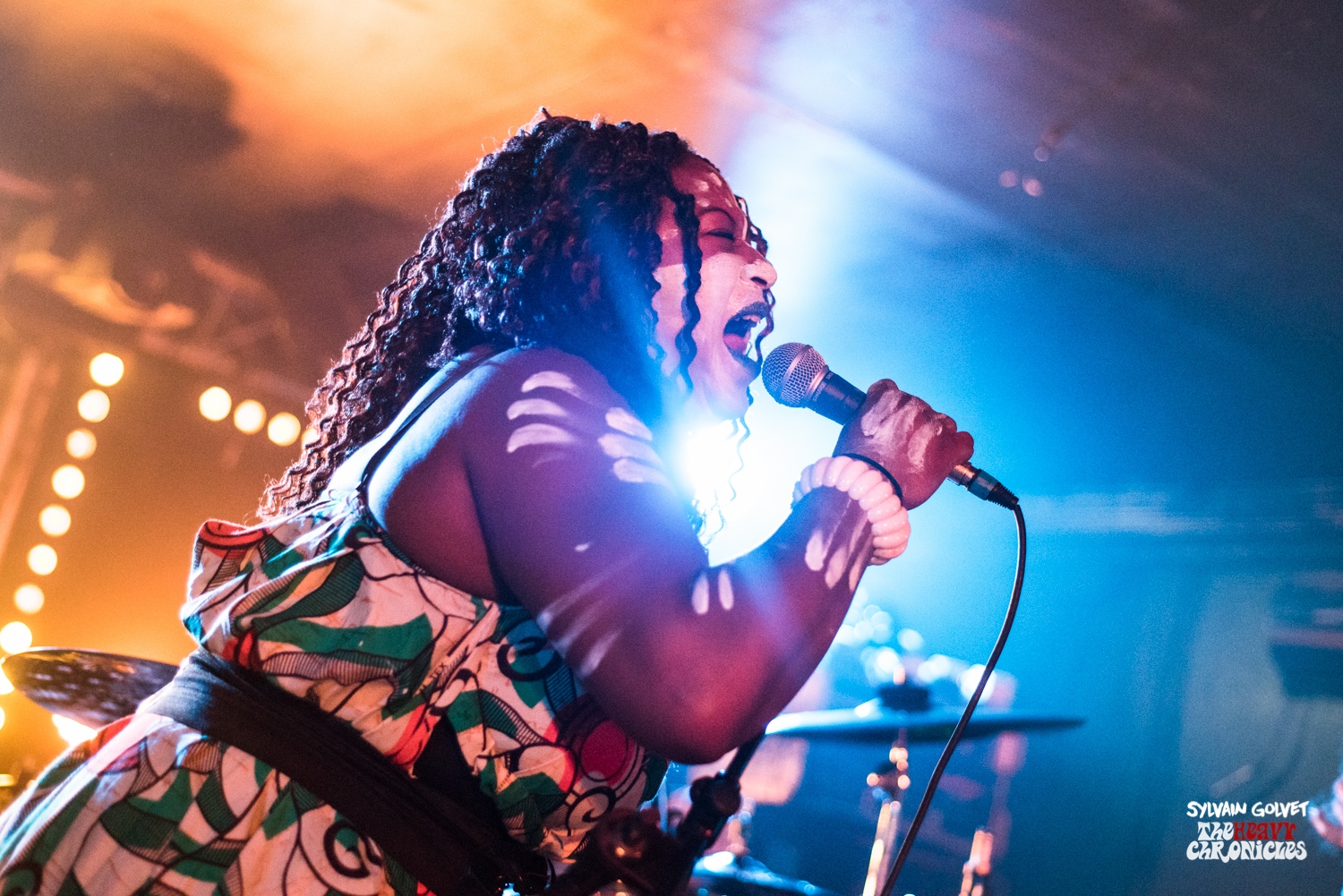 DEATH ALLEY is now! The Dutch boogie punks take the Glazart stage with some backup: a former Devil's Bloods and a former Mühr. Three guitars on stage for 21 chords total (Oeds Beydals plays a 9-string). Not to mention the pedal steel. De facto, this outfit delivers a solo-laden show while stretching the songs to their utter limit, giving their show a brand new dimension. We enjoy a total of six songs –most of which being exclusives – in the band's sheerest fast-paced, harmony-driven tradition, completed by thrilling adrenalin rushes and falsettos. Something Blue Oyster Cült would approve without hesitation.
The riff section assuredly knows what they're doing, while the rhythm one is not here to waste any time. DEATH ALLEY end the show with a remarkable, 20-minute long "Supernatural Predator", a bewitching jam that drags us in a hostile jungle, which Ariadne's thread is made of riff ridges and hallucinated, Hendrix-inspired larsens. An absolute trip.
Last modified: 26 March 2017