Scandinavia is to

heavy vintage rock

what the US Deep South is to bluesy, filthy sludge: an excellent breeding ground. However, listening to bands from these cold, cold lands can bring up a strong (and at times overwhelming) sense of deja-vu. In almost ten years of a fruitful career,

GRAVEYARD

 – hailing from Goteborg, Sweden – has managed to stand out from the crowd thanks to

rough and powerful singing, dramatic riffs and an ever-more varied repertoire

. We chatted with Joakim Nilsson, the band's singer/guitarist, a few days before the release of Innocence and Decadence – a superb album that should remind nostalgics of the 60's/70's that some of the best pages in rock history have yet to be written.
Three years have passed since Lights Out, which was released barely a year and a half after Hisingen Blues. Sounds like you took the time to do it right, to do it the way you wanted?
We took a while, about two years, touring the last album – the last two albums actually, since there was so little time between Hisingen Blues and Light Out. And then we took a year to write the songs on Innocence and Decadence. We're pretty sloppy when it comes to writing songs, it takes us forever! But now we can take the time to do it, since we no longer have day jobs. We recorded in a classic studio in Sweden [Atlantis Grammafon] ; everyone's that's pretty big in the country has recorded there – starting with ABBA. We wanted to try new stuff, reach a brighter, more airy sound.
Indeed, it really shows on the album that you explored new grounds, new atmospheres. « Too Much is Not Enough », for instance, has a lot of soul music behind it. You often borrow from blues and jazz, but this is pretty new, right?
Everything is kind of close anyway – jazz, blues, soul… It comes from the same place, so it doesn't feel so strange for us to draw inspiration there. But yes, we've been wanting to do a real soul song for a long time – and had the chance to work with back vocals, which really adds to the soulfulness of the song.
The early release of "The Apple and the Tree" has already generated very positive feedback, and quite a few comparisons with Dire Straits. Are you flattered, or getting frustrated about being compared to bands from the past?
It sounds like Dire Straits to us too, you know. The working title of the song was actually «  the Dire Straits song » ! We don't see it as a bad thing – it's not exactly the same song or riff ; it's more a matter of feeling. I'm not tired of being compared, but I am getting tired of not being taken seriously – of people saying that we're a throwback band, that we're not making contemporary music… That makes us look smaller than I think we are. We try to make music that everyone can listen to, not just the ones who are into the sixties and seventies. But we do have a lot of influences from these decades, so we'll never escape from the comparisons.
Indeed, most of your lyrics are firmly rooted in the present time, they carry a good amount of social and political commentary. Is it because you just need to get it out of your system, or because you believe in your mission as musicians to talk about serious stuff?
Well, both, I guess. Everyone in the band is interested about these issues, we discuss it a lot while we're on tour. So it would be weird not to talk about things that really matter, about what we see around us, in our own country. That said, I'm not the big lyricist in the band – it's mostly Axel [drums] and Jonatan [lead guitar], plus Truls [bass] who wrote the lyrics for « From a Hole in the Wall », the one he sings on. It makes up for the fact that Jonatan and I brought most ideas in terms of songwriting for the album – we complete each other, creating songs that everyone in the band can like.
Jonatan is also singing on « Far Too Close ». Is this something you'll keep on doing in the future – having multiple singers on one album?
Hopefully, yeah! It's nice to have some relief. I'm always going to sing most parts of the albums, but I hope they can do one or two on each one. It adds some diversity.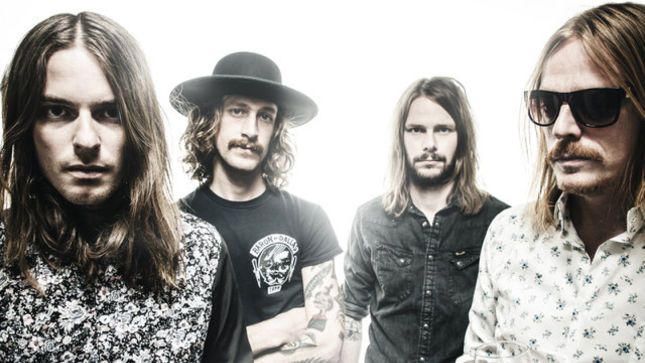 "I am getting tired of not being taken seriously – of people saying that we're a throwback band, that we're not making contemporary music…"
Which songs on the album are you most proud of ? Based on how they sound as a whole, but also in terms of your singing performance?
I'm often most proud of the slow songs – so here that would be « Exit 97 » and « Too Much is Not Enough ». It's usually the ones that you can really do something with, as a singer – not just singing loud and high, but working on the nuances as well.
Do you see yourself, in a distant future, doing an album with just slow songs? 
We'll see… maybe! Hopefully not. It's nice that we have both hard and slow, high and low. That's the good thing about making albums, you can do a bit of everything – not just hit singles.
Now, let's talk about touring! You've announced a few dates in the US, what can we expect in Europe?
Yes, we'll be starting in Sweden with a couple of shows, then Germany, Netherlands and the UK.
No France?   
No, not this time around. Actually, we haven't been there much – we still have a lot of work to do in France. We're coming, for sure, but not on this first leg of the tour. This time around, we've divided the US segment into two parts – West and East coasts – so we'll be touring this fall, and also early 2016.
Innocence and Decadence is quite sophisticated in terms of back vocals and arrangements. Are you confident in your ability to reproduce it live?
Well, we've always had organs and keyboards on our albums. On tour, we don't have a specific musician to play these, but sometimes the sound guy helps out – he played the string machine on « Slow Motion Counter ». On the new album, there are some things we may not be able to play at all, issues that we're going to have to solve. We'll have to figure out the back vocals though – Truls and Jonatan will need to help out. But overall it's not that produced, not so different from previous releases.
In the past, you've opened for Iron Maiden, Soundgarden, Motorhead. How was it to play with bands that big?
Iron Maiden was the biggest show we've done so far. It was in Gothenburg, our hometown, they have a big arena there – probably 50.000 people. It was quite intimidating, rather early in our career. It was kind of shaky, but also very fast – half and hour or so. It was fun, but it was more fun afterwards…
In the future, five, ten years from now, would you like Graveyard to become that big – playing for crowds of tens of thousands ? Or would you rather keep things at a human scale?  
Somewhere in between would be nice. I like where we are now, but, well… I want to buy a house (laughs).
In your wildest dream, what would be the next artist you'd like to play with?
 We haven't played with Black Sabbath yet… I guess they're the only ones left (laughs).
To conclude, what could you say to your French audience as they wait for you to come by?
I'm sorry we can't make it this time. We really enjoyed playing at Hellfest, and we're looking forward to coming back!
Find GRAVEYARD on Facebook, Twitter and Instagram
"Innocence & Decadence" available everywhere on September 25 via Nuclear Blast Records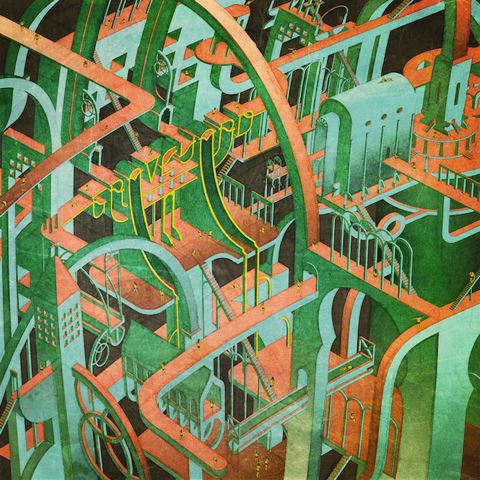 Last modified: 11 October 2016