Around since 1998 among the European metal scene, Swedish rockers 
MUSTASCH

 have always kept a consistency and a perfect balance between cranky heavy metal and weathered hard rock. As far as I'm concerned, their last record "Sounds Like Hell, Looks Like Heaven" (2011) completely fell through the cracks, mostly because of a way too much predictable first single ("The Challenger"). This new effort 

"Thank You For The Demon"

is light years away from being a "meh" record, because the Mustasch dudes unleashed the fucking power all the way through, no matter what happens.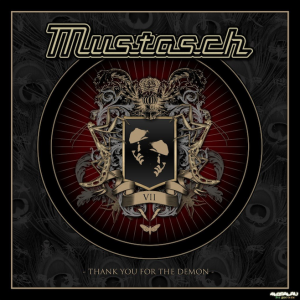 ARTIST : Mustasch
ALBUM : "Thank You For The Demon"
RELEASE DATE : January 2014
LABEL : Gain/Sony Music
GENRE : Heavy metal RATING : ✩✩✩
MORE : Facebook – Site web
Effective. Here's the first word that comes to mind to describe "Thank You For The Demon", as it perfectly sums up the potential the band has developed over the years, in terms of songwriting: MUSTASCH outdid themselves, offering us a handful of surprises, like it or not. And because the word has just been dropped, let's start on the first good surprise with opening track "Feared and Hatred". Vocal harmonies in a old school fashion, followed by a thunder of metallic riffs and a super catchy chorus (add some "aaa-aaaah" on the background of your chorus, it'll work every time)… Hell yes, Mustasch got off to a cracking start. Second track "Thank You For The Demon" brings out the same kind of vibe and duality, just tenfold more powerful. These guys right here sure have the sense of mise-en-scene, making you feel like you've just been sucked into Braveheart's dimension, a gladiators movie and metal festival's pit, all this at the same time. Then – already – comes the peak of this torrent of epic-metal tunes: the very doomy "The Mauler", which propels us a few years back, recalling "Ratsafari" and "The True Sound Of The New West", when the band used to employ fuzz pedals on every damn occasion and delivered such heavy and catchy anthems ("The Coomber" or "Ratsafari") that it'd lead you to wreak the play button on our CD player. So "The Mauler" is definitely a shout out to all the stoner girls and boys out there.
The rest of the record is pretty cool overall, Stache in Chief Ralf Gyllenhammar delivering his verses and choruses with this characteristic mix of anger and absolute swagger. Thing is, he saves the day when riffs get a bit repetitive (for example, "Borderline" and "From Euphoria To Dystopia" that are way too reminiscent of the band's Metallica-ish influences) or when the atmosphere gets a bit too soft ("All My Life"). However, classic heavy metal fans will probably get their share on these ones.
Another surprise comes when the band try their hand at some dance-metal ("I Hate To Dance"), delivering some ironic anti-dancefloor lyrics that really made me enjoy this song, despite the (also very ironic) hand claps. As a conclusion, MUSTASCH offers a 100% acoustic song, and I'm about to echo the first words of this review by saying that, once again, it's really well-written. The circle is complete, MUSTASCH put out one of its finest record to date, a well-crafted and varied heavy metal record that obviously results from a great production job. That's pretty much what can expect from them, right?
Last modified: 11 February 2015