Latest addition to UK's independent record label Superhot Records,
BONGCAULDRON

 reveal an irresistible sonic power, yet again nurturing England's ever expanding reputation of being one of the Heaviest lands in Europe, when it comes to sludge and doom products. With this first EP, the Leeds-based trio just dropped 

the first sludge bomb of 2014

, a big baby bred by dint of sedition and weed, a baby who could have been adopted by Crowbar and Belzebong…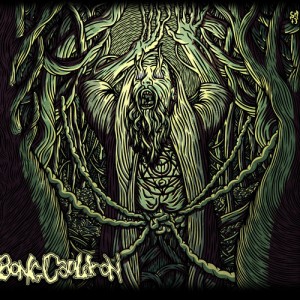 ARTIST: BongCauldron
ALBUM: "BongCauldron"
RELEASE DATE: January 13th, 2014
RECORD LABEL : Superhot Records
GENRE : Sludge metal
NOTATION : ✩✩✩✩
MORE : Facebook – Bandcamp
Speaking of bomb, let's just commence war with the EP's opening track "Tree Wizard". Instantaneously, we just get hit by a massive wave of thick and greasy riffs, so brutal and badass that if Phil Anselmo was around, he would kneel down and start making his very own on-stage dramatic gestures to go with this boogie and incredibly catchy riffage. After I've played that song almost five times in a row, I'm definitely in the mood for more. Following track "Pissed Up" displays the same vein of raging sludge, even though it's pacing down heavily near the end. This is exactly the kind of track that would cause tidal waves of headbanging during a concert… One word: POWERFUL.
With "Vehemence" comes surprise… Thrash and hardcore, guys! Well, not that I don't like a little bit of a speed, it breaks routine, so all good. It's just that I wasn't prepared for that. Soon enough, the song's tempo slows down gradually, then comes the gloomy and oppressive: back in the good old comfort zone. One thing that is for sure, these guys are excellent thrashers, on top of their monstrous sonic thickness. "Gimp Gij", a twelve minutes long and 80% instrumental doom song, proves to be as orgasmically psychotropic as a Belzebong tune. It gives us some time to enjoy BongCauldron's songwriting skills, while the band is exploring the whole doom spectrum without even hurting the listener's feelings. After such a metal marathon, you'd probably feel washed-up, and closing track "Gauze Rite" would probably seem a little bit "minor" to your ear, but hey, they couldn't just leave us there gaping after such a staggering blow.
There's no doubt about it: "BongCauldron" is a super finely crafted sludge record. The band has been around for only three years, yet they raise the bar high and impose themselves among the UK's heavy landscape with a decadent firepower. If just as yours truly, you really dig ballsy sludge acts like Crowbar or Iron Monkey – RIP – then BongCauldron will definitely satisfy all your needs, and more. Can't wait to see them on stage!
Last modified: 11 February 2015