As a heavy music fan, attending
Desertfest in London

for the first time this year turned out to be the most exciting and memorable weekend of my life, without overstating things. I must say that it is a unique experience in itself, being able to live a music festival in the heart of London – the one and only Camden Town – that makes you feel like you're at a massive metal block

party with friends and family

… except that your family is actually made of thousands of people from the five continents. Now if Desertfest has been highly praised by the

doom and stoner community

since it was first launched two years ago, it's not only because of its tremendously appealing and varied lineup, but also for it was made for the fans by the fans. 100% independent. And one could barely imagine that this event – which gathers about

sixty bands in three venues over three days

– was put together by only two very passionate and hard-working gentlemen. As no one has given the floor to them yet, I wanted to get to know the whys and wherefores of Desertfest so

I met Reece, the mastermind behind the whole project

. The conditions in which we did this interview – in a van by nearly 0°C – just proves a little bit more how involved the man can be when it comes to defending his project, while his wide smile when he was speaking about the bands reminded me of our own amazed faces in front of Pentagram, Orange Goblin, Lowrider, Fatso Jetson, Truckfighters and all these great bands that were invited over the past two editions. Because in the end, it's only about

sharing our love for the same music

and bands. No doubt we found a warm home for our hearts at Desertfest.

How and when the idea of doing a festival in London first came up?

Reece: Desertscene started promoting gigs in the UK in 2009. We ended up promoting a lot of Roadburn bands around the festival on Monday nights, but we were loosing a lot of money doing it. There were a lot of people moaning about not being able to go to Roadburn because it's always sold out and there were nothing catering for them in the UK, so it made sense for us to put all those bands together. The idea for a festival was there always, but to promote a festival, you need to learn your trade before spending all this investment in a big festival.

So you were newbies in the booking business at that time.

R: Exactly. The first band that we promoted was Truckfighters and we still promote them now. It's been a good relationship as we help each other as it's going along.

The festival is called Desertfest, so why doing an indoor event?

R: (laughs) Because there's no desert in the UK! What we needed was an identity, a name that the « core people » could identify to, and understand what this festival is about. You can call it doom fest or whatever you want to call it, but it always pigeonholes a certain side of the music we listen to. My personal preference is what Kyuss has done, and all that desert sound is very important to me, so why not attach it to that, then? There's no restrain to it, it can grow to an expanse to all sorts of genres, as long as people want to let it grow in that way.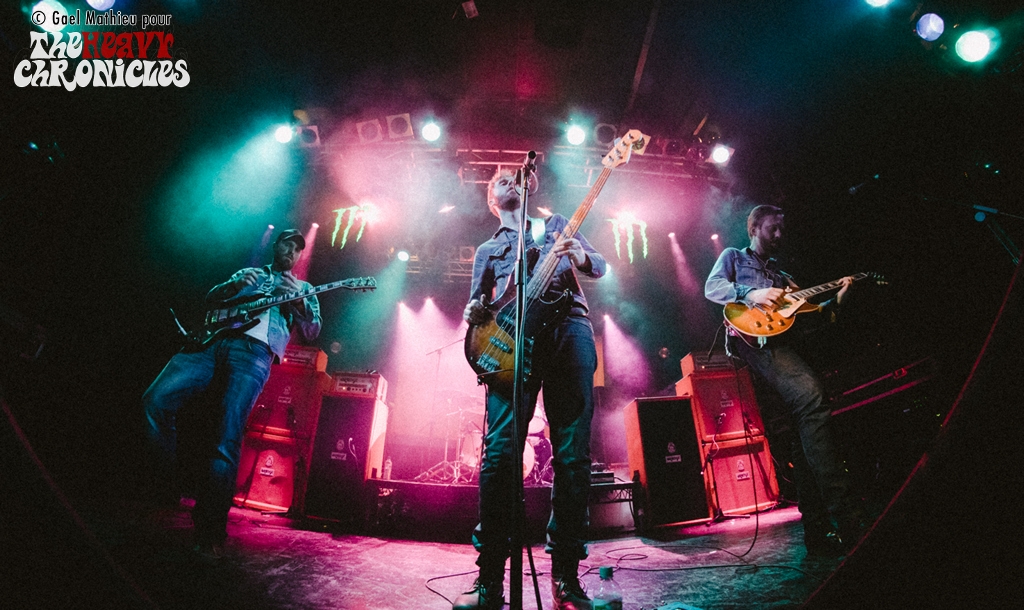 "We called it Desertfest, but it's never been about pigeonholing a certain type of music, it's about like-minded people that are open-minded to all the different connections in music."
Speaking of which, the first announcements for the 2014 edition shown a bunch of bands that are way darker and heavier than those who played the past editions. How would you like the festival to evolve in a few years?
R: We always liked the idea of expanding on the genres. We're not trying to copy Roadburn. There was that indie festival in London called Camden Crawl, we've copied the idea by using the venues here in Camden for metal and all the genres we're looking after. It was quite a point of reference for us. In Camden, we could expand the festival to up to 10,000 people. When you look at festivals like SXSW where there's a respect shown for new bands and different genres and showcasing certain bands, that's really a direction that we'd like to go into the future. We called it Desertfest, but it's never been about pigeonholing certain types of music, it's about like-minded people that are open-minded to all the different connections in music.
Does it mean there will be more showcases and « side attractions » next year?
R: In 2014, we'll bring in the Quietus Stage, we'll have Metal Hammer getting involved in curating stuff, which is yet to be announced… We're trying to do a whole community festival for London, where the respected music voices here will actually get an outlet for one weekend, letting them have their own identity like with The Quietus. They're really pleased to get on board! It's not about selling more tickets, it's about believing in a brand that they have. We're trying to open it up a little bit more to everybody, because it was always meant to be a festival for the fans. It's not about making money, I want this festival to be there in ten years and be an amazing thing, and be able to expose a lot of new music.
You have booked many UK bands at Desertfest over the years, like Trippy Wicked, Gurt, Groan… Was the purpose to help promoting the local scene, or did you do that because you ran out of international bands at some point?
R: There was a definite direction to say that we've got such a good scene in the UK to actually allow them to play in front of an international crowd. So we've made a point of showing it, and many of them are good friends of ours, so we've tried to give everyone a helping hand. They're great bands on their own merit, you know, but every band needs to be exposed to be appreciated. Hopefully, Desertfest has been a vehicle for some of the UK bands, so that they actually get out in Europe. It's been nice to see some of the bands we put on one or two years ago doing tours in Europe. I'm not taking all the credit for that, of course, but sometimes they need somewhere for them to be up to show what they can do. The UK can be very narrow-minded about the music they listen to, sometimes.
"Hopefully, Desertfest has been a vehicle for some of the UK bands, so that they actually get out in Europe."
Yeah and the good point is that Desertfest isn't a UK-only festival, at least not anymore. Well, it's even beyond just European, because people are coming from the US, Canada, and even South America! Were you impressed when you first noticed that?
R: We were shocked and impressed. Initially, we were catering for the UK market, really. The biggest surprise was how many people were coming from abroad… I think that 40% of the tickets were from outside the UK, it's pretty huge! If you put a good lineup together, then it gets noticed by the world. It's an interesting thing!
Now let's talk about your collaboration with Desertfest Berlin. Who initiated the idea of the Desertfest brand?
R: It was us. We've been working with Sound Of Liberation for a long time, so I told them I had the idea of doing a festival in the UK, and that their bands were really important, so I wanted to make sure of what bands would be available on this date in the UK, etc. They came to me and said "this is a really cool idea, do you want to partner in this?". We saw as a mutual benefit to team up and do it together, to get a better exposure across Europe. This will be the third year now, we're still in partnership and still working together on a lot of bands.
Approximately 20 or 30% of the bands you're booking each year play at both festivals – which happen around the same weekend – so isn't there some form of competition at some point? Because festival-goers have to make choices.
R: I suppose we feel the benefits of our partnership out of the negatives of a competition. People in Germany are not necessarily coming to the UK, and people in the UK aren't coming to Germany, it's a geographical thing. I want to believe that some people do one one year, and the other another year, because they're both great festivals. It's just down to a personal choice. We're trying to keep the same headliners and a lot of bands, but we also cater for the local bands. In the UK, there's a market for a lot heavier music than what there would be in Berlin, so you know it's quite a big difference in our lineup.
Have you ever been to the Berlin edition?
R: Yeah, on the first year we weren't doing it on the same weekend, so I had the privilege to go there, get pissed and have a great weekend (laughs). I really enjoyed it! That's a shame that it was better for us to do it on the same weekend, because now I don't get to go to Berlin anymore…
Desertfest has grown a real trademark in offering exclusives to the fans: in 2013, you hosted the reformation of Unida as well as Dozer's and Lowrider's monumental comebacks, and in 2014, you'll be welcoming back Spirit Caravan for the first time in their ten years hiatus. Are you looking for this kind of stuff in general, or are the bands coming to you with the idea?
R: This year, for sure, I personally hunted these guys down to reform. I said « look, we've got a market here, it's crying out for you to come back ». Initially I spoke to Tommi from Dozer and he put me in touch with the Lowrider guys, I couldn't believe because they just disappeared. I think bands are now looking at it like « wow, actually we can do what we did ten years ago, people are interested in what we've done ». There's a vehicle for these bands to reform, and come and play in front of thousands of people for the best weekend ever. So yeah, we're having Spirit Caravan this year, and we've also got another surprise as well, but it's not announced yet. I'd like to do that every year, there are so many bands that people would love to see again, and bands who feel that they would probably get a bigger crowd to play to than they ever did when they were in their prime, for example. This is really exciting!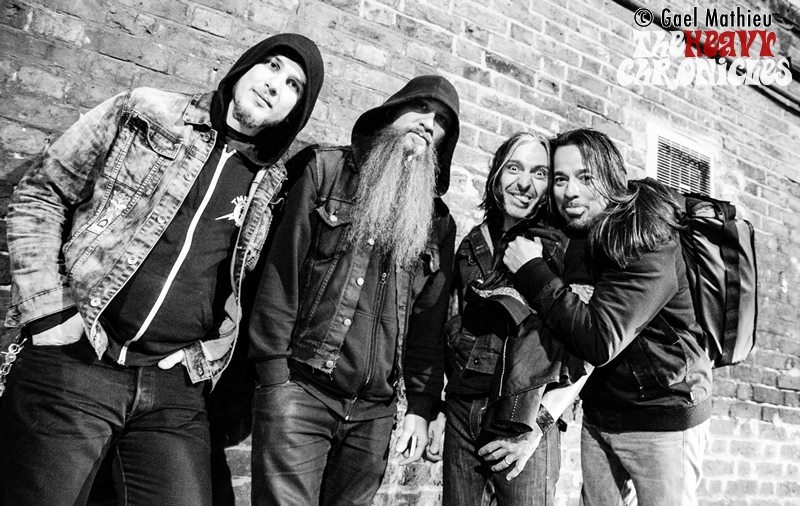 "…There are so many bands that people would love to see again, and bands who feel that they would probably get a bigger crowd to play to than they ever did when they were in their prime."
Ok now, what about your job as a promoter? How does your average day during the Desertfest weekend look like?
R: I've got a business partner, so behind the scenes, there's actually a person who puts a lot of the logistics together. By the time we get to the festival, a lot of the work that I've done is… done. A part of the reason of putting this festival together was because I wanted to have the greatest weekend of my life, and I hopefully translate to everybody else as it comes. So I end up drinking beer, and poor Jake, he does most of the work (laughs). Once it's going, he's in control and I'm happy with that.
What is Jake's role during the festival?
R: To bring sixty bands, mostly from overseas, to work out all their transport needs and backline needs, their running from airport to hotel, from hotel to venue, back from venue to airport… It's a logistical nightmare. There's no parking in London, there's all these stuff to contend… It's huge! What we've done is that these bands are pretty much on time most of the time in all these venues. It's not easy at all and I do give credit to Jake for that, because he works a lot on the scheduling. We also have a wider team during the weekend, but the whole thing is created by me and Jake. It's the two of us.
As the curator of this festival, what would be your ultimate dream lineup for any Desertfest ever?
R: My perfect lineup wouldn't necessarily be anybody else's perfect lineup, so it's a difficult one to say. You know, the fact that we've had Dozer, Lowrider, Truckfighters, Colour Haze and Unida on the same bill… I think we've done it last year! Spirit Caravan and Church Of Misery this year, and we're just gonna keep going. I'm creating my greatest festival lineup ever every year, so when I thought it was really great this year, it just gets a little bit better the next year!
And I think everyone will relate to this last answer because, yeah, it's been awesome the past two years, and it's obviously going to be beyond awesome next year. Thanks a lot Reece!

Last modified: 3 May 2016