With their pounding dirty riffs and uncompromising energy, there's no doubt Portland's foursome
LORD DYING

has established themselves as one of the most promising metal acts of the decade, since the release of their

debut record "Summon The Faithless"

in 2013 via Relapse Records. Not only they've brought a certain breath of freshness among the heavy scene, blending so many influences that their music is quite impossible to label (for the sake of creativity!), but they've also been tearing down venues and crowds like no one else with their

technical and delightfully brutal performances

… Besides the fact they've been long time friends with PDX' other pride Red Fang, putting them together on the same bill (along with Californian troublemakers The Shrine) for

a whole Euro tour

was an absolute no-brainer. For their first venue in France, I had the chance to have a talk with guitarist Chris Evans and get to know the ins and outs of this beyond cool band.

In a few words, could you firstly introduce Lord Dying to the people?

Chris Evans (guitar): Me and Erik have been playing music together since we've been in fifth grade, then we haven't seen each other for a long time… We both moved to Portland and started this band, just for the love of metal. Celebrating metal.

So Erik and you were initially living in Salt Lake City, right? What was your first impression about the local music scene when you first arrived to Portland?

C.E: Well that's why I ended up there. I've always had friends there and visited them a lot, so as soon as I turned eighteen and graduated to high school, I moved there immediately. There's a great music scene there.

Is it as booming as medias tend to say?

C.E: To me, it's a town where every week I can go to shows and see awesome bands, because there's so much happening and the majority of it is good talents.

What are the bands from Portland that you would totally recommend to people who're not familiar with this scene yet?

C.E: One band – even though they are not exactly from Portland – YOB. Some bands that only play locally there and that are really great, like Sew, Hicks, Rabbits…

Is it your first time touring with Red Fang?

C.E: No, we already did a North American tour together a year ago. And beyond that, they're all good friends of ours, we've known each other since before we're even in bands.

As your first time here in Europe, what are your thoughts on the European crowd so far?

C.E: Great. So much better. I'm gonna be sad to go home… I find the fans more excited and supportive, and also the hospitality. Touring America is like hoping that somebody will let you sleep on their floor and two drinks for free. It's more of a struggle there.

Artistically speaking, which bands do you feel like you relate the most to?

C.E: Well all the members of the band are… different. So that's what makes our music so special, I guess. I like a lot of old thrash music and also a lot of technical death metal like Meshuggah. Erik is into a lot of punk, black metal and thrash metal as well. John likes a lot of doom, he's from Memphis, Tennessee, so the southern doom is his thing. And Don is a big High On Fire fan.

That's a lot of different influences indeed! I've been quite surprised actually, because many journalists labeled you guys as a stoner/sludge metal band, which I totally disagree with.

C.E: So do we! (laughs) I mean, the sludge I can understand, we tune low and it's kinda messy, but… Stoner? None of us really smoke weed…

So I guess you haven't managed to label yourselves already.

C.E: You know what, the only label we can give ourselves – and we truly believe it is what we play – is METAL. We don't feel like we can fit any subgenre, even though our music touches a lot of things. We used to say we're « prog doom », but let's just say we play « dark heavy loud »… which I think is metal! (laughs)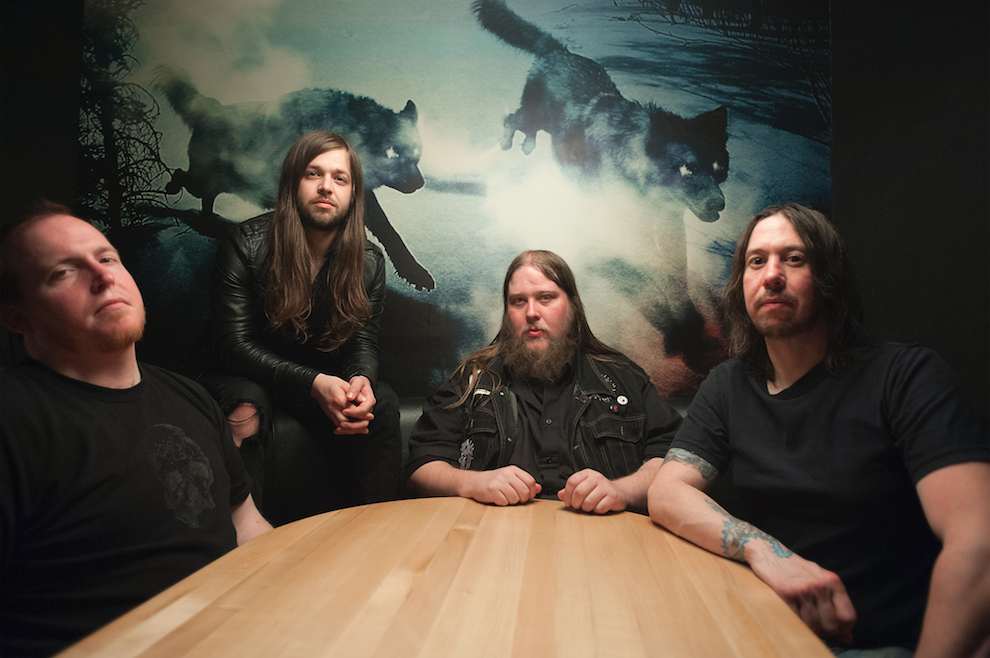 You put out so much energy into your music, I mean your record is insanely blazing from start to finish. Where do you get all this energy from?
C.E: The number one thing that we've always been after is awesome guitar riffs, like we write ten riffs for one riff that makes it on our band. And the energy I guess is because we stoked about it, so when we're playing, we're feeling it.
So no anger management issues among the band?
C.E: (laughs) We're a metal band, so obviously it's some kind of outlet for us. But for the most part, we're not angry. We're just releasing and feeling good, because of this.
What about this new record you have in the works at the moment? Can you tell me more about it?
C.E: Yeah, we have eight new songs that were recorded by Joe Grahan from Toxic Holocaust. Two of them have vocals, but they're coming along. We're planning to record it in May when we'll back from the European tour.
So maybe we can expect it to be released by the end of 2014, and still through Relapse Records?
C.E: Exactly.
In April, you're playing Roadburn. I guess you'll hardly be able to stay the whole weekend at the festival, but do you think you'll still have the time to attend some gigs, and if so, which ones wouldn't you absolutely miss out?
C.E: I like Opeth a lot, so I wish I could see them, as well as Goblin, Magma, Yob…
The last line of your biography on Relapse's website is « Lord Dying is here ti pummel with heavy riffs to promote simple things as cold beer/hot shower ». What the hell does that mean?
C.E: Cold beer, hot shower… There are a lot of drugs in Portland and that's a saying a lot of people have because they like to bring a cold beer in a hot shower with them. People find it a luxury to drink cold beer while you're taking a hot shower. (laughs) I don't do it personally, but it's a saying in Portland.
Last question, what is your motto in music?
C.E: What I strive for is to never stop learning and to never judge. There's so much there, and I'm so passionate about it… Music is everything.
That's a pretty nice one. Anything you'd like to add to end this interview?
C.E: We're very happy to be here in Europe and people are being so cool to us. Thank you for interviewing us, it's very nice.
FIND LORD DYING ON

FACEBOOK
Last modified: 11 February 2015