Summer is still in full swing and as rock'n'roll never dies, gig promoters never stand idle. As I exceptionally blew in 
London

 for the weekend, I couldn't miss one of the many heavy lineups presented by Desertscene this summer :

Nick Oliveri's

MONDO GENERATOR

, crazy rockers 

VALIENT THORR

 and local pride 

STEAK

, all together at 

The Underworld Camden

. A hot night of August with the finest rock acts in town ? That was the deal.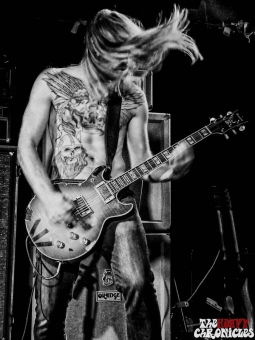 This is my first time reviewing a STEAK gig, given that I miserably missed them at Desertfest 2013 and didn't write anything up about their release party at the Black Heart in May. I've been following the band for quite a while now, and I totally recommend their latest EP "Corned Beef Colossus" if you fancy blazing fuzz-laden rock. What's more, they're cool dudes. Tonight's performance is way more solid than what I saw two months ago at the Black Heart. Steak's sound is compact and very groovy, and vocally, something's happening for sure, the firepower is undeniable. The songs were ingenuously put together in the setlist, which makes down-times rare. I'm glad to be hearing "Machine" (from the first EP "Disastronaught") once again, as I find it creates a more than welcome trippy break into this whirl of frantic riffs. However (and to my great surprise), one of their catchiest tunes "Liquid Gold" turns out to feel a bit repetitive after a couple of minutes. Maybe the guys should try to interact more with the crowd when they're playing this kind of lengthier/jammier song ? The crowd remains pretty quiet during the first half of the set, but as soon as some technical issue with the guitar sound compels the rest of the band to start a jam, people finally loosen up. A friend of mine, who's not into heavy music at all, even starts to move his body and dig the vibe. This moment definitely highlights the fact that the guys found a strong and reliable element in the person of their new drummer Sammy (I know I already talked about it in the last EP review, but I had to point it out again). Seriously, he's the kind of musician who makes you troll your friends every five minutes with things like "damn, he's good" "fuck, did you see what he just did ?". He's got that groove that takes the band's music to a whole new level. What more can I say ? This was one really good show, and Steak are getting better and better every day. Can't wait for Glad Stone Fest VI in Paris on October 4th !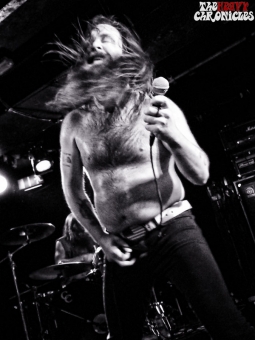 This crazy bunch of lads from Chapel Hill (North Carolina, USA) are the main reason why I'm at The Underworld tonight. Like everyone here, I have huge expectations, regarding their live reputation. Truth is, it happened to be tenfold better than what I expected. Once the hairy-bearded dream team from Venus sets foot on stage on the epic classic theme of "A space odyssey", the crowd gets wild. If you know Valient Thorr already, then you know that what we're witnessing tonight is the perfect synthesis of all the most rock'n'roll things existing on this planet. Perfectly blending some NWOBHV sound with punk and rock'n'roll, VALIENT THORR is the magic formula. And when Valient Himself shows up in a pair of two-colored boxing boots, it's too beautiful to be real. This dude is so full of energy, it's contagious. When he's not faking some running action, he rolls on the floor or knees down while making weird moves. And when it comes to exciting the crowd between the songs, he delivers thundering sermons (or "beliefs" as he calls them), something that makes him deserve an award for being the coolest rock preacher alive. Endowed with Venus' almighty electric power, the musicians aren't outdone : with a super solid playing and a few well-distilled hair moves, these guys make us have a pure "stadium moment". At some point, Valient Himself gets in the pit, makes us sit on the floor, then invites us to mime a few moves (like "hey, I'm paddling", "hey, I'm a cosmic tiger") : everybody plays the game without even raising an eyebrow. As usual I'm standing on the front row, and despite the fact I'm enjoying a constant 100% Valient-made sweat shower, I can't stop smiling (sounds gross, eh ?). Will there be some lunatics to tell they got bored during this rock performance ? I don't think so. Or they're dead inside. We just got trampled by 10,000 bulls, or so. And daaaaaaammmmn, it felt good !
NICK OLIVERI & MONDO GENERATOR (

Facebook

)
I have to admit that, over my years in rock and metal, I quite missed out on Mondo Generator. Shit happens. However, it's pretty hard to miss out on such a character as Nick Oliveri, if you're the slightest bit into stoner rock. Any historical reminder is superfluous, you certainly know what it's about : Kyuss and QOTSA. But tonight, 90's stoner rock (almost) doesn't have the place of honor. Because Mondo Generator is the punk side of the generator parties, the "fuck you all" side of the force. The show takes off like a shot, aaannnd… remains at breakneck speed until the end. Nick, despite all your faults, we can be nothing but charmed by your indomitable energy. Seduced, I might even say.
Nick Oliveri epitomizes a genuine punk hostility through his powerful hoarse voice. But at times, and it's less uncommon than you think, the rebel screams turn into a velvet caress. Yes M'am. After they covered Kyuss' stoner anthem "Green Machine" (and made the pit become a human wave), the band starts to play Queens Of The Stone Age's oh so smooth "Auto Pilot". Without a second thought, I dash back in the pit to enjoy one of the sexiest rock songs that's ever been created. And because Nick wouldn't be Nick if he was keeping his shirt on for too long, the man gets bare chest… Not that this detail is fundamentally essential, but he probably gave some ideas to some people, given that an entirely NAKED dude comes out of nowhere, sneaks right behind Nick while swaying his hips in an awkward kind of way. Everyone's laughing, even the musicians. One minute after the "assault", a girl who's only wearing a tshirt and a thong blows in, takes the latter off then tries to hook it on Nick's mic stand. One of the roadies takes her out of stage, while Nick is trying to catch the thong with one hand. She'll manage to get back on stage a couple of minutes later and will finally hook her bra around the laughing frontman. In the middle of what was supposed to be a 100% straightforward rock show, these two unexpected moves from the audience made it feel definitely more festive. Not only we headbang'd and enjoyed Mondo's punk heaviness like crazy motherfuckers, but basically, everyone here let it all go, it felt like we were free. In addition, as a total stranger to Mondo Generator's discography, I really had a good time listening to the few Kyuss and QOTSA covers they played. Winning. After an electric encore, Nick and his friends look totally satisfied of the show. Yes guys, it worthed it. A thousand times. Thanks Desertscene for this blazing hot lineup, good times as always !
Ode to Clarissa (QOTSA cover)
F.Y.I. Free
Gonna Leave You (QOTSA cover)
The Last Train
Quick and to the Pointless
Green Machine (Kyuss cover)
Auto Pilot (QOTSA cover)
Shawnette
I Never Sleep
Sonic Slow Motion Trails
——————–
Wake Up Screaming (The Subhumans cover)
You Think I Ain't Worth a Dollar, But I Feel Like a Millionaire (QOTSA cover)
13th Floor  
If you're in London on August 22nd, I recommend you to attend NICK OLIVERI's "Death Acoustic" show at the Black Heart (Camden), with the talented CRYSTAL HEAD as an opening act. Facebook event
Last modified: 11 February 2015