STEAK.

 They've got it all. The London four-piece may be only a few years old, but they know that the crowd won't headbang if you play it the smooth way. If you have to break some necks, then you'd better use fucking concrete blocks. Just picture

Truckfighters and Lowrider

 breeding a child in the UK (surrealistic scene winning!), then you've got STEAK. Their first EP "Disastronaught", released last year, captivated all the fans of 

desert fuzzy rock

, and their performances at both Desertfests proved they are more than just good songwriters. With "Corned Beef Colossus", you can easily tell

the band has gained confidence

. Now treat yourself to some real English gastronomy.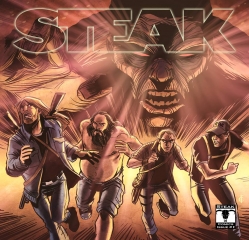 ARTIST : STEAK (Facebook – Bandcamp)
ALBUM : "Corned Beef Colossus" EP
RELEASED : May 24, 2013
LABEL : Self produced
GENRE : Fuzz rock from the intergalactic desert
NOTATION : ✩✩✩✩
The first EP "Disastronaught" made us drool all over the place with super catchy tunes like "The Butcher" or "Fall Of Lazarus". The story runs its course (each EP being an episode of STEAK's fantasy comics), and now it's time to punch hard below the belt. The second EPisode cranks it up a notch, as it was recorded, mixed and mastered at Studio Bombshelter in Sweden (which is owned by Truckfighters, nothing but the ultimate reference in fuzz rock). No more unflattering mixing, no more wasted potential: say hello to a rounded, burning and corrosive sound. STEAK in all its greatness.
In the beginning, there is "Black Milk". I don't exactly know what's in this Black Milk, but be sure it's no innocent thing. Actually, it just feels like a battle is about to break out: a groovy riff is being played in a loop, the tempo is tense, the vocals are anguished… So basically when I say it's a beat up, I'm not bullshitting: the drum sound is so brutal, yet so refined, that it absolutely does justice to the band's fantastic new drummer Sammy (who's a total beast on stage). That's the moment when the second track "Liquid Gold" makes its killer entrance. And what a fucking killer it is. As shown in the video, this stoner anthem is the perfect soundtrack for extreme sports. I tested and approved it for you: better than Redbull, this tune gave another taste to my roller skating escapades. Bloody heavy and bloody powerful. It required me a great deal of effort to listen to any other song after this one, because it's so addictive. "Liquid Gold" = instant classic.
Obviously, this little trip to Sweden has really benefited the band: their sound has gotten heavier and more aggressive, it's like a huge sandstorm in your ears. Far from the all fun vibe provided by "Disastronaught", "Corned Beef Colossus" really pushes the listener into darkness (remember, a huge viscous piece of meat just invaded the world)… the STEAK way, which means relentlessly and with great combative spirit. "Whiskey Mule" perfectly showcases the musicians' individual skills: uppercut, wham bam pow! This is how you proceed when you want to terminate some villains! But I still wonder about one small thing though: why did they put some extra effects on Kipp's voice? This guy has such a powerful husky voice, he's a great singer, and I think these filters (or whatever they're called) kind of muffle this vocal power. Hmm, it probably has to do with that whole intergalactic trip…
While "Disastronaught" offered us a delightful chilled out moment with semi-acoustic outro "Peyotl", this record plays the mad pursuit card. That feeling is emphasized thanks to one great find: the fade-in/fade-out effect between each track. This simple yet classy trick gives consistency to the whole thing, binding all the moves of this full-throttle stoner rock story together. Without even realizing it, you went through the whole EP… Then, "Acid Dave" shows up. Did you know this guy really exists (and that he could sell Princes Corned Beef to a hardened veggie)? This outro song is the icing on a very meaty cake, it's beyond heavy. The Colossus is about to go doooown! Fortunately, we won't have to wait for too long to the next EP (coming this year hopefully). STEAK is not only about hot stoner rock songs and comic books, it's also about being part of a fucking adventure, the hectic story of underground superheroes. Something that'll give you wings… 
CATCH THEM ON STAGE :
27th June – Munich @ Summer X Games
29th June – Brixton @ Windmill
8th August – London @ The Underworld (w/ Mondo Generator and Valient Thorr)
21st August – Brighton @ Venue TBA
4th October – Paris @ Glad Stone Fest 7
Last modified: 11 February 2015