American doom trio 
THE GATES OF SLUMBER

 just released a brand new 

EP on free download

 through thee heavy and picky music provider Scion A/V.

"Stormcrow"

 is their first record since "The Wretch" (released in 2011 on Rise Above Records). And because it's free doesn't mean it's not valuable, Karl Simon and his colleagues give us

 five incredibly brilliant songs

, which could be part of their best creations ever. If you don't know The Gates Of Slumber yet, you'll soon get that these three tough guys are without the shadow of a doubt the worthy heirs of the great American doom family.

Recorded by Sanford Parker (who also produced the band's previous albums), this EP is one of those you can't just listen absent-mindedly. "Stormcrow" is straight-forward raw doom metal, which doesn't use ceremonious intros nor lengthy bits, because its only purpose is to beat you up. Never this band has showcased such an inclination towards its roots, and by roots, I mean Saint Vitus.

When Karl Simon's hoarse voice echoes through the speakers on "Death March", it's as if Wino's aura was oozing all over the place. In the same way, the stunning "(Devil's Grip) – Driven Insane" sounds so much like a modern rendition of '86 classic "Born Too Late" that you could be easily fooled. I could even go so far as to say Dave Chandler could have written this one. But it's great, it feels so great honestly.

The EP also marks the comeback of drummer Iron Bob behind the kit, to (re)form a magnetic and ultra-powerful rhythm section with Jason McCash. As killer as they can be, the three musicians get a kick out of taking us by surprise, by speeding up the pace or placing a few genius guitar solos from time to time. These talented demonstrations make us forget about the repetitive aspect of "Son Of Hades", which is to me the ONLY blot on this record. The final "Of That Which Can Never Be" feels like a natural apotheosis for this 30-minutes doom ritual. The pace slows down, guitars are getting even heavier and more resonant, with McCash and Iron Bob supporting the whole thing with genius. The band clearly decided to throne by force.

THE GATES OF SLUMBER signs with "Stormcrow" their most doomiest, manliest and most straight-forward record. They took no risks by approaching the genre's classic topics (depression, loneliness…), yet Karl Simon put such a genuine resentment and disenchantment into his singing, that you'll share his pain without even realizing it. He's definitely part of these frontmen who have a gift for passing on dark feelings, making you adhere to pretty much anything… THE GATES OF SLUMBER has never sounded so powerful, the band's songwriting has never felt so forceful. Fans of the old school vibe will get ecstatic when listening to "Stormcrow", and neophytes will get into the genre like you listen to the finest best-of album ever. Already CLASSIC.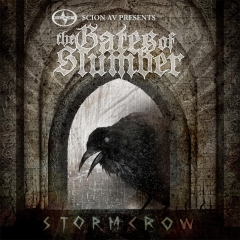 ARTIST : THE GATES OF SLUMBER (website)
ALBUM : "Stormcrow EP"
RELEASE DATE : Mars 2013
LABEL : Scion A/V
GENRE : doom metal
NOTATION : ✩✩✩✩
Last modified: 11 February 2015