Being able to draw a crowd to the Saint Ex on a cold and humid Monday was Slice Event & Pizza's risky bet, when they decided to invite hype brothers 
TWEAK BIRD

 to Bordeaux. I knew that massive riffs and delays were to be blasted into our ears with local heroes

MARS RED SKY

, but I wasn't suspecting such a decibel wave with TWEAK BIRD ! The walls of the club shook, the crowd went hectic in front of both bands. I guess 

the first round of these "Holy Monday Mirror Parties"

 went successful, and wet. Like this live report, actually…
MARS RED SKY (

website

)
There's a lot of people inside the Saint Ex basement, and it looks like they're not only here for American headliners Tweak Bird. And for good reason, local stoner heroes MARS RED SKY are playing for us tonight, before hitting the road of the festivals again (including Desertfest London where you'll surely find me), for their spring European promo tour. It's been far from regular to have them around, and being as cool and grateful as they are, they decided to play a bunch of new tracks for us exclusively (available on their new EP, out on April, 8th). The band already has the support of its crowd, even before they started playing. The venue is now packed, a hearty family atmosphere filling the room. BOYS ARE BACK IN TOWN !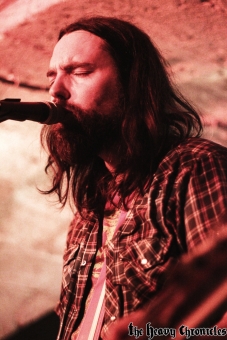 As promised, MARS RED SKY deliver a 50% oldies / 50% new stuff setlist. It starts with a grandiose instrumental, the kind of pleasant loop in which you'd like to be immured forever. The old tracks come up as cornerstones in the setlist, filling the room with their powerful groove and heady feeling of torpor, strengthened by Julien Pras' vocals. Each song is loudly acclaimed, even if a few folks are relentlessly calling for classic tune "Strong Reflection". Then come the new songs. Even though there's no fundamental change in the band's style, Mars Red Sky keep up with their trademark psychedelism and stoned heaviness. However, the band incorporated some 60's pop influences (from what I heard, it sounded like 60's pop), going with a brand new lighthearted sound, filled with their uncompromising energy. We even discover a new song which is "barely done writing", where Julien gives some space on vocals to his compadre bass player Jimmy. Although the latter maintains he "can't sing", their vocal harmonies on the chorus sound like perfection. New songs are working great, each riff feels like a Cracker-Jack, and we stomp our feet happily. This one-hour performance is cheered by the whole (overcrowded) venue !
TWEAK BIRD comes from Illinois. They told us so. So why have I been told they're from California ? Anyway, they could be coming from Kentucky, it wouldn't change the fact that they have the perfect Californian hipster outfit. The drummer's goofy teen style and the singer's hippie grunge multiple layers of fabric makes me smile ("who cares about their style ?" you'd say, and I couldn't agree more). Now it's time to blast some Decibels. I think I've never been hit by so many decibels in my whole life, these guys are killers, murderers, butchers ! At first deafening, the brothers' psyche/punk garage music soon becomes captivating. The drummer's very vigorous moves drive the whole crowd hysterical, besides he also looks very friendly. Let me also tell you about a small but significant detail : you can see the perfect harmony between the two brothers, who permanently keep each other on eye-contact. After the half of the set has been played, Caleb sacrifices his tie&dye shirt to his soaked brother Ashton, so he can wipe his sweat off… (but don't worry brothers and sisters, he still has one djellaba et a few more layers in store)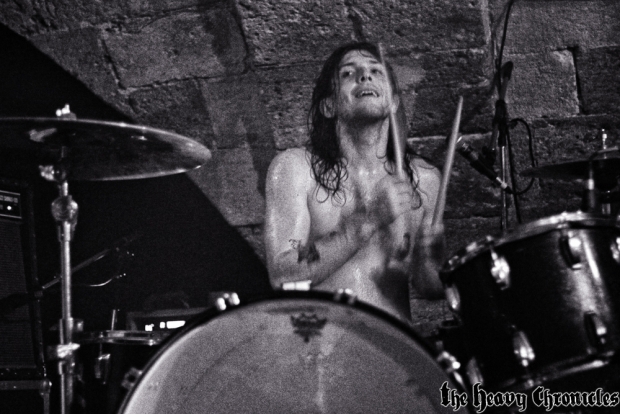 Some people use the term garage as a music genre, but I'd say garage is more of a lifestyle, an energy  (and it would also works for grunge music). TWEAK BIRD are garage and we are IN the garage, right now. Better : with their ethereal voices combined to their noisy-greasy riffs and punk beats, the band springs a surprise. The further we go into the show, the crazier we act, everyone's headbanging : boys, girls, older folks, cockroaches, everyone ! The smile on the brothers' faces say a lot about the great atmosphere here, and the good vibes sent by the audience to the band. I was a little bit skeptical in the beginning, now I'm smitten and headbanging like the rest of us, despite my persistent headache. The band is sincerely acclaimed, and despite the people crying out in love, they are not coming back for an encore. One thing is sure now : people from Bordeaux don't get out without any good reason. And tonight, THEY HAD A VERY GOOD ONE.
Come by to Saint Ex on February, 18Th for SUNGRAZER and THE MACHINE ! 
Last modified: 11 February 2015