How would you rationalize the fact that more and more people regularly attend 
RED FANG

 shows ? Hmmm… Maybe because their 

superhero

 

stoner/ heavy rock sound

 wins unanimous support ? Every night they play, people party like crazy ? These guys are by far the most engaging rockers on the planet ? To mark their fifth concert in Paris this year, RED FANG played a larger venue, so that hundreds of exhilarated supporters could attend the gig to sweat litres of beer. To enjoy the night even more, we were honored by  the presence of  

Welsh heavy band HARK

 and

southern sludgers DRAWERS

. FUCK YEAH. (Photos : Patrick Baleydier)

I'm almost frozen when I finally get to the Glazart, somewhere in the middle of Avenue de la Porte de la Villette in some inhospitable neighborhood of Paris. Fortunately, members of French southern band DRAWERS come to pick me in front of the venue, dragging me backstage for a funny and exciting interview. After this cold cold day, nothing's better than some warmth and fun ! Time for the first show now. The gig got sold out a few days ago, so I'm expecting to see hundreds of people in front of Drawers in a few minutes…

It's my third time seeing them on stage this year (and each time, they were opening for Red Fang, so we kinda have our little habits now), but I think people in Paris still don't know them much. Playing at le Glazart in front of hundreds of eager stonerheads should definitely set things right… For those who don't know DRAWERS yet, these five fellas play sludge metal, a perfect blend of Crowbar's Dantesque thickness and Mastodon's über melodic riffs. At first, people in the audience seem to be awe-struck by so much heaviness, probably because they just left work and didn't have the time to sip a beer or two and chill out properly. The band's bearded frontman Niko doesn't care much, and screams his lungs out onto the first rows, leaning on the crash barrier during the whole performance. The rest is history, since their melodic sludge has wormed its way into Parisian blurry minds, whose applause gets louder and louder as the  songs get by. As if Drawers were the headliners. Yep, that's what we call a victory over north, my friends.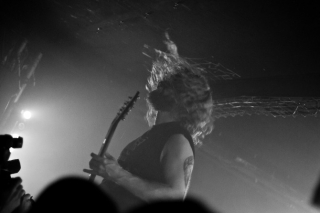 Sometimes you miss out on some very interesting things : I didn't know HARK until that night. "Is that a new band ?" you'd ask. Sort of, given that this welsh heavy metal band (whose frontman is the awesome designer
Jimbob Isaac
) has built its history on the ashes of heavy rock band Taint. But all this is history, and right now we're inside le Glazart, which is overcrowded. As soon as the three band members walk on stage, the whole audience starts cheering loudly. Decibels are going through the ceiling, Jimbob's riffs and guitar hero solos are flying, while the rest of the band is executing the sound wholeheartedly. Metal, heavy metal, sludge, noise : you can try to label HARK, but in the end, this band remains powerful, striking and incredibly appealing. Ok, the frontman's blond locks and tall silhouette might have something to do with the last statement, but honestly : this is a great discovery, a slap in the face of anyone in the room. Thanks Hibooking for bringing Wales to Paris !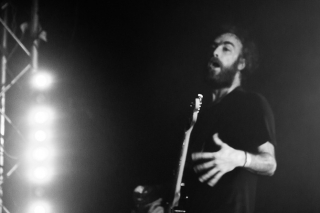 Way to go, we only need the FANGS on stage, then we would be able to say "alright, Apocafuckinglypse can be near, I don't care 'cause I had the best time of my life before I die". People are already now completely packed in the pit, and we can also hear a few love demonstrations (you know, this guy who always spends the whole concert screaming inarticulate things to the band ?). It feels hot in here, I mean people are as excited as if Obama was about to come over for a full striptease. Finally, Aaron, Bryan, David and John are up on stage ! It's been a year since RED FANG has been tirelessly touring, but for this fifth date in Paris, it's a whole lot different, and not only because the venue is slightly bigger than usual. THE BAND IS PREACHING TO A WHOLE CROWD OF CONVERTED : here's the difference. Everybody knows the songs by heart, moshpits start on the first notes of "Good To Die", "Number Thirteen" or "Sharks", as if it was the last call for fun before the end of the world.
The band even gives us a few hints on the next record, playing a few gems (including one very Graveyard-like song, with a hell of a bass solo by Aaron Beam). From where I stand, I witness a drumstick landing on my feet by accident, then I look at John Sherman who's making a stunned face while keeping on playing with one stick for a few seconds. Terminate them, John. The gig lasts way more than an hour, as I said the atmosphere is highly charged, as if people felt an unfettered need to party. At the end of the gig, RED FANG get backstage in the most decent state I've ever seen them : this venue is not an underground dive, they had space on stage, probably some air, and the technical fitting looked clean. I guess, I hope that they'll be back again and again, playing in bigger and bigger venues, and I also feel that these four gentlemen's kindness and integrity won't ever get altered by any sort of fame. See you next year ?
THANKS TO HIBOOKING, TO CHARLY and ESTELLE for the WARM WELCOME, and TO ALL THE BANDS FOR THEIR GREAT PERFORMANCES AND FRIENDLINESS. 
Last modified: 11 February 2015