CROWBAR is a fucking weapon of mass destruction

, everybody knows that. I'm a real fan of the band, but never had the chance to attend a gig so far. So last night in Paris was the night for me to know if they were as solid on stage as on record. Well, it was a no brainer my friends, because CROWBAR set the record straight at le Nouveau Casino. In addition to that, french opening band 

HANGMAN'S CHAIR, the sludge lords' illegitimate sons

, played in the big league, the sharp and heavy way. Beware, it's a heavyweights story.

Despite the heatwave, I went across Paris under 40°C without any effort to attend one big ass event : CROWfuckinBAR gig at le Nouveau Casino. The game was definitely worth the candle. New Orleans "Heavyweight Division" coming to France : I mean if you're a real fan of sludge music, you don't think twice. Appointment was set around 6.30 P.M rue Oberkampf with a few other fans, the perfect timing to see the band members popping out of the venue, then coming back with extra long sandwiches a couple minutes later. Hey, I guess the southern machine needs to be properly fueled. Let's go straight to the point now, would ya ?

I could hear some cheerful screams from the crowd when the band got on stage, proof that their last record "Hope//Dope//Rope" caused a sensation among the stoner and doom local scene. First cool thing about Hangman's Chair's performance : the sound was really good and did justice to their mind-blowing music. From the first row, I couldn't fully enjoy the singing, but I could definitely say the singer did a great job. So that is the second cool thing about Hangman's Chair : there wasn't any quality loss between the recordings and this live performance. Third cool thing about this set : the band played one of my favorites, "I Am The Problem" from split EP with Drawers. Quite an emotional moment for me actually. And probably an emotional moment for the crowd as well. By the way, people were really showing their enthusiasm during HANGMAN'S CHAIR show, whether they were already fans or not. Hey, let me give you an advice : follow this fucking band. Listen to them, go to their gigs, buy their cds, anything !

Pressure went growing after the techs finished to set the stage, but someone decided to make it grow faster by blasting a fucking awful wave of vibrations, probably for testing the amps. My vitals imploded, but hey I wouldn't have the use of them during the gig anyway. The very second when Bruders and Windstein set foot on stage, a lively clamor came from the crowd. Honestly I didn't think the band would be so popular over here, so I was pleasantly surprised  ! First songs were mostly the fat and slow kind, so people's dull brains took some time to get used to this massive and crushing music blow…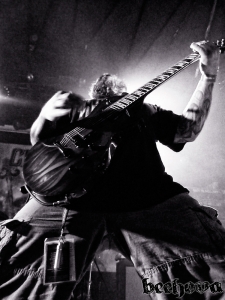 Along with "The Lasting Dose" and all the emotion that comes out of this song, we started to understand what was happening to us :
Windstein was singing despair and trouble, yet we were feeling like protected and completely invincible thanks to this armor of heavy riffs, muffled grooves and sharp beats
(by the way, I only realized how badass is Tommy Buckley on drums). We were finally ready for the great discharge : with "Sever The Wicked Hand", "Self-Inflicted" or "High Rate Of Extinction", CROWBAR got in the zone ! Funny anecdote,  rather than going into a huge moshpit, the crowd was happily rocking with a smile on their faces. Besides, Crowbar dudes seemed very content too : Pat Bruders and Matt Brunson were sharing knowing smiles, and  Tommy was having a blast starting his own jams without anyone knowing why. Speaking of the band members, I must admit I was completely mesmerized by Pat's presence and super sharp playing on bass. Thank God, Matt Brunson (the girly part of me would say he's handsome) stood on the left side of the stage, so I could have a reason to look away from the oh-so-awesome bass player…
As for our friend Kirk, whether he plays for Crowbar or Down, the man always stands as a rock, being naturally very charismatic and playful with the fans or any present camera
(including mine)… One hour of a brutal and captivating concert, and it was already over. Goddammit, time did really slip by…
After the gig, I didn't feel like disturbing Kirk's or Pat's peace (because many fans were already after them), but I stumbled on Matt near the stage, so I struck up a small talk with him. The tall guitarist told me he was positively surprised by the incredibly enthusiastic reception of the Parisian audience, and felt like this gig was the best he'd played on this tour.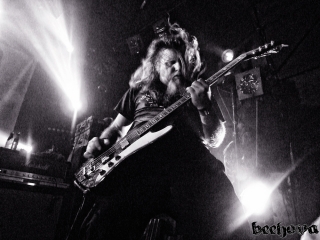 CROWBAR proved to be a southern sludge band who sounds massive and dark as hell AND manages to convey positive vibrations to the crowd at the same time. The four dudes gave us a hell of a good time, and I can now state that their "Heavyweights of Metal" nickname fit them perfectly. Their sound is heavy, so is their presence on stage. "All they had, they gave…"
Last modified: 11 February 2015