RED FANG

, one of my favorite bands, playing a gig in my town ? Even if I'm not a worshiper, I would definitely say it feels like the coming of the Messiah on Earth to me. It's important to mention that this event would have been hardly  possible without the unerring motivation of three local and independent bookers (THS, Noiser et Let's Do It Kidz).
One thing you have to know about RED FANG (besides the fact they play the coolest music in the world) : these guys are likely to take up any challenge while on stage. The craziest, the better. That gig in 

Bordeaux

 was beyond crazy, with DIY venue 

Heretic Club

 being overcrowded with overexcited fans. The rest is history…

Everyone has been warned : you'll have to arrive early at the venue, or you won't have a chance to get a ticket. 20 minutes before the doors opened, a fully packed crowd is already waiting in front of Heretic Club. I'm lucky enough to be part of the first batch to get in, which is no bad thing, considering I have an appointment with Red Fang tour manager Chris, in order to interview the band for the second time. As soon as I get in, I come face to face with Bryan Giles, who leads me backstage to his bandmate Aaron Beam. As always, the guys are super kind and forthcoming, and as I was expecting, the interview is a genuine and fun moment of sharing.

Time to go downstairs and see what the first opening band is about. As obvious as it sounds, local doom band MARBLE CHARIOT delivers heaviness, pure heaviness. However, so-so Pete Stahl on the mic doesn't succeed in making me stay for more than 2 songs. I know they have their supporters here in Bordeaux, but I guess I'm not in the right mood to fully appreciate their performance. Next time, I'll check them more dutifully.

Toulouse's sludgiest act DRAWERS (who were RED FANG opening band in Toulouse earlier this year) are bringing their gear on stage, while having a dig at each other in a typical family atmosphere. Fun and force are basically the two keywords that best define DRAWERS. The band doesn't need more than a short dozen of tracks to reveal their huge talent to the crowd. DRAWERS delivers a sludgy, stout but melodic music that proves to be the perfect warm up before RED FANG. Speaking of warmth, it is so hot in here that some boys and girls are already bare chest, everybody being drenched to the bone. Too bad the band didn't play their fantastic and heavy as shit cover of Donna Summer's "Hot Stuff", but hey, next time I guess ?

When I see the indoor inrush after DRAWERS performance, going upstairs for a fresh drink is not an option anymore. Nevermind, I'll endure the stifling heat til the final riff, it's not like a few more liters of sweat would change the deal. RED FANG go on stage to wild applause and screaming, and I can see that Aaron was foresighted enough to wear shorts on the occasion (I think this time he didn't want to sport his underwear in front of the crowd because of too much heat (cf. their gig in Paris in April). By the way, you should know some important detail : drummer John Sherman is officially a war hero, given that he sprained his ankle while at muddy Dour Festival two days ago, and he hasn't missed a gig since then. While he's painfully stretching his leg, I tell myself "there's a stronger man than Chuck Norris on this planet, and that's John". Amen brother. The show begins with "Reverse Thunder" and the crowd gets so insane that the feedback amps are moving 50 centimeters forward every 2 minutes. Even from my little safe spot on the side of the stage, it's quite hard to film the band without getting knocked once in a while.

Actually, it's only the beginning of the Apocalypse. It is so damn damp here that walls look like they're sweating. Thing is, the band's gear is taking quite a punishing from that : Bryan Giles struggles a few times with his pedals, until connections wouldn't work anymore. At that exact moment, his sidekick David Sullivan might feel very lonely, when he has no choice but to play "Wires" guitar duo part… on his own. Fortunately Bryan's gear is suddenly brought back to life, one very second before the last verse : that's what I call an epic way to put things right. A few technical issues and gear changes occur, during the intro of "Humans Remain" for example, but it wouldn't weaken an ounce of their great energy, it would take much more than that to stop them from doing what they have to do. THEY ARE FUCKING ROCK'N'ROLL, man.

The encore is all smiles, both from the crowd and the band, despite tough conditions for everyone. "It was the hottest show we've ever done" says Aaron at the end (thanks to him for dousing us regularly with water, otherwise we would have died dehydrated). They won't play the second encore, because they are completely washed out, moreover playing another song would probably finish their equipment off. As a friend of mine said, it was "a clean, powerful and super catchy performance all the way through".

After the gig, instead of enjoying their regular post-show cigarette and breathe of fresh air outside the venue, the guys have to sign dozens of posters and answer the fans' requests. It's the price of the fame, which is increasing exponentially show after show. However, they always act benevolently with their fans, which is not the case of all the bands I know.

Tonight, a hundred of people were refused admittance to the venue because it was sold-out, so I hope the next time RED FANG will come to town, they'll play in a slightly bigger venue, for everyone's comfort ;)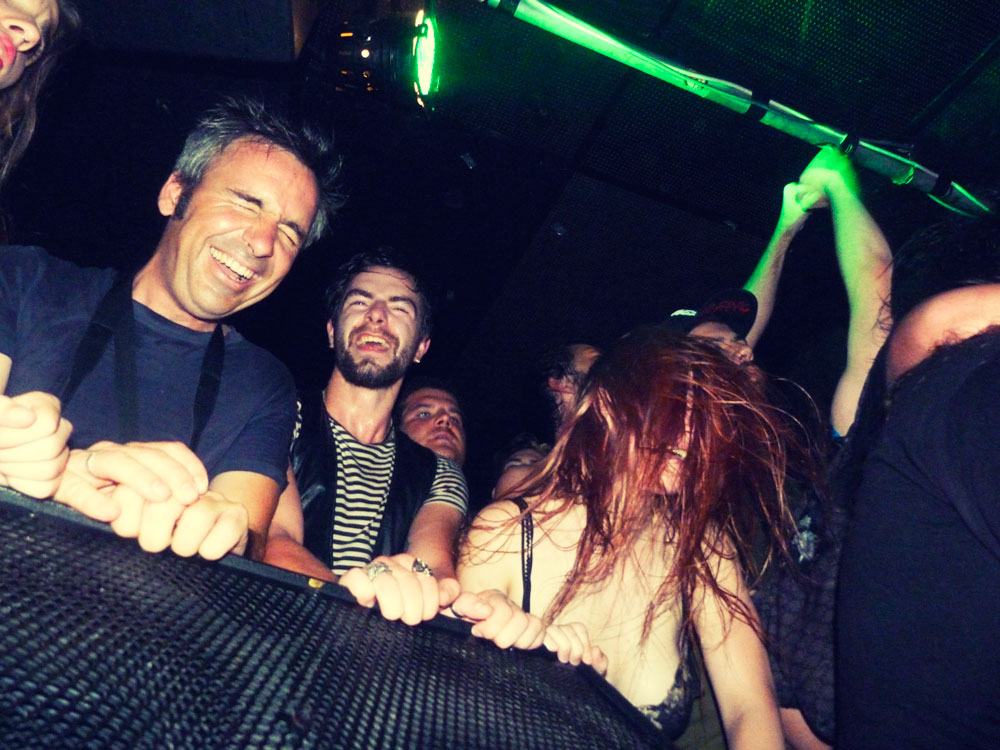 Thanks to Aaron, Bryan, David and John for rocking the crowds the best way possible, thanks to TOULOUSE HARDCORE SHOWS, NOISER, LET'S DO IT KIDZ and HIBOOKING for booking this show, and Frank from PETTING ZOO for trusting in my work. Cheers.
Last modified: 11 February 2015