RED FANG

are like four rock super heroes who fused their powers together and created two of this decade's coolest records, some serious business that one could define as CLASSICS. Saying they only play stoner would be so simplistic ! RED FANG boys do rock, metal, as well as a little bit of sludge and doom. They are impersonating HEAVINESS, whether it comes to their writing skills or their live awesomeness. In person, they are exactly the same laid-back and funny beer drinkers they seem to be in their videos, not to mention their humility, their kindness and their reverence for their fans. I've spent a really nice moment with these gentlemen
Aaron Beam

(bass player and singer) and

Bryan Giles

(guitar player and singer) before their hectic show in Toulouse (FR) and caught up with the latest news. Later in the night, I had the opportunity to chatter off-mic with Bryan and guitarist David Sullivan, and I just have one thing to say : these guys are among the coolest and most forthcoming rockers I've ever met. RED FANG FOR PRESIDENTS OF THE UNITED WORLD OF ROCK'N'ROLL !

How's been your European tour with Mastodon so far ?

Aaron : It's a really good one, best tour so far. Really fun touring with Mastodon : their crew and the band are really nice people !

It was your first time in Europe ?

Aaron : Second time ! We came last June for Friction Tour with The Ocean, Intronaut, and Earthship. It was great and crazier because we were sharing a van with Intronaut, we had 21 shows in 20 days. This time we're playing 29 in 30 days, so it's slightly less ambitious but it's also a little pushier when we get to travel with Mastodon. But yeah, I love touring Europe : the hospitality is much better, the food is much better than in the U.S, getting to see all these different cultures that are vastly different from one state to the next…

Any festivals planned for this spring and summer ?

Aaron : Yes, we're playing Roadburn in April, and I think we're playing another thing called "something stoner" or "metal", or…

The Desertfest ?

Aaron : Desertfest, right !

The one in Germany or England ? Or both of them ?

Aaron : (hesitates) Germaaa…ny ? Germengland ? (laughs) And then we're playing another festival in the beginning of summer, then Wacken Festival in Germany. So we're coming back two more times to Europe this year.

So let's talk about music now. What I'm about to say is pretty close of being a "fan appreciation" of your music, so don't pay attention if I make some mistakes at analyzing it.

Bryan : There's no mistakes !!! You just appreciating your way, so whatever you hear in it, it's right.

Both of your albums are REALLY cool. According to me, "Red Fang" is quite into the stoner vein, kind of rock'n'roll and groovy. Whereas "Murder The Mountains" is sludgier with a little bit more research into the writing. What's your own opinion on these two records ?

Bryan : I agree that the first one was peppier and the second one is more down-tempo and maybe scarier. I don't think that was on purpose as much as you just said. Those songs were written over a really long period of time, some before the first record, some were written before we recorded. We recorded 17, then we've pared-down to 10, maybe we'd take the few that were sort of more harmonious. I think it set the tone for the record.

You've got two records left to release on Relapse Records. When would you start recording the next album ?

Bryan : I would like to record in fall.

Aaron : Yeah, I think we'd optimisticly say fall.

Bryan : No, no, no. Realistically, FALL. That's our deadline. We want to "fall" into the studio and "spring" out a new record… (Bryan seemed so proud of his pun…)

Back to Portland for the recordings or…?

Aaron : In France would be fine, if you wanna pay for us to come over here ! (laughs) No, it'll probably be in Portland…

Now here's a question for those who don't speak a word of English : could you tell them more about your lyrical universe ? 

Aaron : Oui. (laughs) Most of what my lyrics come from are either personal experiences, like my cat dying, or from watching TV programs and writing about what I saw. I watch a lot of TV ! I don't write intentionally about TV, but whatever sticks to my brain, I happen to write about that in the lyrics…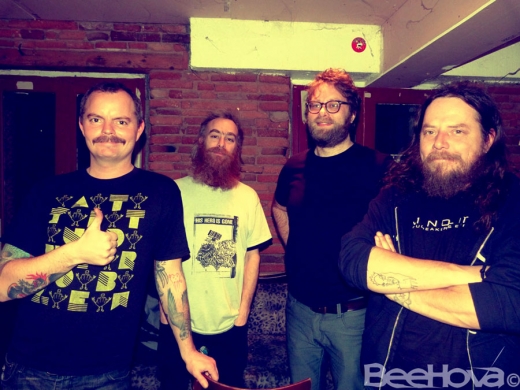 So you're the one who writes the lyrics ?
Aaron : No, Bryan and I do. And David writes certain lyrics too.
And when did the choice of having two singers in the band came up to you, if it's ever a choice ?
Aaron : I think it was right around the time that we wrote "Prehistoric Dog", because we were trying to figure out what to do lyrically or vocally for that song. We were struggling a lot, it was really hard…
Bryan : …and what pretty much sealed the deal is that someone else got to sing (laughs), because there is a very bad version of "Prehistoric Dog" floating around in Portland. I sing the lyrics and the melody is really monotone, it's pretty BAD. So we thought "oh, we'll just scratch that". A couple of months later, it was on someone's jukebox and we were like "OH NOOO !". That song needed something else, and Aaron gave it a shot. His sense of melody adds a lot to the whole thing. And you know, it's good that I couldn't sing that song, thank God I didn't come up doing it !
Aaron : Another part of the story happened while touring. Bryan was doing all the singing and his voice was getting blown out, until I would start singing a couple of songs. We would take turns so that neither one of us would lose our voice during the course of 2 or 3 shows. It was pragmatic as much as an artistic decision.
And I think that's what people like in your music : a real sense of melody melted with heavy stuff… 
Bryan : With two vocals, it takes twice as long to get bored of us ! I kinda think there are two different bands in a way, not necessarily Aaron's style vs my style but, it's kinda sort of two bands matched together.
In your videos, there are loads… amounts… I mean : MOUNTAINS of beers. I know everyone asked you about it, but : is really beer a huge part of your lives ?
Bryan : (stroking his belly) Beer is a huge part of my belly ! (laughs)
Would you like to be sponsored by any brand or is it already done ? 
Aaron : Whatever brand has dollar bills and sets of cans… We'll take it.
Do you have a special thing for Pabst Blue Ribbon ? (a beer brand that is a predominant character in their videos)
Aaron : Yeah, Portland has already a special relationship with PBR, because Portland essentially saves PBR from going out of business. It became sort of emblematic of punk rock esthetic for some reason.
Bryan : And it's inexpensive ! It's a pretty decent swill as far as shitty beers go !
What about your upcoming video "Hank Is Dead" ? Could you give any clues about the video ? 
(from the other end of the room) John Sherman : Show it to her ! I have it on my laptop ! (it was one day before the official release)
What are your favorite acts at the moment ? Old and new.
Aaron : Actually, and this isn't even trying to suck up or anything, but I'm really into the new Mastodon record, and I love "Leviathan" which is their next best record as far as I'm concerned. I have a 2 and a half years old son and he's really into The Kinks, so I've been listening to a LOT of Kinks records lately. This is mostly what I've been listening to at home right now…
Bryan : In the van, I listen to a lot of Soundgarden, probably more than the other guys want to… We all love them, but I think I've obsessed over a little too much (laughs). I also like Van Halen, Willy Nelson, Johnny Cash… I'm a big fan of Simon & Garfunkel, I listen to them a lot when I'm home. Elliott Smith…
Aaron : Oh I have actually listened to all the Elliott Smith's records a lot, with headphones on the head and starting to get really really super sad (laughs)… Also, my wife has a couple of different bands and one of them, Hungry Ghost, just made a recording and I'm listening to it a lot… The last Quasi "American Gong" has some really good songs on it !
Last but not least… If you were offered the opportunity to share the bill with a few bands you like, what would they be ? Dead or alive. 
Bryan : Soundgarden, Nirvana and Black Sabbath.
Aaron : That sounds pretty good ! I would probably want to tour with Led Zeppelin (hearing this, Bryan asks to add them on his last minute list). I would put The Kinks too, and I would make them play "Shangri-La" because they've never performed that song live.
Something you'd like to add for your French fans ? 
Bryan : I'd like to apologize in advance for what I'm going to do to your language when I attempt it (laughs). To every country ! But French especially terrifies me, so thank you for attempting English !
Aaron : And I'd like to say that, contrary to the stereotypes, every French that we've met has been incredibly friendly and generous, and they don't get mad if we can't speak their language. Stereotypes are : they hate the Americans, they're brash, "if you can't speak French, then fuck you !"… Well, it's NOT TRUE !
Bryan : Stereotypes are bullshit.
Aaron : Cheers to the French people, thank you very much !
Bryan : "Santé !"… See ? Butchering it already !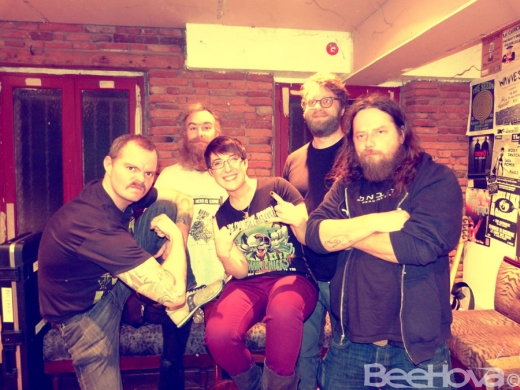 RED FANG's "Murder The Mountains" available on your favorite record stores. Don't wait to catch them on tour :
03.02.12 NL, Tilburg 013
04.02.12 FR, Le Havre Le Mate L'Eau
05.02.12 UK, Bristol Academy
06.02.12 UK, Manchester Academy
07.02.12 SCO, Glasgow Barrowland
09.02.12 UK, Norwich, UEA
10.02.12 UK, Birmingham Institute
11.02.12 UK, London Brixton Academy
16.02.12 UK, Manchester Star & Garter
17.02.12 UK, Wrexham Central Station
WITH BLACK TUSK
05.04.12 Italy, Segrate (MI), Magnolia
06.04.12 Italy, Roma, Traffic
07.04.12 Italy, Montecchio Maggiore (VI), E20 Underground
08.04.12 Switzerland, Bulle, Ebullition
09.04.12 France, Lyon, TBA
10.04.12 France, Nantes, Le Ferrailleur
11.04.12 France, Paris, Les Combustibles, Stoned Gatherings Festival
12.04.12 Netherlands, Tilburg, Roadburn Festival
13.04.12 Belgium, Torhout, Club de B
14.04.12 Belgium, Marbehan, Bois Des Isles
15.04.12 UK, Southampton, Joiners
16.04.12 UK, Manchester, Star and Garter
17.04.12 UK, Wrexham, Central Station
18.04.12 UK, London, Underworld
19.04.12 Netherlands, Nijmegen, Doornroosje
20.04.12 Netherlands, Leeuwarden, Asteriks
21.04.12 Germany, Berlin, Desertfest
22.04.12 Greece, Athens, An Club * Red Fang only
24.04.12 Finland, Helsinki, Tavastia
26.04.12 Germany, Hamburg, Hafenklang
27.04.12 Germany, Wiesbaden, Schlachthof
28.04.12 Schweiz, Winterthur, Gaswerk
29.04.12 Austria, Salzburg, Rockhouse Bar
30.04.12 Italy, Bozen, Halle 28
01.05.12 Austria, Wien, Arena
02.05.12 Germany, München, Feierwerk
03.05.12 Poland, Wroclaw, Asymetry Festival
04.05.12 Germany, Kiel, Schaubude
05.05.12 Germany, Essen, Cafe Nova
06.05.12 Ukraine, Kiev, TBA
07.05.12 Russia, Moscow, Plan B
08.05.12 Russia, St. Petersburg, Orlandina
04.08.12 GER, Wacken Open Air Festival
Last modified: 11 February 2015